by Arkansas Women Bloggers  member Heather Disarro of Heather's Dish
Summertime an' the livin' is easy. I love summer; its warmth, the sunshine, the breezy nights, blaring country music, windows rolled down and the lazing by the pool. I'm also a huge fan of summer produce. However, let's be honest. Sometimes it's easy to get stuck in a grilled zucchini rut. Grilled zucchini is great, but have you ever heard of zoodles? That's right, zucchini noodles. There are a number of different tools available that turn vegetables, like zucchini, into noodle-like meals in a matter of seconds. I doubted. I scoffed. And then I got sucked into trying it because of a wonder tool I found. My meals haven't been the same since. We think you'll love sprializing your summer veggies so much, we're going to give one away (see below recipe to enter).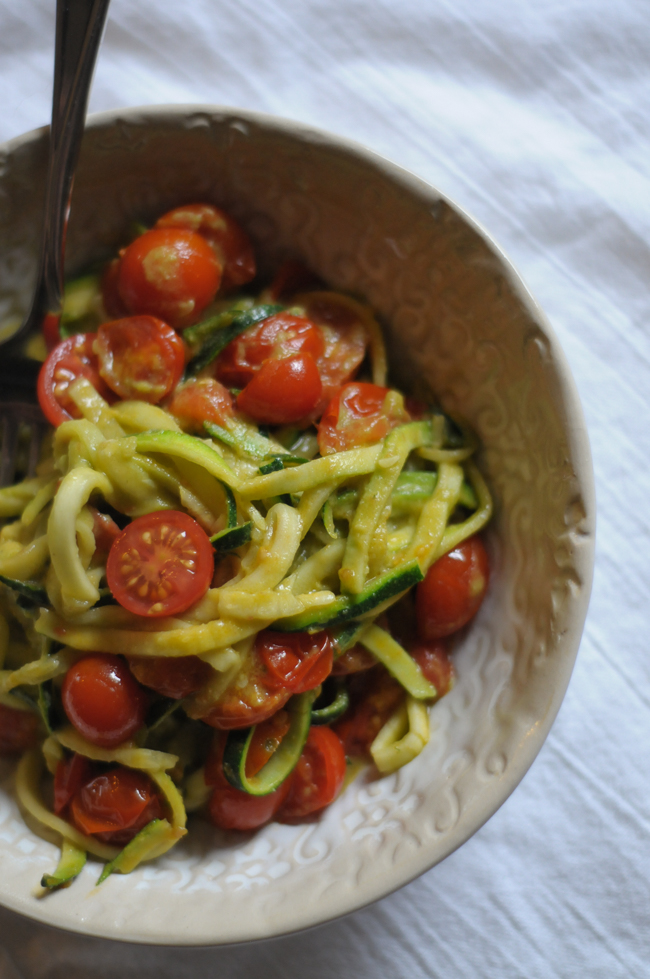 So now, in addition to all of the amazing things summer brings. I can add a brand-new and exciting way to create great meals with zucchini to the list…and you can too!
5-INGREDIENT ZUCCHINI NOODLE BOWL
Serves 1, but can be doubled as needed
Ingredients:
1 tablespoon olive oil
1 medium zucchini
1/3 cup sliced cherry tomatoes
1/2 ripe avocado, smashed
1/2 crushed red pepper flakes
salt and pepper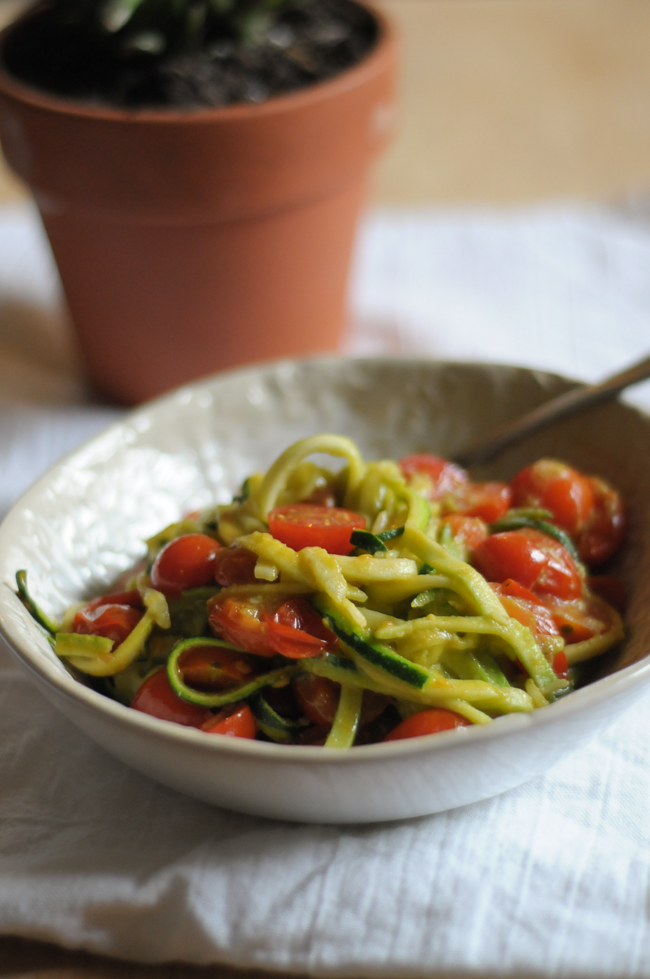 Directions:
Heat the olive oil in a small skillet over medium heat.
While the oil is heating, spiralize the zucchini. If you do not have a spiralizing tool you can use a vegetable peeler to make long ribbon-like strips, then slice the stripes into noodles. Not as easy, but certainly just as tasty!
Place the crushed red pepper flakes in the oil and toast for about 30 seconds.
Add the tomatoes and sauté for 1-2 minutes.
Add the zucchini noodles and toss, using tongs, to coat in the oil and tomatoes.
Cooking the zucchini should only take 2-3 minutes.
Remove from the heat and stir in the avocado until a creamy sauce is formed.
Season with salt and pepper as desired.
Enjoy!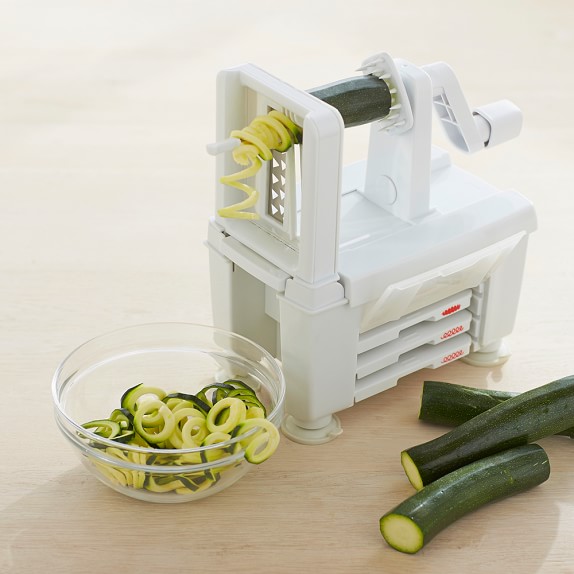 To enter to win this Paderno Spiralizer, shout out a vegetable or firm fruit that you would like to try to spiralize for a dish  in the COMMENTS section of this post.
Winner will be selected randomly and announced July 22. Note that I will contact the winners by email, so if you forget to check back after you enter, no worries.
Giveaway sponsored by Arkansas Farm Bureau's Taste Arkansas.
UPDATE: Winner is S. Clinton. ENJOY!
Arkansas Women Blogger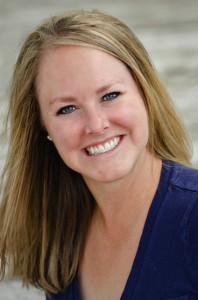 member Heather Disarro is a food-centric lifestyle blogger who is passionate about embracing the beauty that surrounds us in our everyday lives. She is a Texan living the expat life in central Arkansas with her husband, son and two massive dogs. Heather writes her blog, Heather's Dish, from an office filled with dust, dog fur, toys and plenty of love, grace and music. She revels in the opportunity to bring the love of cooking to the world as a way to love others well!