I've been making a lot of recipes I've found on Pinterest lately. I've noticed that a lot of my favorite new recipes are coming from Averie Cooks. Her blog is fantastic, and I always find at least two or three new recipes to try immediately. I made this Zucchini Banana Bread of hers with my own twist, and I cannot stop raving about it. It has the perfect consistency, tender and moist without being doughy. The flavor is balanced and clean. I love that the banana doesn't completely overpower all the other flavors. I made a few changes to her original version that you can find here.
Did you know there are almost 50,000 farms in Arkansas?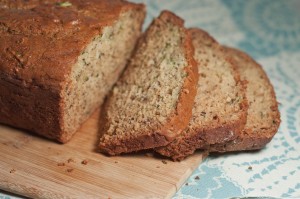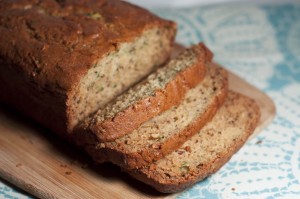 Ingredients
1/4 cup unsalted butter, melted
3/4 cup granulated sugar
1/4 cup light brown sugar, packed
1 large egg
6 ounces vanilla or plain yogurt (one standard-sized small container; Greek yogurt preferred, or sour cream may be substituted – do not use fat free or light yogurt or sour cream)
2 teaspoons vanilla extract
1 teaspoon almond extract
1-3/4 cup grated zucchini, loosely packed
1 to 1-1/4 cups mashed bananas (1 large or 2 small very ripe bananas)
1 (3.4-ounce) box vanilla instant pudding mix
2 cups all-purpose flour
1-1/2 teaspoons baking soda
1/2 teaspoon salt
Instructions
Preheat oven to 325F, spray a 9 x 5-inch loaf pan with cooking spray and flour the pan; set aside.
In a large microwave-safe mixing bowl, melt the butter, about 1 minute on high power. To the melted butter, add the sugars, egg, yogurt, vanilla, almond and whisk to combine. Add the zucchini, bananas, and stir to incorporate.
Add the dry instant pudding mix, and stir to combine (Note: You aren't making pudding; simply add the mix as a dry ingredient.) Add the flour, baking soda, salt and stir until just combined, taking care not to over-mix or bread will be tougher as the gluten will over-develop.
Pour batter into prepared pan and bake for about 60 to 65 minutes, or until top is golden and set and a wooden skewer, cake tester, or knife inserted in the center comes out clean. Allow bread to cool in the loaf pan for at least 30 minutes before removing from the pan and transferring to a rack to finish cooling.