UPDATE
WINNERS: Sarah Collier, Amanda Grice, Rosemary J, Jennifer Mullen, Julie Weegers, Gina Sellers, Kathy, Alicia, Denver Little, and Talya. I will be contacting you all to get certificates to you.
I hope you are enjoying Ice Cream Social Week on Taste Arkansas.
If you do not have time to bring out the ice cream maker, boy do I have a sweet treat for you. Yarnell's Ice Cream, a company based in Searcy, Ark., has been making their down-home goodness for over 80 years.  Homemade chocolate, Lemon Ice Box Pie, Butter Pecan, oh my.
Today, we are giving away 10 gallons of Arkansans' favorite ice cream, one gallon each for 10 of you!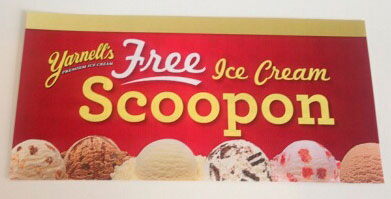 To enter, just shout out your favorite ice cream flavor in the Comments section of this post.
Winners will be selected randomly and announced Monday night. Note that I will contact the winners by email, so if you forget to check back after you enter, no worries.
(Yes, if it is too hard to decide, you can list more than one favorite flavor.)
Giveaway sponsored by Yarnell's and Taste Arkansas.