February and March are often referred to as the months of winter hibernation and winter fatigue. Do you feel it? These months are the time of year when we have dreams of spring in our hearts and itchy fingers wanting to work in the soil. Daffodils are pushing up to say hello and before we know it, the stalls at the local farmers markets will be overflowing. Grills will heat up on our decks, and we'll find ourselves dragging out the largest bowls we can find in our cupboards to fill with the freshest of salads.
Why wait until spring?
Right now, winter citrus is abundant at grocery stores, and many produce sections have butter lettuce and Boston lettuce. Leisurely stroll through the produce section this week, and chose a selection of oranges, grapefruits and kiwi. Then try this winter-inspired citrus salad with warmed honey vinaigrette. It will knock your winter socks off.
After tasting this satisfying salad, you may want winter to linger a while longer.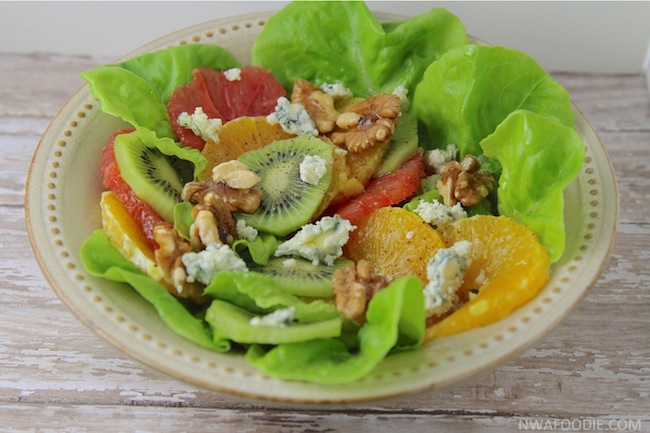 Winter Citrus Salad with Warmed Honey Vinaigrette
Serves 4-6
Ingredients
1 head of butter lettuce, cleaned and torn into bite-sized pieces
2 small navel oranges, peeled and thinly sliced, seeds removed
1 ruby red grapefruit, peeled and thinly sliced, seeds removed
2 kiwi fruits, peeled and thinly sliced
¼ cup walnut halves, raw and unsalted
1 tablespoon crumbled Danish blue cheese
Cracked black pepper
2 tablespoons extra-virgin olive oil
2 teaspoons white balsamic vinegar
2 teaspoons honey
Instructions
Tear lettuce and place in bowl.
Add citrus and kiwi to lettuce and sprinkle with walnuts and blue cheese.
Add cracked pepper.
In a small microwave-safe bowl, stir the olive oil and vinegar with the honey.
Microwave for 15 seconds on high, stir and drizzle on salad.
Eat well, my friends. Lyndi
Arkansas Women Blogger member Lyndi Fultz writes about living and eating well from her life in beautiful Northwest Arkansas at nwafoodie. Much of her blogging inspiration comes from this gem of a place, which she refers to as the proverbial land of milk-and-honey. Read more related to cooking, entertaining, gadget suggestions, ingredient explorations, local finds, local restaurant treasures, kitchen tour spotlights, and always with a healthy and simplistic approach.