We're in the dog days of summer. It's time to get creative in our recipe choices. I want something cool and light. Don't get me wrong, I love a warm cozy meal or treat, but when it's 100 degrees outside for days on end I need refreshment. This Watermelon Slush is a great solution. Combine five ingredients in the blender, and you have yourself a low calorie, refreshing treat.
Did you know that last week I made our 100th post on Taste Arkansas? Don't forget to check out the top five recipe posts here and vote for your favorite.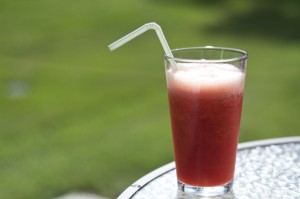 Ingredients:
4 cups cubed seedless watermelon
10 ice cubes
1/3 cup fresh lime juice
¼ cup white sugar
1/8 teaspoon salt
Directions:
Combine all ingredients in blender and blend until smooth. Serve immediately.