Our family loves big Saturday morning breakfasts. We sleep a bit later, take a little more time waking up, and eat a lot heartier. Our guys love eating wild game bagged right here in Arkansas, so our Saturday morning breakfasts are a great time to cook some venison sausage. We also love waffles, so these Venison Sausage Waffle Tacos are an awesome combination of two favorites.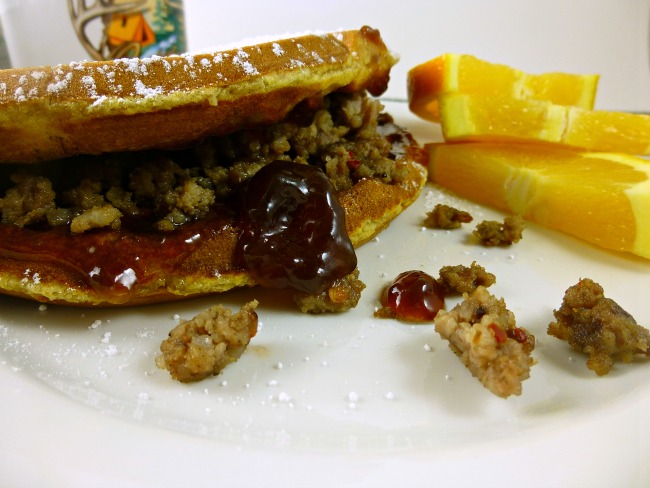 VENISON SAUSAGE WAFFLE TACOS
Prep Time: 30 minutes
Servings: 6
Ingredients:
1 pound sausage
2 eggs
2 cups all-purpose flour
½ cup melted butter or oil
1 ¾ cup milk
½ cup sugar
4 teaspoons baking powder
½ teaspoon salt
1/8 cup oat bran
¼ cup chopped pecans
Grape jam, (homemade, if you are truly blessed)
Powdered sugar, to sprinkles
Instructions:
1. In a skillet, brown and crumble sausage over medium heat.
2. Drain grease from sausage and set aside.
3. Heat waffle iron according to your iron's instructions.
4. In a large mixing bowl, beat eggs by hand until fluffy.
5. Add flour, butter, milk, sugar, baking powder, salt, oat bran and pecans. Mix unit smooth.
6. And batter to your waffle iron according to your iron's instructions and cook until done. (I add ½ cup of batter to my 7 1/2 inch round waffle iron.)
7. Remove from iron and lace on plate.
8. Spread approximately 2 tablespoons of grape jam over waffle.
9. Add 1/3 cup crumbled, drained sausage on top of jam.
10. Fold waffle 'taco' in half.
11. Sprinkle with powdered sugar, if desired.
Arkansas Women Bloggers member Mary Wood is a lifetime lover of words. She hails from the suburbs of Nimrod, Arkansas where she is co-owner and number one stacker of wood in her family's sawmill. She loves playing in the dirt and raising a zoo-load of animals on their family farm. Her passions include living life with her husband Steve, son Caleb and all-grown-up daughters Rebecca and Rachel and son-in-law Matt. Homeschooling, writing women's Bible studies, and renovating their home fill up the remainder of her time.