by Gregg Patterson, Arkansas Farm Bureu
A fusion of an old school wild game recipe with new school Momofuku Korean-American influenced cuisine from New York City chef David Chang brightens venison breakfast sausage patties in an unprecedented way.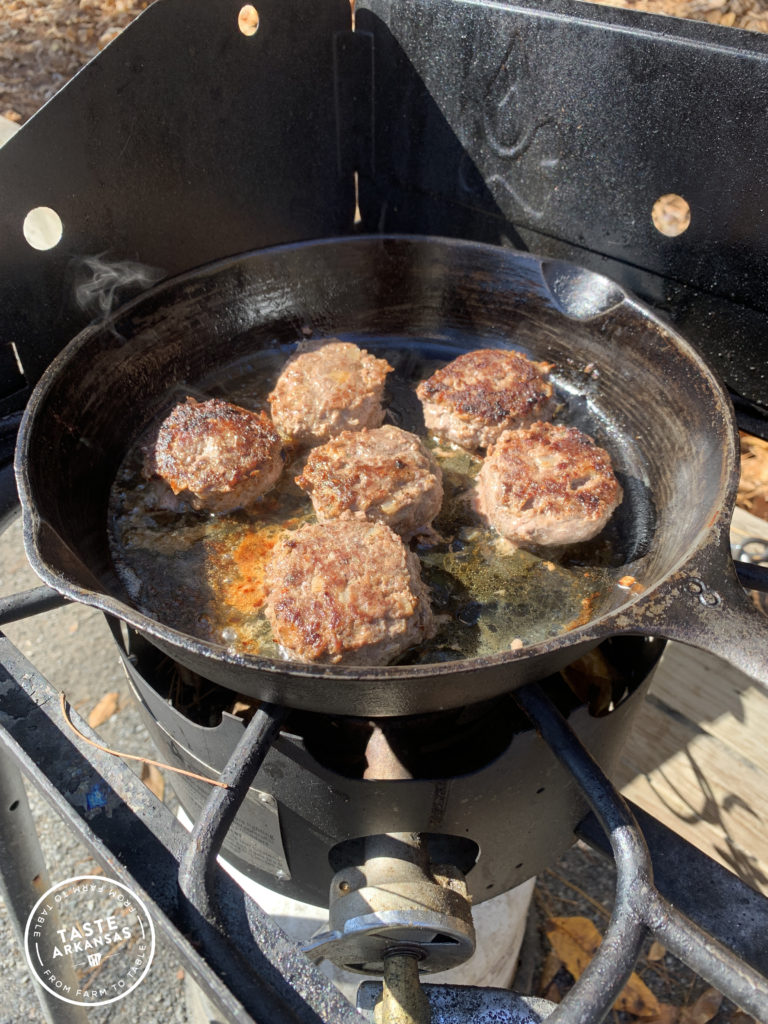 I love breakfast. And I really love breakfast sausage patties. Recently, a friend gave me a front shoulder from a nice buck he'd killed in the industrial timberlands of southwest Arkansas during the early muzzleloader deer season. What to do with this gift? Venison is a temperamental, unforgiving meat, easily wrecked despite one's best intentions.
To the cookbooks I went and remembered a breakfast sausage recipe by Ted Kerasote I'd once tried when we were columnists for Sports Afield. Rebecca Gray published Ted's recipe in her wonderful wild game cookbook "Eat Like A Wild Man" (Willow Creek Press). What I immediately noticed about Ted's recipe was it didn't call for any addition of fat. Venison being so lean, pork fat is usually added to most venison sausage recipes.
Back to the cookbooks I went, and quickly found a pork belly recipe in chef David Chang's cookbook "Momofuku" (Clarkson Potter/Publishers) for pork belly ssam. Chef Chang's recipe calls for cooking the pork belly in the oven for an hour at 450 F and then 30 more minutes at 250 F. I wanted the breakfast sausage to have a smokey flavor, so I finished it by smoking it at 250 F on a Big Green Egg the final 30 minutes.
Below is my iteration of Kerasote's venison breakfast sausage patties and chef Chang's pork belly ssam recipes. The ground mix is 1 pound of smoked pork belly for every 2 pounds of ground venison. The campfire smokiness, blend of spices and venison base makes this breakfast sausage taste like the essence of Fall. It's wonderful.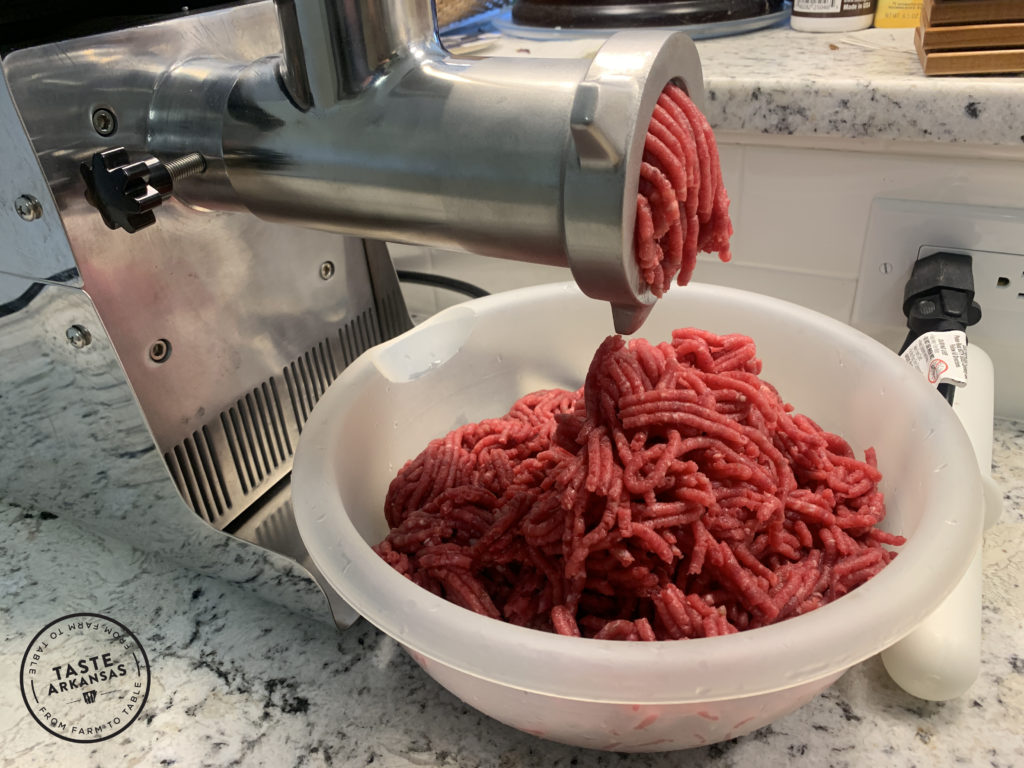 South Arkansas is characterized by its commercial timberlands that provide excellent habitat for white-tailed deer and other wildlife. Overall, forested land makes up 58% of Arkansas. Forestry related activities in Arkansas employs almost 28,000 skilled workers and has an economic impact of some $6.4 billion annually.
VENISON-PORK BELLY BREAKFAST PATTIES
4 pounds ground venison
2 pounds ground pork belly ssam (see recipe below)
1 medium onion, chopped
2 teaspoons granulated garlic
2 teaspoons salt
1 teaspoon dried red pepper
1 teaspoon fresh ground black pepper
1-1/2 teaspoons cumin
1-1/2 teaspoons allspice
4 tablespoons dried parsley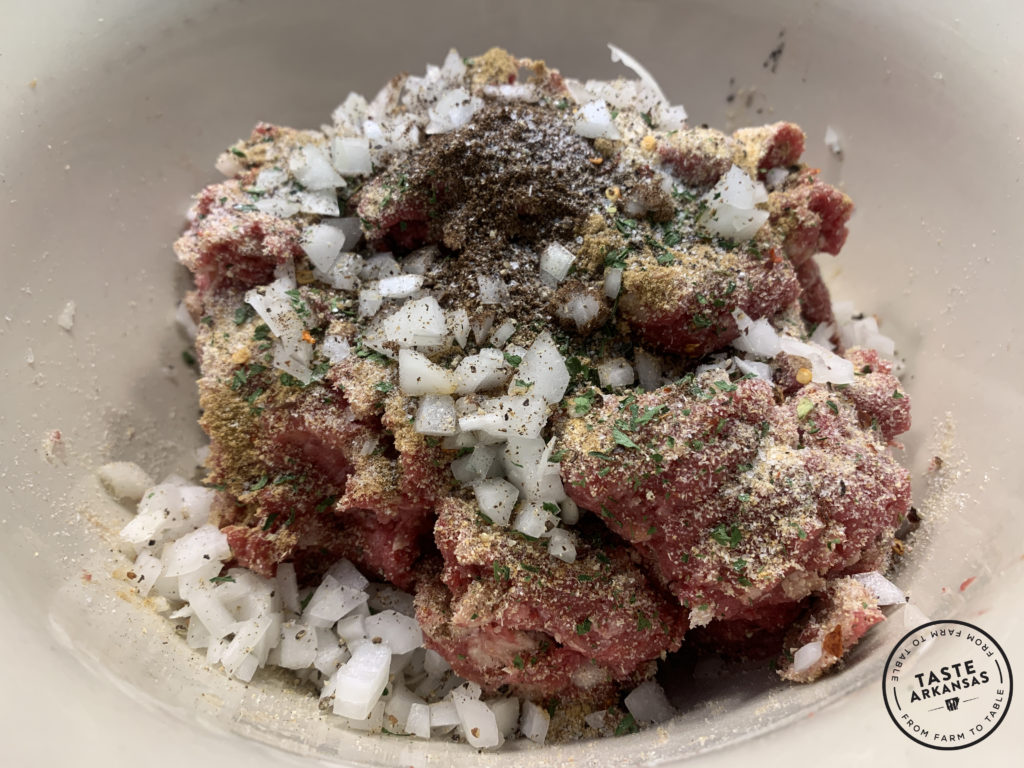 PORK BELLY SSAM
Make the pork belly ssam one to three days before grinding and mixing the sausage.
2 pounds fresh skinless pork belly
1/3 cup kosher salt
1/3 cup sugar
7 tablespoons of brown sugar
Rub the salt-sugar mixture into the pork belly. Place snugly in a pan. (I use a loaf pan.) Cover and refrigerate overnight. Discard any liquid that forms, and cook for 1 hour at 450 F until golden brown. While in the oven, prepare grill/smoker to 250 F. After removing from the oven, switch pork belly pan to grill/smoker and cook for 30 more minutes. Remove and empty the fat and meat juices from the pan. Allow the pork belly to cool and then cover and refrigerate at least overnight until ready to grind and mix with venison and spices.
Grind venison-pork belly ssam and thoroughly blend mixture and spices by hand, shaping into patties. Fry in iron skillet until cooked through and enjoy with your favorite breakfast main dish.
Text and photos by Gregg Patterson