Alexis Looper  was a winner at the 55th annual Arkansas Dairy Foods Contest held June 6. Alexis, 14, daughter of Warren and Nancy Looper, took first in the Party Idea competition with  her recipe for Vanilla Cupcakes with Strawberry Cream Filling and Cream Cheese Icing. Winners receive $150.
Each year judges placed contestants based on recipe, use of dairy products, originality, availability of ingredients and serving technique. Arkansas Farm Bureau, Southwest Dairy Museum and Arkansas Dairy Cooperative Association sponsored the event.
I love going to the Arkansas Dairy Foods Contest. Some of the best recipes come out of this competition each year. I'm always impressed by the contestants and their recipes. You won't be disappointed in these cupcakes. Check back for the winner of the Main Dish competition.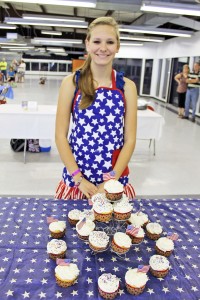 Cupcakes:
3 cups cake flour
2-1/2 teaspoons baking powder
1/2 teaspoon salt
2/3 cup butter, softened
1-3/4 cup granulated sugar
2 eggs
1-1/2 teaspoons vanilla
1-1/4 cups milk
Preheat oven to 350 degrees F. Line cupcake pan with baking cups. Sift together flour, baking powder and salt; set aside.
In large bowl, cream butter and sugar with electric mixer until light and fluffy. Add eggs and vanilla; mix well.
Add flour mixture alternately with milk, beating well after each addition. Continue beating one minute. Pour into prepared baking cups. Bake 18-20 minutes or until toothpick inserted into center of cupcake comes out clean. Cool 10 minutes. Turn out onto cooling rack; cool completely.
Strawberry Cream Filling:
1 package (16 oz.) frozen sliced strawberries in syrup, thawed
1 cup heavy cream
2 tablespoons cornstarch
Combine strawberries, cream and cornstarch in medium saucepan. Cook over medium heat, whisking constantly until thickened, about 8-10 minutes. Remove from heat and chill before filling cupcakes. Fill cupcakes with strawberry filling using decorating tip #230.
Cream Cheese Icing:
1 cup (2 sticks) unsalted butter, softened
2 packages (8 oz. each) cream cheese, softened
8 cups confectioners' sugar (about 2 pounds)
1 tablespoon milk
Icing color, if desired
In large bowl, beat butter and cream cheese with electric mixer until light and fluffy. Gradually add confectioners' sugar and milk. Beat on high until smooth (30-60 seconds). If icing seems too thin, add confectioners' sugar 1 tablespoon at a time. If it seems too thick, add more milk, 1 teaspoon at a time, until icing reaches desired consistency. Add icing color as desired, and mix well.
Frost cupcakes using a disposable decorating bag and a 1M decorating tip. Hold decorating tip approximately 1/4 inch above cupcake top, at a 90-degree angle to cupcake surface. Pipe a spiral of icing, beginning at outer edge and working inward. Pipe a second spiral, smaller (not as wide) on top, and end spiral at center. Pull tip straight up and away. Add any sprinkles or decorations at this time.