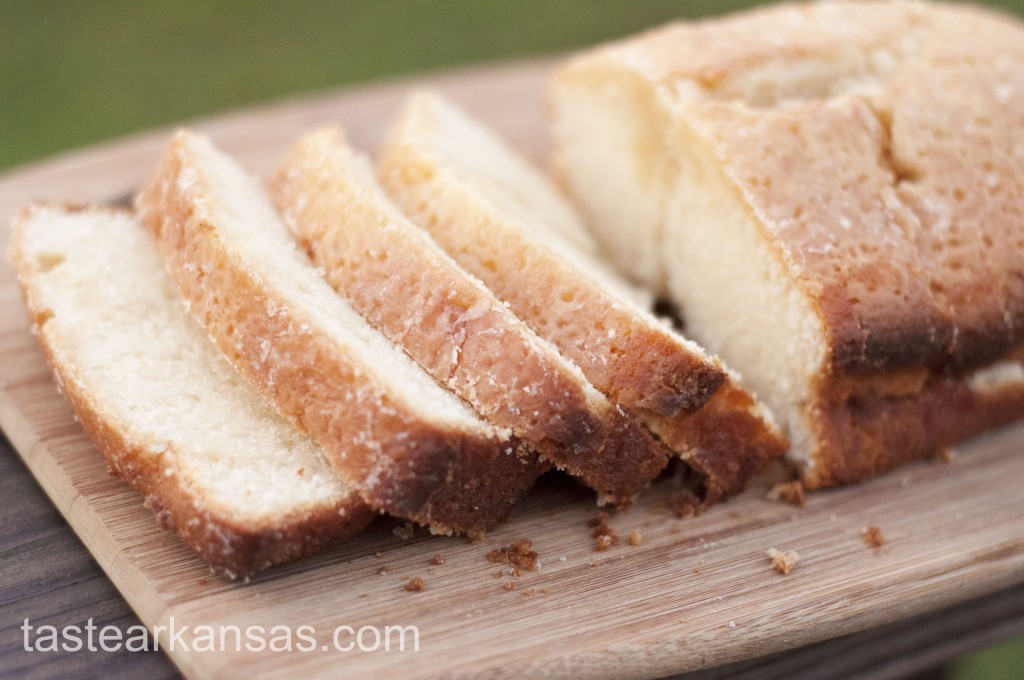 After trying a new banana bread recipe (a future post), I was curious to try more bread recipes. I found this one for Vanilla Almond Bread with an Orange Glaze and knew I had to make it immediately. This bread is tender; full of aromatic flavors and the slightly gooey, yet slightly crunchy glaze really melds everything together. If you can find poppy seeds at your grocery store, throw in one and a half tablespoons of them to really kick it up a notch. I couldn't keep this bread on my counter long before it was devoured!
Did you know Arkansas produces soft red wheat, which is used in many confectionery products?
Ingredients
Bread:
3 cups flour
1/2 teaspoon salt
1 1/2 teaspoons baking powder
3 eggs
1 1/8 cups cooking oil
2 1/4 cups sugar
1 1/2 cups milk
1 1/2 teaspoons almond extract
1 1/2 teaspoons vanilla extract
1 1/2 teaspoons melted butter
Glaze:
1/4 cup orange juice
3/4 cup sugar
1/2 teaspoon almond extract
1/2 teaspoon vanilla extract
1/2 teaspoon melted butter
Instructions
For the bread: Preheat oven to 350 degrees. Mix all of the ingredients together. Pour into greased and floured baking pans. Makes 2 large loaves. Bake at 350 for 50-60 minutes for large pans and less for smaller pans.
For the glaze: Pour all ingredients into a small saucepan and let cook on medium heat until sugar dissolves. Remove bread from pans and pour glaze over warm bread. Use knife or spatula to bring the glaze that has run off up and over the warm bread until it stays on. Allow the bread to cool for at least 15 minutes before trying to remove it from the pan. Gently run a butter knife around the edges before removing the bread from the loaf pan.