I love cheese. I try to cut back on my cheese consumption, but I just can't. I always have at least three different cheeses in my fridge and usually one type is just for snacking. This week I channeled my love of cheese into Turkey Cheeseburger Soup. It was fantastic! Creamy, cheesy goodness with enough vegetables that I felt good about eating it. This soup would be a perfect freezer meal too. Double this recipe and freeze your leftovers for a quick weeknight solution.
Did you know that 49 percent of the fluid milk supply in the United States is used to make cheese?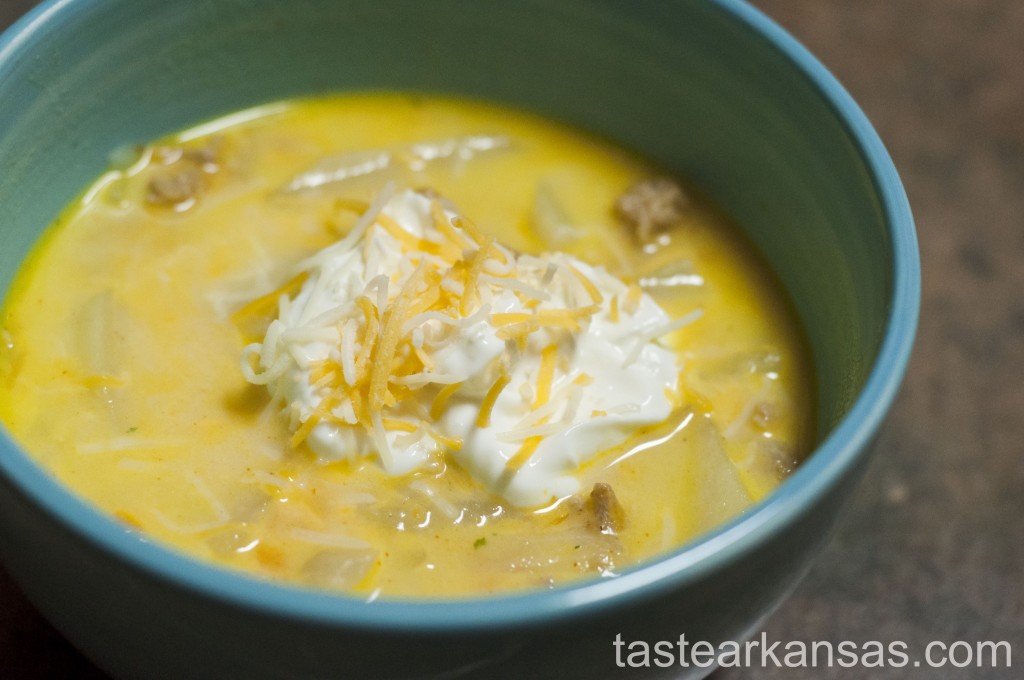 Ingredients
1/2 pound ground turkey
3/4 cup chopped onion
3/4 cup shredded carrots
3/4 cup diced celery
1 teaspoon dried basil
1 teaspoon dried parsley flakes
4 tablespoons butter, divided
3 cups chicken broth
4 cups diced peeled potatoes (1-3/4 pounds)
1/4 cup all-purpose flour
8 ounces Velveeta, cubed
1-1/2 cups milk
3/4 teaspoon salt
1/4 to 1/2 teaspoon pepper
1/4 cup sour cream
Directions
In a 3-quart saucepan, brown turkey; drain and set aside.
In the same saucepan, sauté the onion, carrots, celery, basil and parsley in 1 tablespoon butter for about 10 minutes or until the vegetables are tender. Add the broth, potatoes and ground turkey; bring to a boil.
Reduce heat; cover and simmer for 10-12 minutes or until potatoes are tender.
Meanwhile, in a small skillet, melt remaining butter. Add flour; cook and stir for 3-5 minutes or until bubbly. Add to soup; bring to a boil.
Cook and stir for 2 minutes. Reduce heat to low. Stir in the cheese, milk, salt and pepper; cook and stir until cheese melts. Remove from the heat; blend in sour cream.