Lately, I've been experimenting with different turkey burger recipes. I've found that a lot of recipes don't give the turkey enough flavor. Turkey easily absorbs the flavors you season it with. If you don't give turkey enough flavor, it can taste bland. I combined two recipes to create this one and tested it on several friends. They all loved it. These burgers are packed full of flavor. Want to wow your friends at a summer barbeque? Try this recipe for turkey burgers.
Did you know the incubation period to hatch a turkey is 28 days?
Ingredients
1 lb. ground turkey
2 tablespoons soy sauce
1 teaspoon kosher salt
1 teaspoon sugar
1/2 teaspoon black pepper
2 tablespoons chopped chives
8 ounces fresh mushrooms, sliced
1 small onion, sliced
cheddar cheese
Directions
Preheat grill or griddle pan at high heat. In another frying pan, drizzle olive oil, and heat onions over medium heat until they're just starting to turn translucent. Add mushrooms. Cook down until onions are caramelized and mushrooms are soft.
In a medium bowl, mix together the ground turkey, soy sauce, salt, sugar, pepper and chives. Form into 4 burger patties. Lightly oil the grill grate or griddle pan. Place patties on the prepared grill, and cook for 10 minutes per side, or until well done. 
Top with cheddar cheese during the last few minutes. Top the patties with the mushrooms and onions.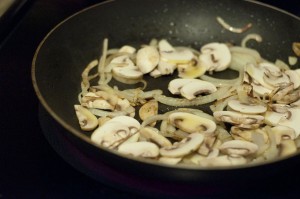 See how the onions are just starting to be translucent? Add the mushrooms at this point.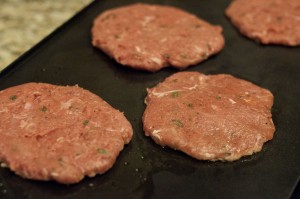 Make your patties a little thinner than you would a beef patty.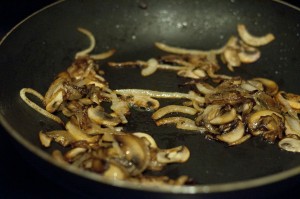 You want your onions and mushrooms to be nice and caramelized.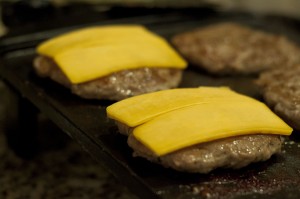 Add some cheddar cheese a few minutes before the burgers are done.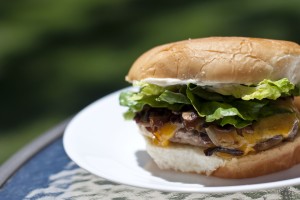 Savor this burger. It's delicious.