I've mentioned trying out dinners on my friends many times. Last night, my friend turned the tables and tried out this recipe for Tilapia with Stewed Tomatoes on me. We've been going to the gym and scouring Pinterest for new, healthier recipes, so, naturally, we both bought bags of tilapia at the grocery store this week. I'll be honest; I don't cook a lot of fish. I usually prefer a juicy steak, which is why I was a little shocked at how much I liked this recipe. Tilapia is a mild-flavored fish. The Italian seasoning and savory Italian stewed tomatoes kick it up a notch. Try it with the roasted broccoli recipe I posted here as a side dish. Do you cook fish? If so, how do you cook it?
Did you know that Arkansas' farmers produce more than 3 million pounds of tomatoes annually?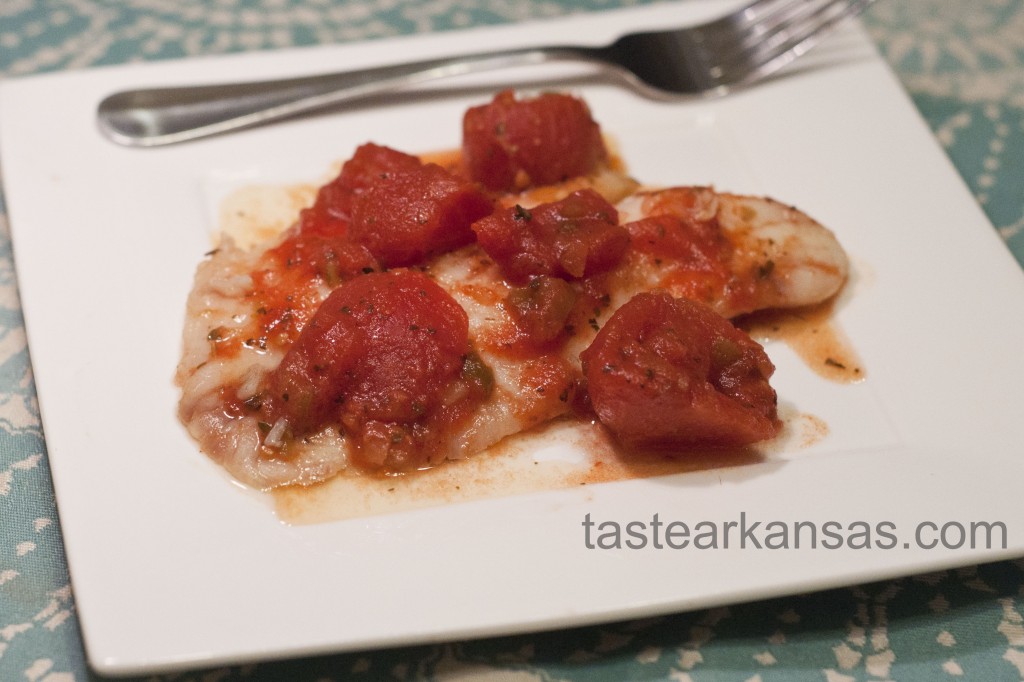 Ingredients
4 tilapia filets, thawed
1 (14.5-ounce) can, stewed, Italian tomatoes
2 tablespoons olive oil
1-1/2 teaspoons Italian seasoning
garlic salt to taste
Directions
Heat oil over medium in large skillet. Once oil has heated for about a minute, add filets. Cover filets with Italian seasoning and garlic salt. Cover skillet and cook for 3-4 minutes or until edges have turned white and filets are still undercooked in the center. Gently turn filets with spatula and pour tomatoes over the top. Cover and cook another 3 minutes or until filets are done and tomatoes are heated through. Serve immediately.