by Debbie Arnold of DiningwithDebbie.net
My husband's family settled in Johnson County, Arkansas, once known as the peach capital of America, more than 100 years ago. Like many other families in the region, they were peach growers during the peach growing boom. Today, the Morgan family of Clarksville remains one of the few long-term peach growing operations through its Peach Pickin' Paradise orchards located in nearby Lamar.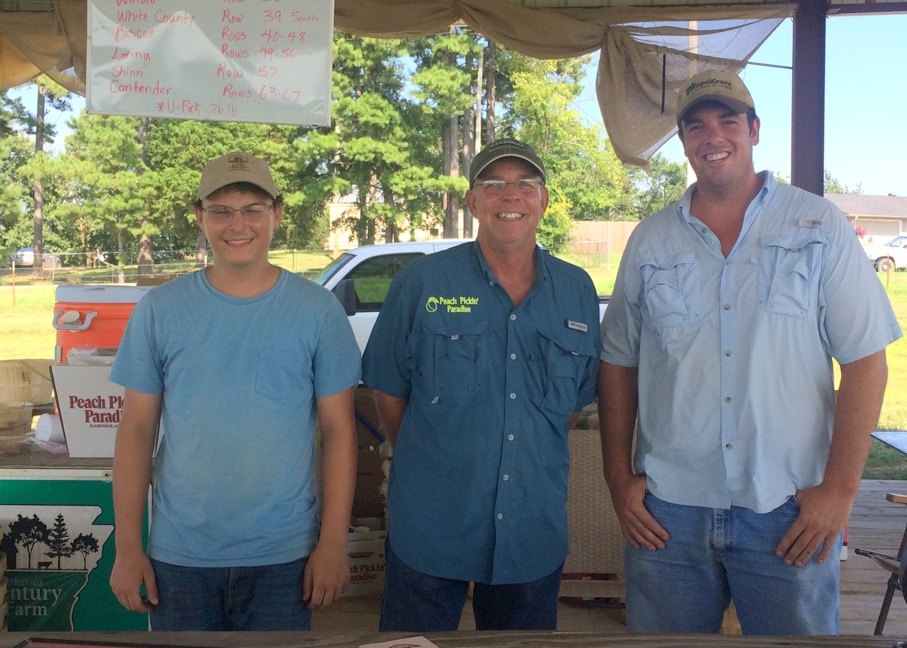 Owned by Geraldine King Morgan, orchards of approximately 120 rows of peach and nectarine varieties have been operated by his son, Steve and wife Carol, since 1999. Grandson, Mark and wife Shay, joined them in 2009. It's a family operation with grandson James and granddaughter Amber filling in whenever needed while 9-month-old great grand baby, Kate, assists with the marketing. Grandma Geraldine is always ready to assist and will gladly share her famous peach cobbler recipe.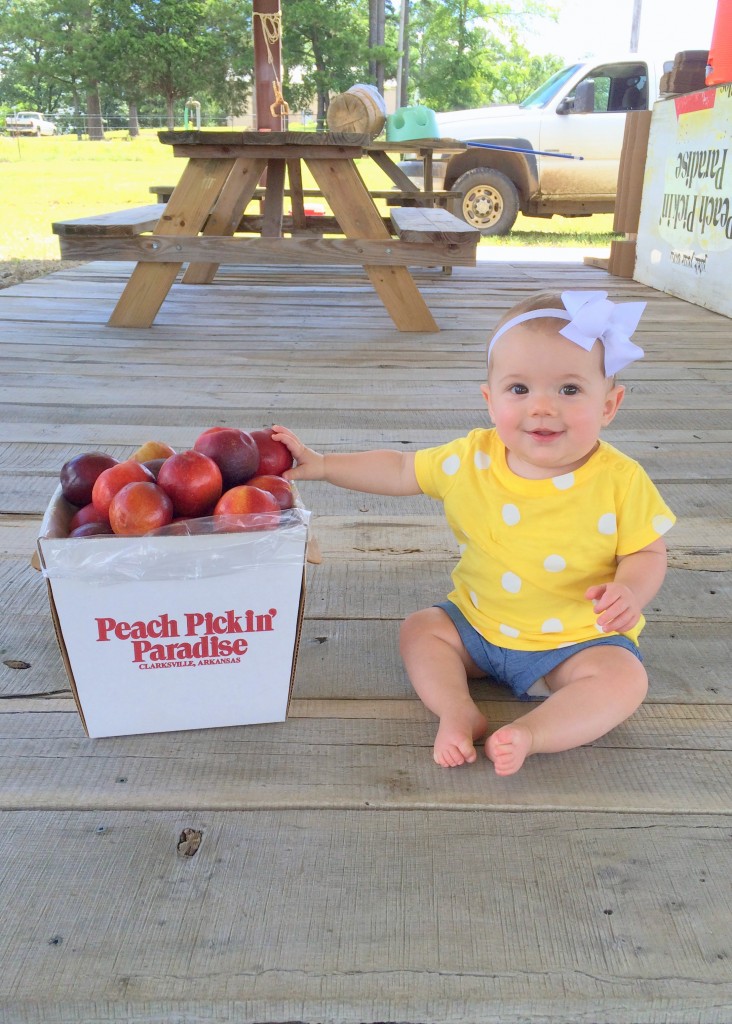 George Morgan, Sr. started the family's commercial venture into peach growing during the 1920s which has operated continuously on land originally settled by James Griffin Morgan. While great-great grandfather James, the founder of Morgan Farms in 1876, also grew peaches, as documented by a receipt for purchase of peach trees in 1890, his were for the family's personal use. George Morgan, Jr. started with his orchards for picking and shipping after returning from World War II in 1947. He's credited with starting the first "pick your own" in 1977.
I recently stopped by Peach Pickin' Paradise with my husband and grandchildren to pick a bushel of peaches. The Morgans, who say they have friends rather than customers, encourage families to come with their children and picnic on the grounds. They don't mind if you sample a peach or two along the way either.
In 2014, the Morgan family, active participants in the Arkansas Grown  and Farm 2 School programs, and their fifth-generation peach growing business were featured in a video produced by the University of the Ozarks. It begins with Geraldine's story of the Morgan family's "Peach Fever."
;
The Morgans, like many of our Arkansas family farmers, bring not only a commitment to their products but to their communities, as well. They support their local farmers markets, because it supports the communities in which they live, not just because it improves their profit margins. They support the heritage of their fathers and great-great grandfathers. They remind us to eat locally because only then will we know where our food is grown and just how important that is. They promise us their best because they believe in what they do and want us to believe in it, too.
They are our Arkansas farmers.
I used many of those freshly picked peaches to make this Smoky Peach Barbecue Sauce that my husband uses to baste smoked baby back ribs. I also use it as a condiment for the rib barbecue sandwiches we love.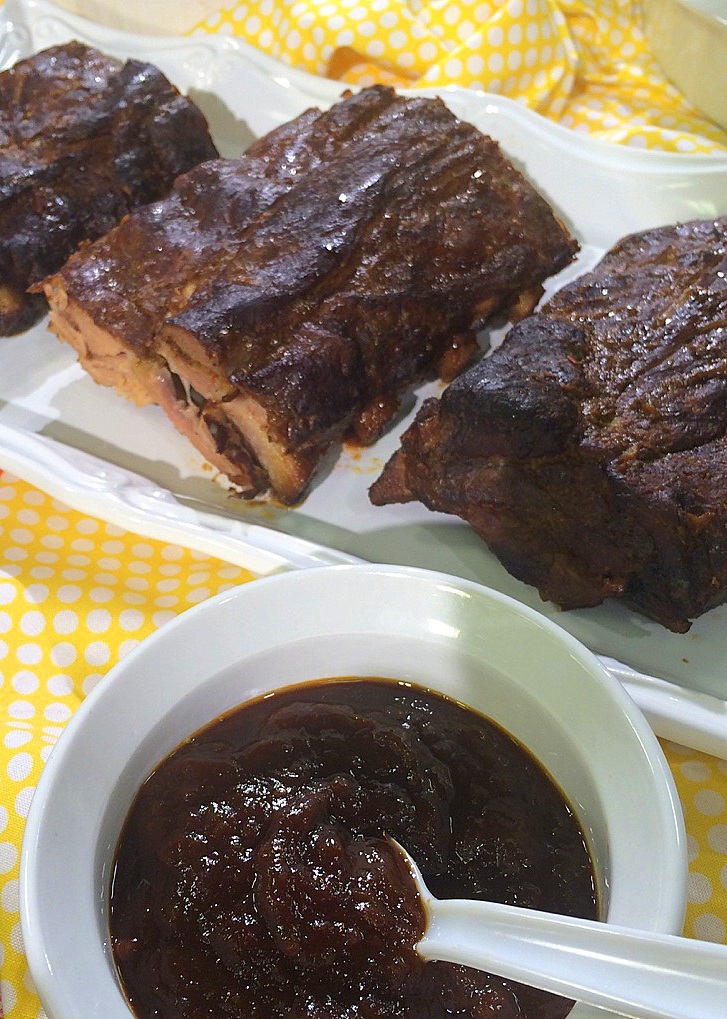 SMOKY PEACH BARBECUE SAUCE [SLOW COOKER]
Makes about 8-10 cups.
Cooking time: approximately 8 hours (allow more time for canning)
8 cups peeled and coarsely chopped peaches
¼ cup fresh lemon juice
½ cup canola oil
1 large Vidalia or other sweet onion, chopped
7 garlic cloves, chopped
¾ cup apple cider vinegar
1 cup dark brown sugar, firmly packed
½ cup honey
½ cup sorghum molasses
½ cup water
1 cup Worcestershire sauce
½ cup tomato paste
½ cup Liquid Smoke
1 (or more) chipotle in adobo sauce
1 tablespoon ground chipotle or ancho chili pepper
1-2 5" sprigs fresh rosemary
5-6 sprigs fresh thyme
1 bay leaf
Kosher salt to taste
Freshly ground black pepper to taste
Directions for slow cooking:
Blanch and peel the peaches; coarsely chopped. Add them to the slow cooker and pour the lemon juice over it all.
In a large sauce pan over medium-low heat, warm the oil. Add the onion and cook until tender, stirring occasionally. Add the garlic and cook for about 1 minute. Add to the peaches in the slow cooker.
Add the remaining ingredients to the slow cooker and stir to combine.
Cook on HIGH for 4 hours, stirring halfway through.
When the ingredients are very soft, remove the rosemary, thyme and bay leaf.
Using an immersion blender, blend the peach mixture in the slow cooker until it's smooth. (Alternately, transfer the peach mixture in batches to a blender and puree until smooth.)
Using a wooden spoon or spatula, prop the lid of the slow cooker open slightly and continue to cook the sauce on HIGH until it has thickened considerably. You will need to stir occasionally to prevent sticking.
Taste for seasonings.
Use as you would any barbecue sauce for basting grilled or smoked meats. Serve alongside, as well.
Directions for canning:
Have ready 4-6 half pint jars and their lids, making sure the jars have been heated thoroughly and the rings and lids warmed.
Prepare a water bath canner by bringing the water to a slow boil.
Have ready a large ladle, funnel and tongs.
Ladle the hot sauce into the jars, leaving ¼-inch headspace. Remove any air bubbles, wipe the rims and seal with the lids.
Process the jars in a boiling-water bath for 15 minutes. Store in a cool, dark place for up to one year.
The sauce may also be frozen.