Welcome to tailgate season in the South. We plan weddings around bye weekends, put on our Sunday best a day early; and set up makeshift living rooms under tents complete with our great-grandmother's silver, floral arrangements and flat-screen TVs outside the stadiums.
Where I'm from, tailgating isn't just a way to kill time before kickoff. It's a daylong ritual, a family reunion, class reunion, fashion show, foodie's dream event and cocktail hour all in one.
No party is complete without a spread of good food. Tailgating food can range from burgers and brats on the grill to things I typically found my grandmother serving to her guests, such as deviled eggs, chicken salad, cheese straws, beautiful pies and cakes (with icing the color of your team, of course).
So, grab your pearls, sundresses, and get the guys' bow ties and gingham ready (Have mercy. Don't let your man show up in a shirt without a collar. People will ask "Where are you from?" all while assuming you're a Yankee). Make these delicious hors d'oeuvres for the hungry football fans in your life.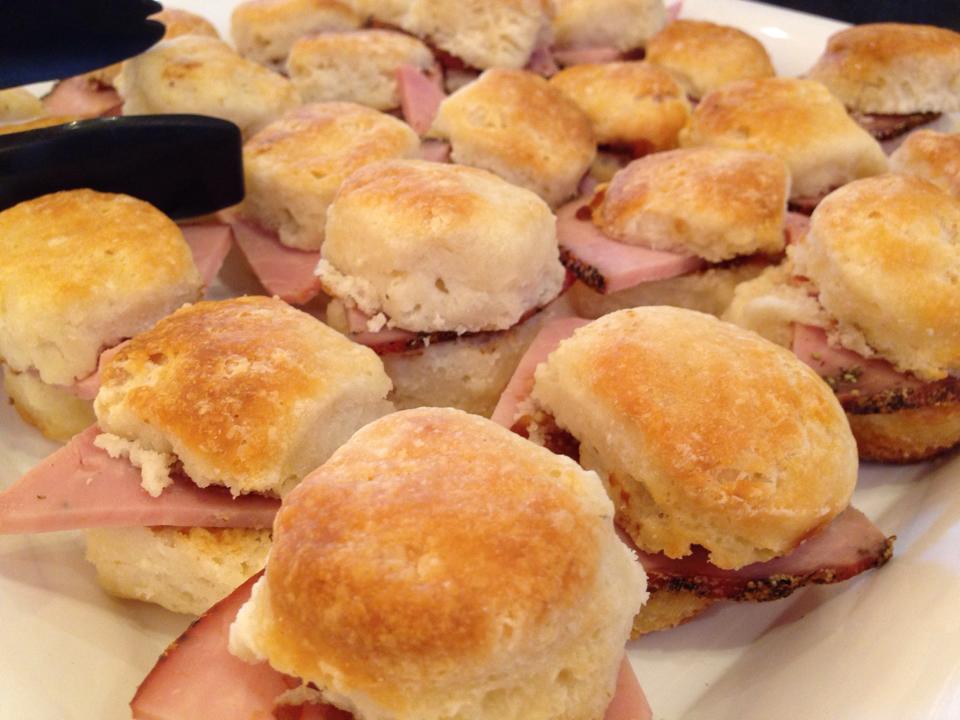 Ham-Stuffed Biscuits with Apple Butter
1 envelope active dry yeast
1/2 cup warm water (get it just over 100°)
2 cups buttermilk
5 1/2 cups all-purpose flour
1 1/2 tablespoons baking powder
1 1/2 teaspoons salt
1/2 teaspoon baking soda
1/4 cup sugar
3/4 cup shortening
2 pounds thinly sliced cooked ham, we use Petit Jean Peppered Ham
Preparation
Combine yeast and 1/2 cup warm water, and let it stand 5 minutes. Then, stir in buttermilk.
Combine flour, baking powder, salt, soda and sugar in a large bowl; cut in shortening with a pastry blender until mixture resembles coarse meal. Add buttermilk mixture, stirring with a fork just until dry ingredients are moistened.
Turn dough out onto a well-floured surface, and knead 4 to 5 times. You can count this as your workout for the day.
Roll dough to 1/2-inch thickness; cut with a 2-inch round cutter (I use my grandmother's cutter, because it makes them taste so much better) and place on lightly greased baking sheets. Cover and let rise in a warm place for one hour.
Bake at 425° for 10 to 12 minutes or until golden. I usually brush on some melted butter at this point. It's optional, but I highly recommend it. Split each biscuit and spread evenly with Apple Butter. Stuff biscuits with Petit Jean peppered ham.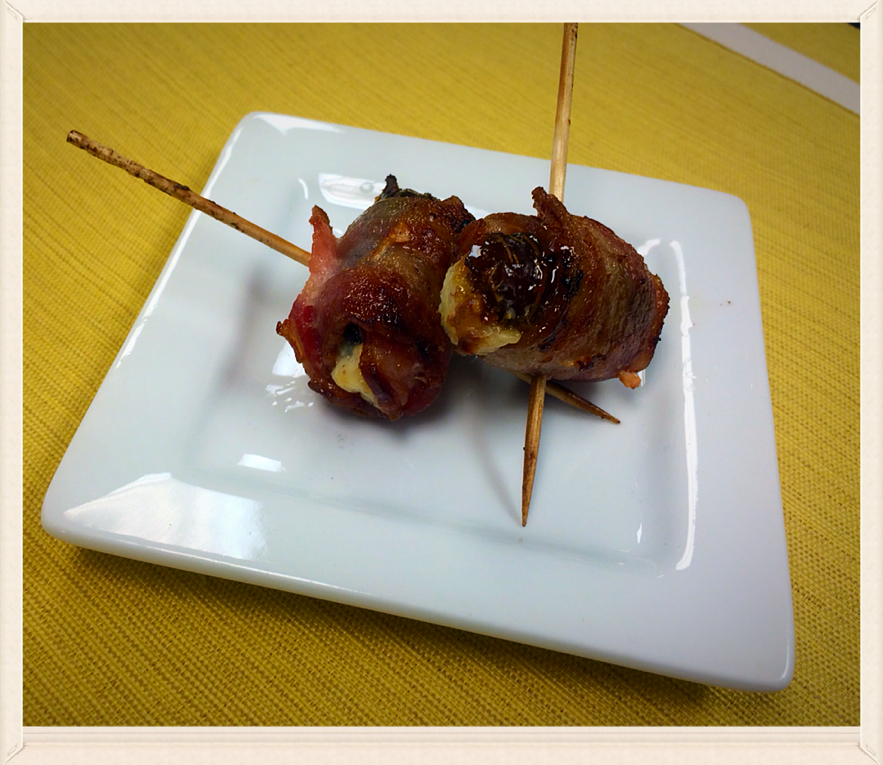 Bacon-Wrapped Dates
Bacon-wrapped Dates: delectable dates, wrapped in smoked bacon, stuffed with almonds and cream cheese – perfection! (courtesy of K-Mac Catering of Rogers, Ark.)
Yield:   12
Ingredients:
12 dates, pitted
6 slices of Petit Jean Hickory Smoked Bacon
3  ounces cream Cheese
1/8 cup crushed almonds
12 skewers or toothpicks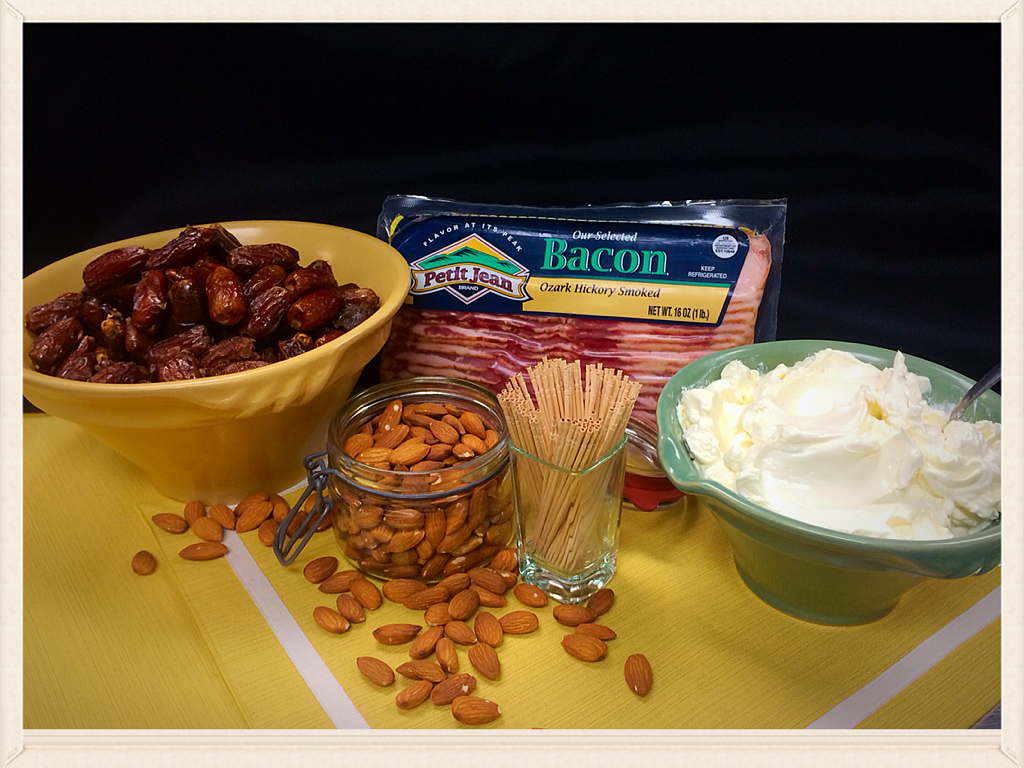 Preparation:
Set cream cheese aside to soften, place almonds in a plastic bag and crush almonds with a rolling pin. Mix almonds and soften cream cheese. Fill a pastry bag with the cream cheese mixture. Cut an opening in the tip of the bag. Squeeze/stuff mixture into each date with approximately ¼ ounce of cream cheese or whatever date will accommodate.
Cut each piece of bacon into two pieces. Wrap a ½ slice of bacon around the date and pierce with a skewer or toothpick. When piercing the bacon through the seam to ensure it stays wrapped during the cooking process.
The dates can then be cooked on the grill until bacon is lightly charred and cream cheese warm or in the oven at 400 degrees until bacon is crisp. Approximately 10 minutes.
Remove from grill or oven when ready, serve and enjoy.
Pitch your tent, lower your tailgate and celebrate the best time of the year in the South.
The Park Wife
Photos courtesy of my new friend Georgeanne at @Eggshells.