by Arkansas Women Bloggers member Lyndi Fultz of nwafoodie
The farmers market stalls are overflowing with beautiful sweet onions of all shapes and sizes right now. White, yellow, purple, and even young tender sweet onions with stems intact. Sweet onions should be a pantry staple for you as their tenderness will not disappoint whether you add them to soups, frittatas, fajitas, roasts, kebobs, burgers and the list goes on.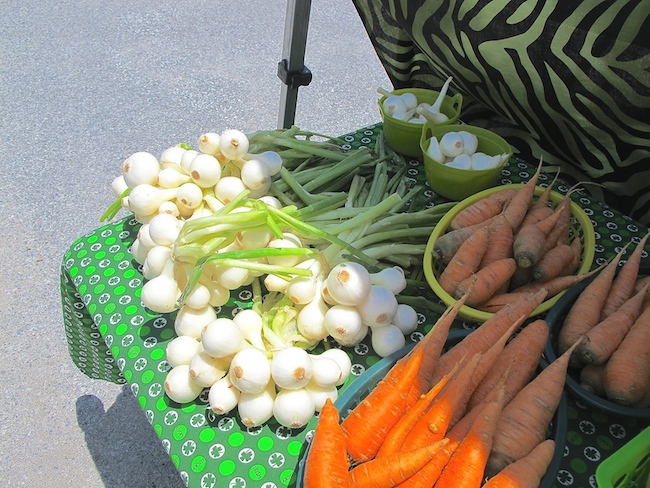 Last Wednesday, I popped into the Rogers Farmers Market over lunch with about 15 minutes to spare before the farmers called it a day. I was anxious to load up on my sweet onions since my pantry basket was getting sparse. I was also curious to see if anything new was popping up from the gardens. As the farmers were packing up for the day, I quickly ran through all the stalls to get a feel for what was available. Sweet onions were waiting for my beck and call and as I made my way back to the stall they spoke to me, the farmer threw in two extra cucumbers with my bounty of five sweet onions and a bunch of young tender spring onions with stem intact. Five dollars later I left the market with a little jaunt to my step.
It only seemed right that sweet onions should be the focus of todays post. Sautéed in butter, sweet onions seem to melt right before your eyes and immediately once you put them to your lips. They are the center course of these tacos with a supporting cast of avocados, cheese and sour cream. Feel free to skip the cheese, you probably won't miss it at all.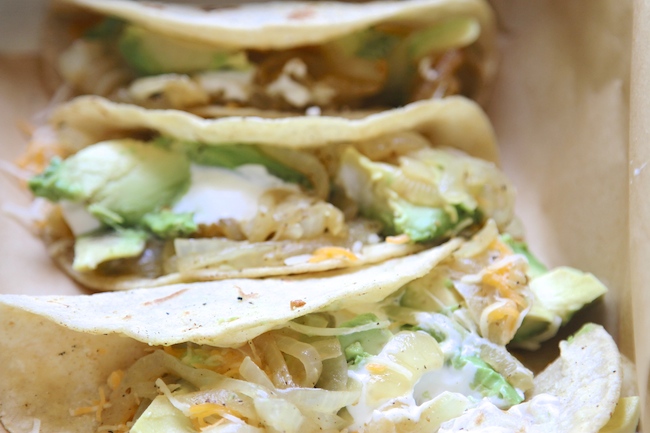 SWEET ONION AND AVOCADO TACOS
Makes 4 tacos
Tastes delicious hot and cool
Ingredients
1 large sweet onion or 4 small
1 tablespoon salted butter
¼ cup chicken broth
¼ teaspoon ground cumin
¼ teaspoon black pepper
¼ teaspoon sea salt
1 garlic clove, minced
1 tablespoon extra-virgin olive oil
4 taco-size corn tortillas
¼ cup grated Mexican cheese
1 tablespoon sour cream
1 avocado, sliced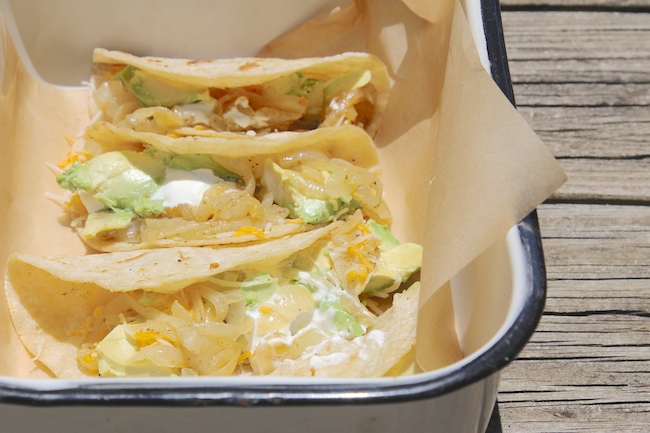 Instructions
Peel outer layer of onion and cut into thin slices.
Add butter to large skillet or pot with lid and turn on medium-high.
Once butter has melted, add onions and broth to skillet, stir and put on lid. Cook for 15 minutes or until super soft.
Add cumin, pepper, salt, and garlic to onions and stir. Remove skillet from heat and keep lid on.
Heat a cast iron skillet on medium-high heat and drizzle olive oil. You are going to heat up four taco size corn tortilla, so spread the oil evenly for each tortilla. Flip over and heat tortilla until soft and has a bit of color to it. Set each aside when completed until you have all four done. Remove from heat.
Now you are ready to plate! Add the following ingredients in order: cheese, onions, sour cream and avocado. Make sure you quarter all of your ingredients so everyone gets an even portion.
Serve and enjoy!
Eat well, my friends.
Lyndi
Arkansas Women Blogger memberLyndi Fultz writes about living and eating well from her life in beautiful Northwest Arkansas at nwafoodie. Much of her blogging inspiration comes from this gem of a place, which she refers to as the proverbial land of milk-and-honey. Read more related to cooking, entertaining, gadget suggestions, ingredient explorations, local finds, local restaurant treasures, kitchen tour spotlights, and always with a healthy and simplistic approach.