My parents have a farm and I know my mom is the glue that holds everything together. Hearing from the perspective of the farmer's wife is always interesting to me. Susan Anglin is a fantastic example. You should check out her blog The Spotted Cow Review here, and her first guest post here. Now, check out what Susan is up to on the farm.
Dairy Mom's Show and Tell
by Susan Anglin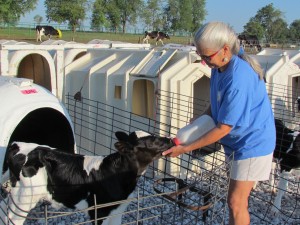 Although it's been a very long time since I was a student in elementary school, I still fondly remember the days designated as "Show and Tell" for sharing a personal treasure with our classmates. I think that fun memory can be linked to the enjoyment I feel when children and adults visit our dairy farm for   "Show and Tell".  In just a few weeks, I will be providing "Show and Tell" farm tours  for children and adults  to share  how my dairy farm family, and I work every day to provide nutritious milk by caring for our animals and the land we call home.
No matter how old you are, the highlight of every "Show and Tell" dairy farm tour is to see the baby calves and if desired, to experience a special kiss!  Fortunately, with our fall calving season just beginning,  there will be no shortage of young calves for Show and Tell!  I enjoy explaining how I use my nursing degree every day in providing individual care and monitoring to assure that each calf is healthy.
"Show and Tell" tours also include a tour of the milking parlor to see that milk is never touched by human hands and to the feed barn to check out what kind of food the cows eat in order to produce high-quality milk.  Tours provide a great opportunity to share not only information about farming and food production but an opportunity to have conversation with consumers.
I appreciate the fact that consumers want to know how we work every day to produce safe food and as a dairymom, I love sharing my treasure — our family dairy farm – for my "Show and Tell"!