At some point during the holidays, my dad always ends up with a summer sausage. The two of us stand in the kitchen together silently topping crackers with slices of sausage and cheese. It's not exactly a tradition but, without fail, it happens every year. We prefer Petit Jean Summer Sausage to all the other varieties we have tried through the years. It's flavorful without overwhelming the pork and easily accompanies a variety of cheeses. One of my favorite holiday appetizers is a Summer Sausage Cheese Board. Check out how I deck out my cheese board below. If you enter our contest here, you could win your own Petit Jean Summer Sausage to snack on!
Did you know that 8.3 million acres are dedicated to livestock and hay in Arkansas?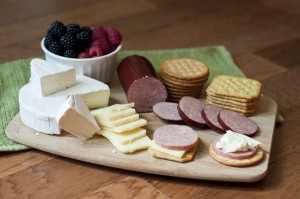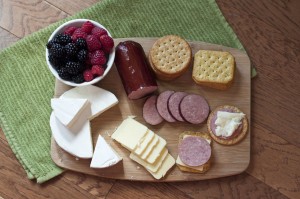 Ingredients
1 8-ounce Petit Jean Summer Sausage
1 small wheel of Brie
1 block of aged extra-sharp white cheddar
2 sleeves of crackers
1 package of berries or grapes
Instructions
Thinly slice sausage and cheddar. Remove the casing from the sausage slices. Cut Brie into wedges and remove the rind. Serve with crackers and berries or grapes.