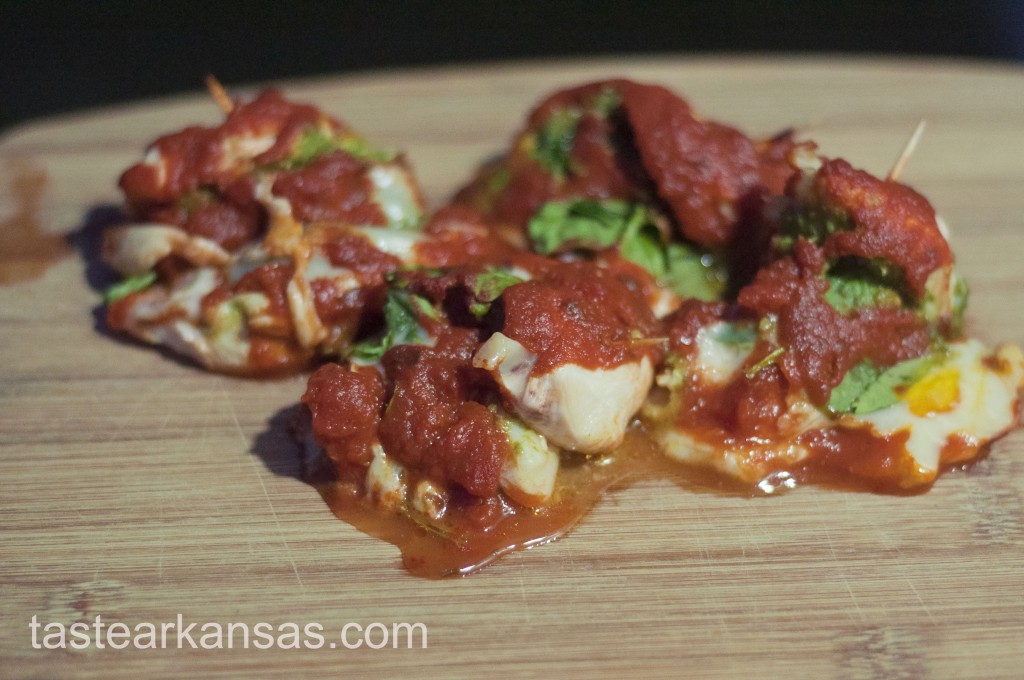 My best friend from college introduced me to this recipe for Stuffed Chicken Breast Tenderloins. She used to make this for us when we were roommates. When she came to visit last week, she made it for me again. It was just like when we used to live together. Do you have certain recipes that remind you of a time in your life? This is one of mine. As an added bonus, the chicken is tender, and this has a fantastic Italian flavor without taking a bunch of time to cook. You could serve this over noodles, but you will need to add extra sauce.
Did you know that the broiler industry is the largest segment of the poultry industry in Arkansas? Broilers are chickens that are raised for meat production.
Ingredients
2 pounds boneless, skinless chicken breast tenderloins
1 cup prepared basil pesto
1/2 pound sliced provolone
2 cups spinach
1 24-ounce jar spaghetti sauce or your other favorite tomato based sauce
2 teaspoons olive oil
toothpicks
Instructions
Preheat the oven to 375 degrees. Grease a 9 x 13 baking dish with the olive oil.
Spread about 2 teaspoons of pesto on each flattened chicken breast. Place 2 to 3 spinach leaves on top of the pesto, then place ½ slice of provolone on top of the spinach. Roll up tightly and secure with a toothpick. Place in the baking dish.
Top the stuffed chicken breast tenderloins generously with sauce. Bake uncovered for 25-35 minutes or until chicken has reached a temperature of 165 degrees.  Serve immediately.