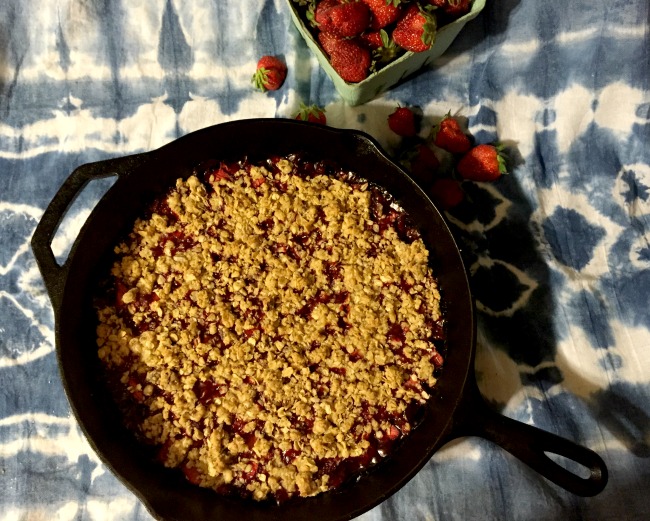 Strawberry season is in full swing in Arkansas. The soil in central Arkansas is especially good for growing strawberries and flats are popping up in farmers markets and roadside stands throughout the state.
Strawberries are versatile. I love to make sauces for chicken and pork using Arkansas-grown strawberries as a base, slice them and put them into fresh salads, and of course, they're delicious on their own or dipped in a little sugar or whipped cream.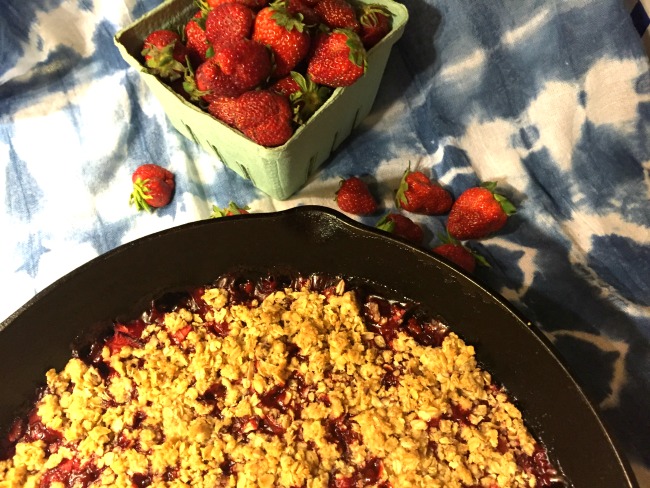 There are few dishes that can satisfy the senses quite like my Strawberry Skillet Crisp. The berries are cooked to a warm, gooey perfection and the topping is sweet, crunchy and buttery. It's like being wrapped in a hug by your grandmother with a single mouthful.
Best of all, this dessert cooks well in a cast iron skillet, and nothing says home cooking quite like a cast iron skillet.
This recipe is written for a large cast iron skillet, but you could easily cook this in six mini skillets for super cute individual desserts.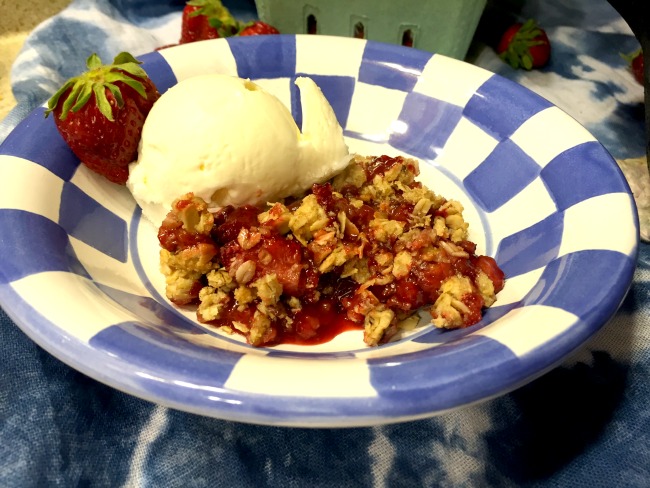 STRAWBERRY SKILLET CRISP
Serves 6
Prep Time – 20 minutes
Cook Time – 40 minutes
2 quarts sliced strawberries
1/2 cup sugar
2 tablespoons cornstarch
2 tablespoons lemon juice
1 cup old fashioned oats
1/4 cup brown sugar
1/4 cup flour
1/4 cup pecans, finely chopped
1/4 teaspoon salt
5 tablespoons cold butter, cubed
Vanilla ice cream
Instructions:
Preheat your oven to 350 degrees.
In a medium bowl, combine the strawberries, sugar, cornstarch and lemon juice. Mix well and set aside.
In a separate bowl combine the oats, brown sugar, flour, pecans and salt. Cut in the cubed butter with a pastry cutter (or your hands) until the mixture is well combined and forms small clumps.
Pour the strawberry mixture into a well-seasoned cast iron skillet.
Top the berries with the oat mixture, spreading it over the entire surface.
Bake for 40 minutes.
Let cool to room temperature. Scoop into bowls and top with vanilla ice cream.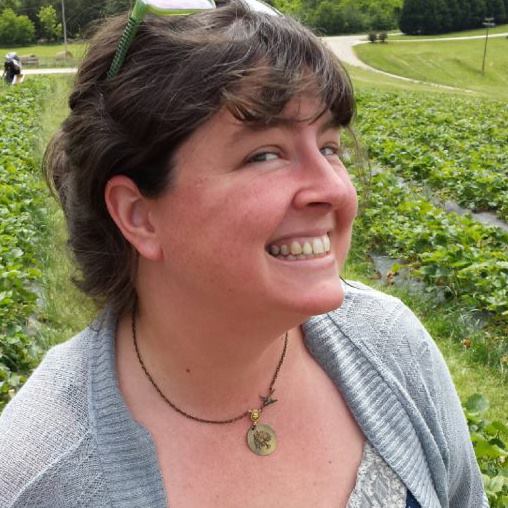 Arkansas Women Blogger's Calendar Cultivator and member Julie Kohl writes about her adventures with food, recipes, crafts and creativity on her blog Eggs and Herbs. As former Yankee who was "converted" to the south by her husband, Julie has grasped on to rural life in a sleepy, blink-your-eyes-and-you'll-miss-it town in east central Arkansas. She raises chickens, horses, and English mastiffs and spends her summers off from teaching art growing an herb garden and crafting all kinds of delicious recipes.