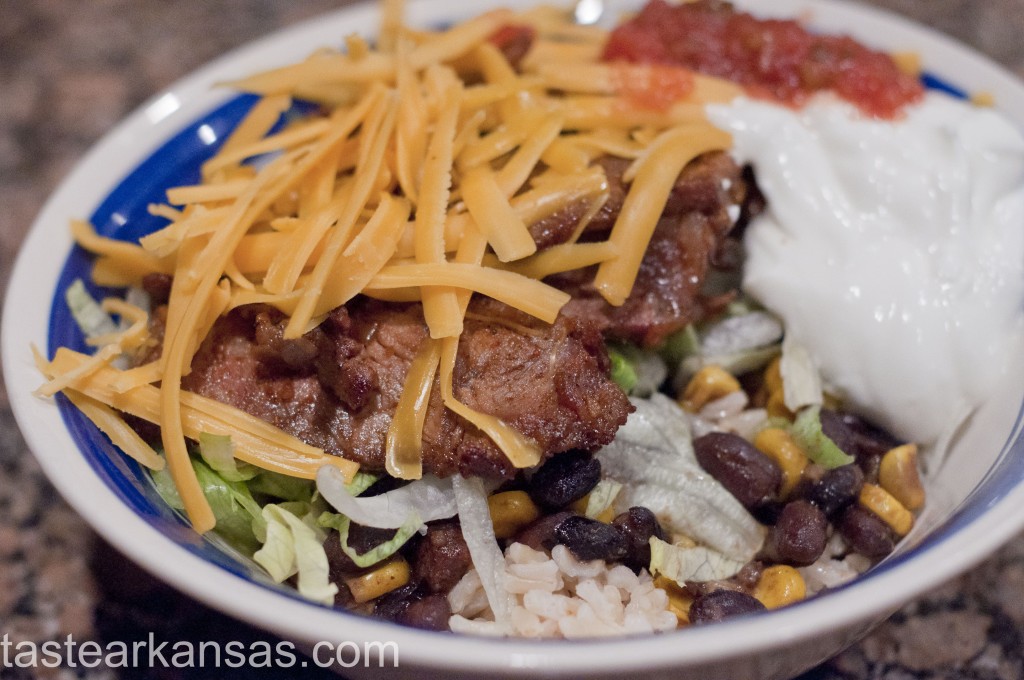 I repurposed two recipes this week, and I'm so excited to share this one with you. Remember the Chicken Burrito Bowl recipe I shared a few weeks ago? I turned it into Steak Burrito Bowl. I got a big package of sirloin steaks over the weekend and grilled all four of them using this method. Then, on Tuesday night, I sliced up one of the steaks and followed the recipe below. You can start with cooked or uncooked steak. I knew I was going to make this recipe, so I cooked one steak rare. I usually cook them to medium or medium-rare for myself.  I can't get enough of this burrito bowl. It was amazing. I highly suggest cooking a big package of steaks over the weekend with this kind of thing in mind. I'm sure this recipe would be great if you started with a raw steak, but starting with one that had been grilled made it amazing.
Did you know there are more than 1.7 million head of cattle in Arkansas? 
Ingredients
2 cups brown rice, prepared according to package instructions
1 pound sirloin steak, sliced thin
1 packet chicken taco seasoning
1 can black beans
1 can whole kernel corn
1 cup cheddar cheese, shredded
Plain Greek yogurt
Salsa
Olive oil
Directions
Heat a large skillet over medium-high heat and add a small amount of olive oil (less than two teaspoons). Meanwhile, generously rub taco seasoning on steak slices.  Once pan has heated, add steak and cook for about 3 minutes on each side or to your desired doneness.
Then, drain can of black beans and add to a saucepan over medium heat with drained can of corn. Heat thoroughly.
Layer rice, beans and corn, steak, cheese, plain Greek yogurt and salsa in a bowl and serve immediately.