Steak and eggs is one of those meals that works well for breakfast, lunch or dinner. Ingredients for this plate of food can be grown in your own garden or purchased from Arkansas growers—including the beef.
The beef for this recipe came from Top O' the Mount Farm in Winslow, where a small herd of grass-fed cattle roam and graze on plenty of acreage to satisfy their need for rich nutrients. Owners Bart and Pam Petray are the only people who work the cattle they raise, overseeing and caring for each cow from birth.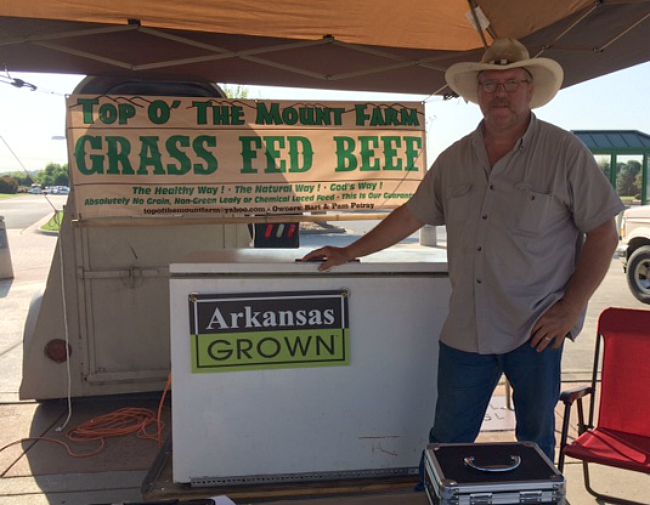 The Petrays believe in bringing quality grass-fed beef to their customers. As part of their process, cows are taken only a few miles down the road to the butcher after being raised at the farm. The meat hangs for three weeks during a dry-aging process. The Petrays say that process is part of what makes the difference in how their meat tastes.
I purchased some sirloin from Top O' the Mount farm and broiled the steaks after sprinkling the meat generously with pepper and coarse salt. Completing this prep work ahead of time with several pounds of large steaks saves time for future meals, handy for those upcoming school schedules and family dinners.
To prepare the poblano pepper, I cut it lengthwise and char it in a very hot iron skillet with a bit of olive oil, using tongs to flip until the skin is blackened in several places. Diced poblano makes a nice topping for steak and eggs, but I usually serve it in large slices.
This meal can be a one-skillet wonder by using the heat to warm up the steak and pepper, and cooking eggs right before serving to soak up the meat juices for flavor. The food stays hot, the plates are served fresh, and everyone's appetite is satisfied.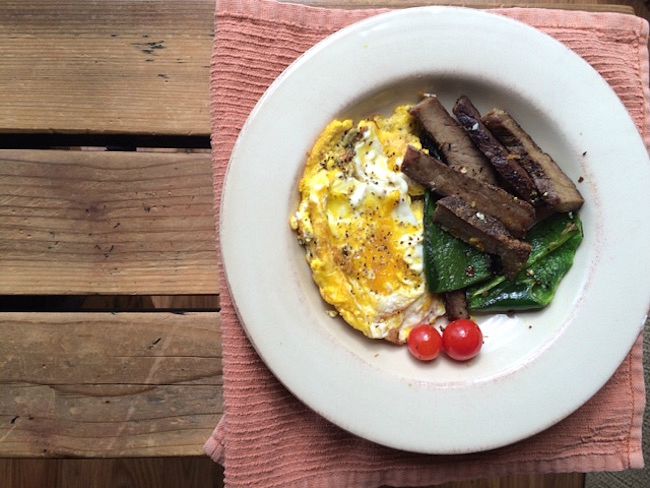 STEAK AND EGGS WITH POBLANO PEPPERS
prep: 15 minutes
serves: 4 to 5 people
Ingredients
About 2 pounds grass-fed sirloin or flank steak, cooked rare to medium-rare and sliced thin.
1 to 2 eggs per person being served
2 poblano peppers, roasted or charred and cut lengthwise
3 to 4 tablespoons butter for skillet
salt and pepper to taste
3 to 4 tablespoons salsa, warmed (optional)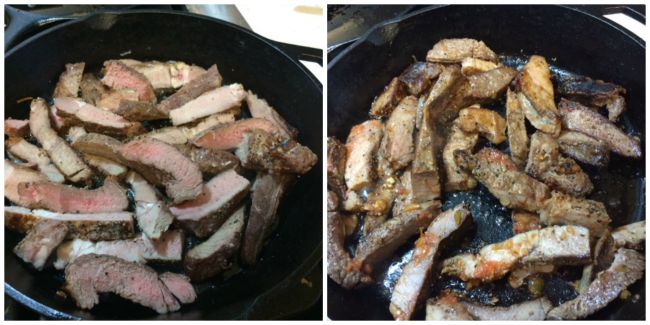 Instructions
Place cooked steak strips and two tablespoons of butter into iron skillet set on medium-high heat. Turn strips as needed, making sure meat is warmed throughout. If you like, you can also stir in some salsa with the strips.
Turn heat down to low, add poblano pepper. Turn heat back up a bit. Add another tablespoon or so of butter.
Crack eggs into skillet and scramble or cook over easy until yolks are as done (or as runny) as you like. Add salt and pepper to taste. If you're using salsa, drizzle it over the top of all the food.
Serve steak and eggs with your favorite garnishes. My favorites include tomatoes, grated cheese, bell peppers, avocado and additional salsa on the side.