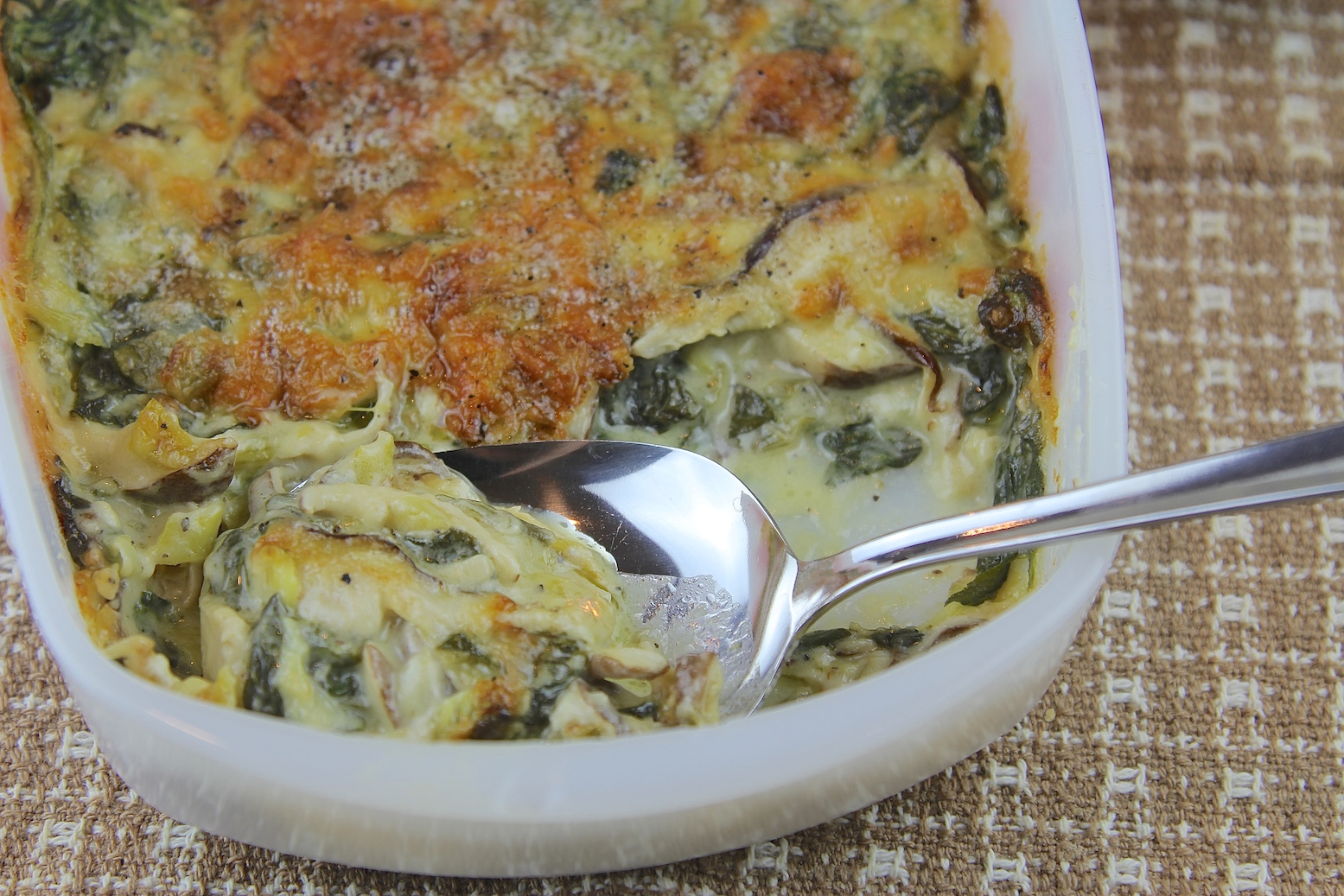 Right now, farmers market stands are shaking out the wrinkles of last years tablecloths, repairing any tears in their umbrella stand covers and looking forward to enthusiastic Arkansans as we shop for the freshest in-season fruits and vegetables. Don't you just love this time of year? Starting with opening market day and closing with the end of the season, each week brings a bounty of interesting additions for our palate.
Who is up first? Spring onions and herb starter plants to name just two. Throw in baby greens and a year-round favorite of shitake mushrooms and you have the makings of an excellent crowd-pleasing side dish.
If you find you're in a rut from the heaviness of winter fare and are looking to wake up your vegetable side dishes, a gratin is in your future. This combination of baby spinach, spring scallions and shiitake mushrooms are married with cream, butter, Parmesan, and mozzarella cheese and baked until bubbly.
It's time to spring-up our side dishes with what's in season today.
SPRING GREENS AND SHIITAKE MUSHROOM GRATIN
Serves 6
Ingredients
2 tablespoons butter
6 scallions, chopped
8 shiitake mushrooms, stems removed and thinly sliced
2 tablespoons flour
½ cup heavy whipping cream
¼ teaspoon black pepper
½ teaspoon sea salt
2 minced garlic cloves
5 oz. baby spinach (approximately 3 large handfuls)
½ cup grated Parmesan cheese
¼ cup grated mozzarella cheese
Instructions
1. Melt butter in skillet over medium-high heat and add scallions and mushrooms until soft, approximately 10 minutes.
2. Add flour to skillet and thoroughly stir until onions and mushrooms are lightly coated and then stir in cream.
3. Add pepper, salt and garlic to skillet and stir.
4. Preheat oven to bake at 450 degrees F.
5. Add spinach to skillet and place lid on it for 5 minutes until wilted. Remove lid and mix in Parmesan cheese.
6. Pour in baking dish and sprinkle with mozzarella cheese and place in oven until bubbly, approximately 15-20 minutes.
Enjoy!
Eat well, my friends.
Arkansas Women Blogger member Lyndi Fultz writes about living and eating well from her life in beautiful northwest Arkansas at nwafoodie (http://nwafoodie.blogspot.com/). Much of her blogging inspiration comes from this gem of a place, which she refers to as the proverbial land of milk-and-honey. Read more related to cooking, entertaining, gadget suggestions, ingredient explorations, local finds, local restaurant treasures, kitchen tour spotlights, and always with a healthy and simplistic approach.