Farmer's Markets, full of fresh greens and root crops, are opening around the state for the spring and summer season. The beautiful spring weather that encourages us to spend our Saturday mornings at the market also makes us want to spend more time outside playing and less time inside cooking. This spring frittata is the perfect quick meal and it consists entirely of ingredients available at most Farmer's Markets.
The thing I love most about frittatas is that they are easily customizable based on what you have in your kitchen. Do you have green onions, kale and breakfast sausage? Make a frittata. How about turnip greens, yellow onion and bacon? Yep, you can make a frittata with that. If you are a vegetarian, leave out the meat altogether. Add mushrooms if you like. This recipe is so flexible that the only ingredient that cannot be changed is the eggs. I like to top my frittata with cheese. Cheddar, pepper jack and Colby cheeses all make tasty toppings. If you want to get really fancy, top with crumbled goat cheese.
I like to cook my frittatas in a well-seasoned cast iron skillet, but a non-stick skillet will work beautifully. Just make sure it is oven-safe. When cooking with bacon, cook the bacon in your skillet first and set aside. Drain excess grease but allow some to coat the pan to prevent sticking.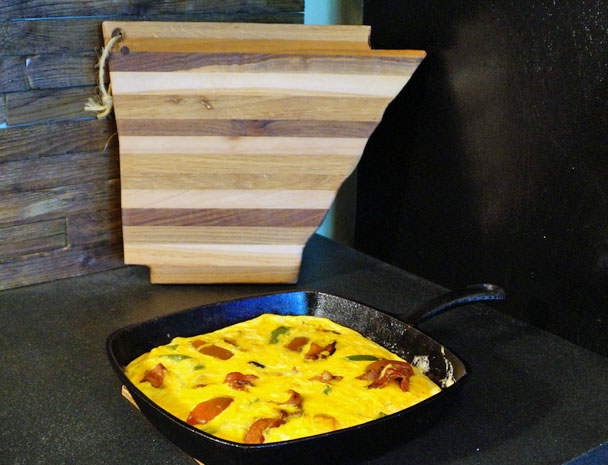 Spring Frittata
12 Eggs
1 tablespoon bacon grease or oil
½ cup Sliced onions, scallions or chives
1 cup chopped greens. Kale, swiss chard, spinach or turnip greens work beautifully
Cooked bacon, sliced in half or crumbled
½ cup or more cheese of your choice
Other ingredients to consider adding:
Mushrooms
Sliced peppers, hot or sweet
Tomatoes, fresh or dried
Instructions:
Preheat oven to 350°
Crack all eggs in a bowl and scramble.
Warm the pan over medium heat and coat with grease or oil.
Add all eggs.
Allow the eggs to cook alone in the pan until the bottom is set, about 3 minutes. Do not stir the eggs. By allowing the eggs to set, the heavier toppings, like scrambled sausage and onions will not sink and burn to the bottom of the pan.
Once the bottom of the eggs is set, add all toppings except the cheese in the order desired. I like to add my veggies first, then put the meat on top, but the order is not important.
Allow the eggs to cook until they are cooked about ¾ of the way through, so that it is still jiggly on top.
Add the cheese and move the pan to the pre-heated oven to finish cooking. When the eggs are solid on top, the frittata is done. About 5 minutes.
While this frittata features spring veggies, it is easy to adjust this basic recipe to use with summer veggies, like those listed in the "other ingredients" section. I love to make this with sliced green peppers or cherry tomatoes cut in half. For breakfast, serve with a berry salad, or to make this a dinner dish, service with a side of rice and a fresh garden salad. The options are limitless with a frittata.
Arkansas Women Bl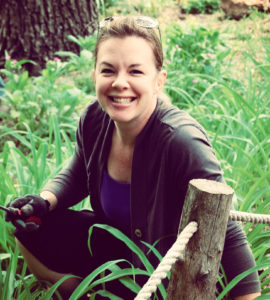 oggers member Tiffany Selvey is a Master Gardener who writes about her passion for growing, cooking and living naturally. When she's not elbow deep in soil, she enjoys raising a very active son, laughing with her husband, and wrangling their pets.