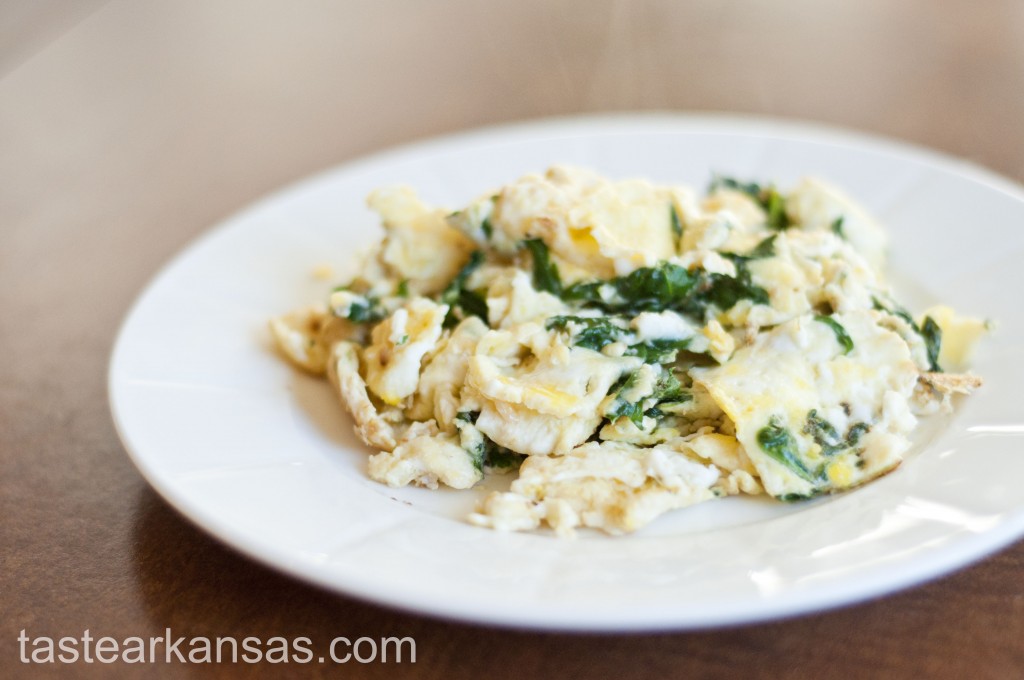 I've been eating a lot of spinach in an effort to lose a few pounds. However, I'm getting tired of spinach salads. So, this week I made two different, more creative, spinach recipes. The first is Spinach and Scrambled Eggs. The most important part of this recipe is cooking the spinach until any water has evaporated, so the eggs don't get soggy.
Did you know Arkansas egg farms produce more than 3 million eggs each year?
Ingredients
12 ounces baby spinach leaves
2 tablespoons olive oil
1/2 cup minced onion
1 clove garlic, minced
4 tablespoons skim milk
4 eggs and 4 egg whites, beaten
salt and pepper to taste
1/2 teaspoon dried thyme leaves
2 tablespoons grated Parmesan cheese
Instructions
Coarsely chop the baby spinach leaves. Heat oil in a large heavy skillet and cook the onion and garlic until crisp tender, about 5 minutes. Add the chopped spinach and cook, stirring often, until spinach is tender, about 5-7 minutes. Be sure to cook until any water that leaches out of the spinach has evaporated.
In small bowl, beat milk with eggs, salt, pepper and thyme until foamy. Add the egg mixture to the skillet, cooking and stirring, so the eggs scramble with the spinach, about 4-5 minutes longer. Sprinkle with cheese and serve.