Putting something healthy and delicious on the table at the end of the day gives me a feeling of accomplishment. The floor might still need mopping, I might be behind on posts, and my dog might need a bath. Yet, for the 30 minutes it takes to enjoy a tasty meal, I have everything together.  There are days that take-out food beats the thought of cooking, but this recipe for Spinach and Feta Stuffed Chicken is worth trying.
Did you know the Food and Drug Administration doesn't approve the use of hormones in poultry production? Despite packages that commonly proclaim cuts of chicken to be hormone free, all poultry are raised hormone free.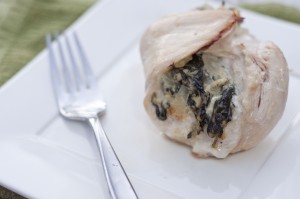 Ingredients
1 tablespoon olive oil, divided
1 medium onion, chopped
10 ounces spinach, fresh
1 teaspoon lemon zest
¼ cup feta cheese, crumbled
1 teaspoon salt, divided
½ teaspoon black pepper, divided
1 pound boneless skinless chicken breasts
Directions
In a large nonstick skillet, heat one teaspoon of oil and sauté onion until golden. Wilt spinach by steaming or heating damp spinach over medium heat in a nonstick pan. Stir in feta, ½ teaspoon salt and ¼ teaspoon pepper. Set aside.
Divide spinach mixture between chicken breasts. Roll up and secure with toothpicks. Season with remaining salt and pepper. In the same skillet, heat remaining oil over medium-high heat and cook chicken, turning occasionally until golden brown and cooked through. Remove toothpicks and serve.