The other day, my friend asked me what is my favorite food. We were talking about Taste Arkansas, and she was commenting how I must have many favorite foods. I do have several favorites. If I had to narrow it down, my favorite would be a tie between steak and cheese. This sandwich has the best of my favorites, steak and two types of heavenly cheese! I also love the spicy mayo used in this sandwich. It really provides a kick of flavor. To make spicy mayo from normal mayonnaise, add crushed red pepper and a little hot sauce.
Did you know more than 28,000 farms in Arkansas produce beef cattle? For more fun facts about beef check out the Arkansas Beef Council's Facebook page.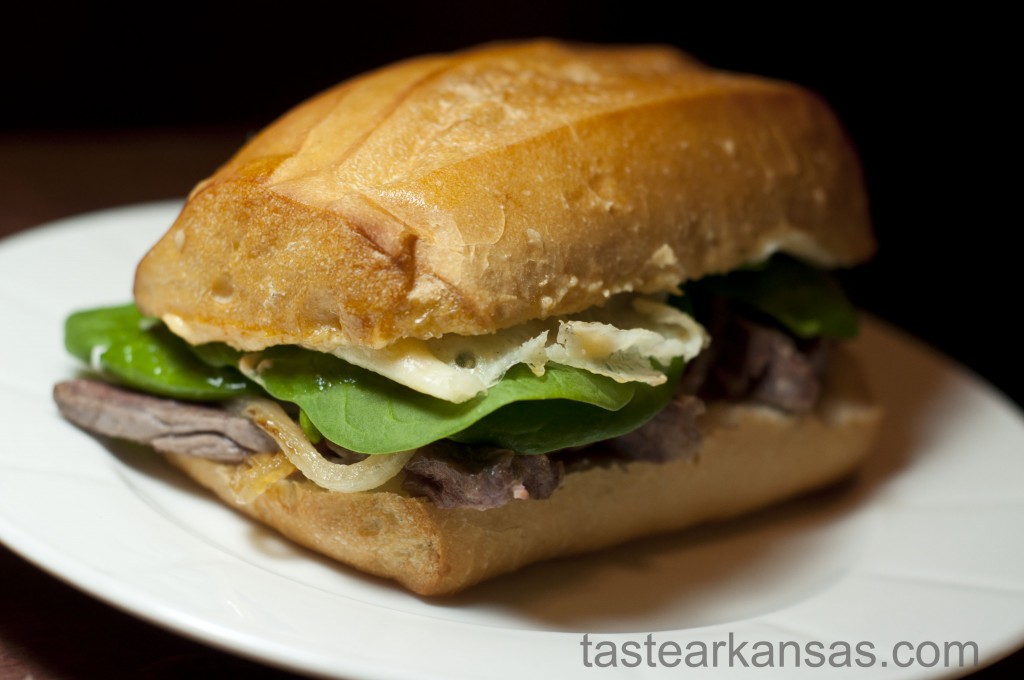 Ingredients
1 to 1.5 lbs Rib eye steak (sirloin steak also works well – cheaper, too)
1 large sweet onion
4 6″ sub rolls
8 slices provolone cheese
Havarti cheese, sliced
8 teaspoons spicy mayonnaise
1 bag baby spinach
Instructions
Fry steak to medium or desired temperature, then remove steak and let rest. While steak is resting, put thinly sliced onion in the pan the steak was cooked in, cook until tender and slightly caramelized. Place slices of Havarti on one half of the rolls. Then, spread spicy mayo on the other half and top with provolone. Thinly slice the steak and divide evenly among the four sub rolls. Top steak with cooked onions. Place sandwiches on cookie sheet under broiler until cheese is melted and bubbly.  Remove sandwiches from the broiler and top with spinach. Close sandwiches and serve immediately.