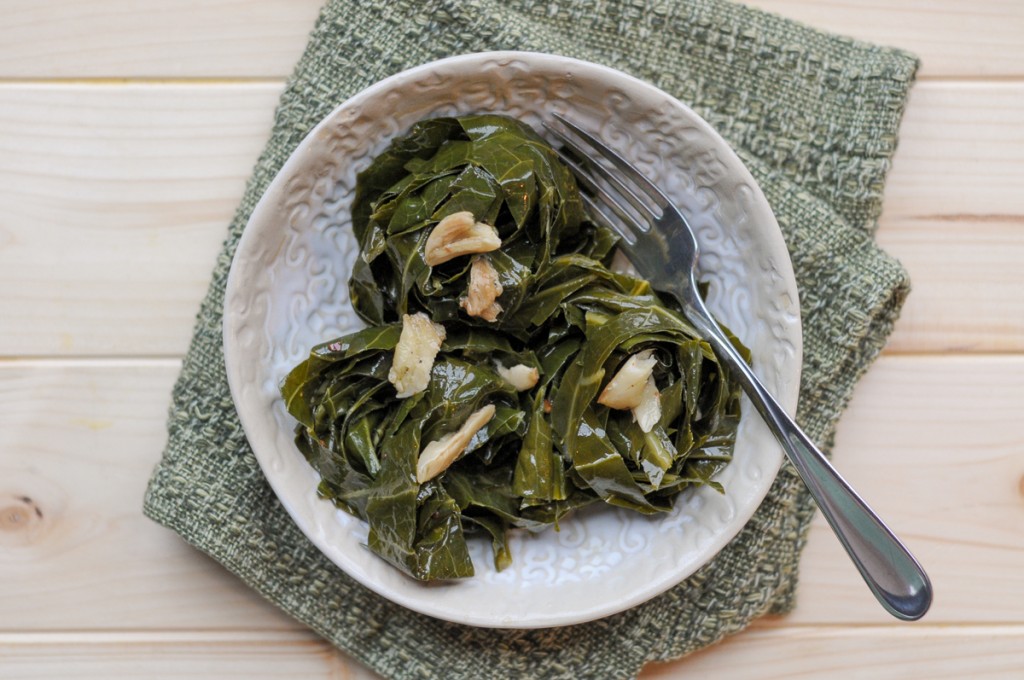 Want to know a secret? I'd never had collard greens until I was well into my 20s.
But that's not the half of it.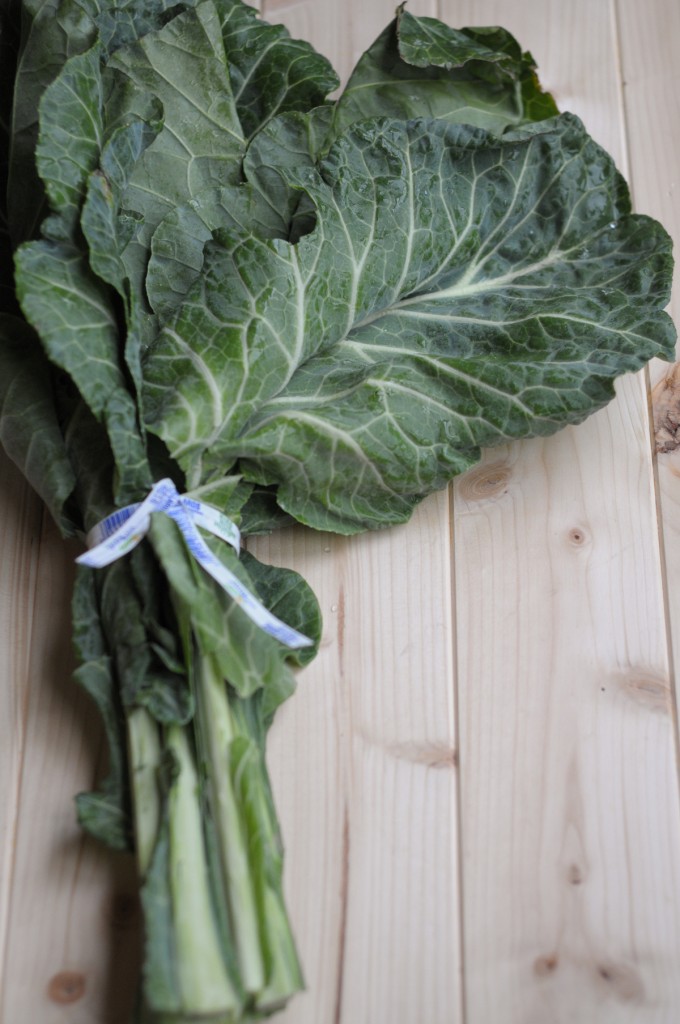 Y'all, the first time I ever had collard greens? It was when I was living in Colorado. Yes, I admit, my first introduction to this Southern staple was in what can only be called a West-Coast state.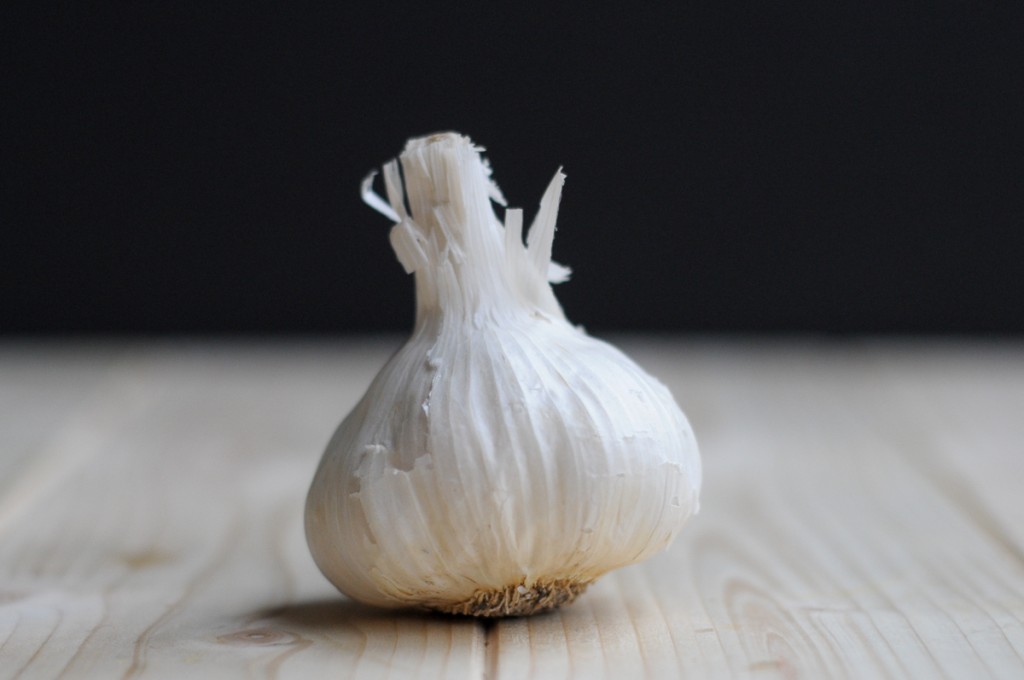 And if only to add insult to…insult (?) I'm here to present collard greens without pork. I KNOW. I'm a huge fan of them with ham, bacon, or really any other kind of pork – they're totally delicious. But I must be honest and say that when it comes to cooking yummy food I want to do it as fast as possible.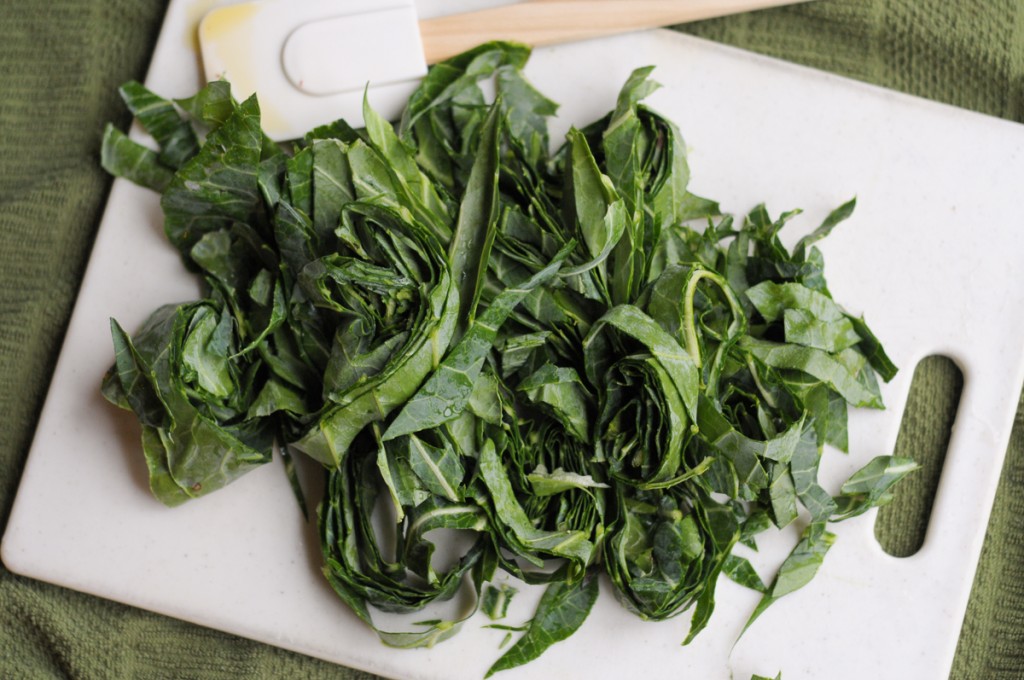 If you can't live without that irresistible pork flavor you can certainly use bacon drippings instead of olive oil, which would be delicious as well. But the star of the show is really the collard greens and the way they're sliced. It's like a hearty green tagliatelle without all the carbs.
I hope y'all enjoy this new take on a classic Southern dish!
SPICY GARLIC COLLARD GREENS
Serves 1-2
Ingredients:

1 bunch collard greens, washed
2 tablespoons olive oil
8-10 garlic cloves
1 teaspoon red pepper flakes
salt and pepper to taste
1 cup water
Directions:
First, crush the garlic cloves and remove the peels.
Place the garlic cloves in a large cold pan fitted with a lid and stir with the oil.
Heat the pan over medium heat and slowly allow the garlic to toast in the oil.
While the garlic is toasting, remove the stems from the collard greens.
Roll the greens into a large roll and slice into long shreds, much like you would chiffonade basil.
When the garlic starts to toast, add the red pepper flakes and sauté for another 30-60 seconds.
Add the collard greens and toss to coat, then season with salt and pepper.
Add the water, cover the greens with the lid, and braise for 25-30 minutes over low heat until the greens are tender.
Serve hot with the braising liquid and the garlic/pepper mixture on top.
Arkansas Women Blogger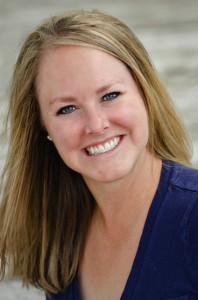 member Heather Disarro is a food-centric lifestyle blogger who is passionate about embracing the beauty that surrounds us in our everyday lives. She is a Texan living the expat life in central Arkansas with her husband, son and two massive dogs. Heather writes her blog, Heather's Dish, from an office filled with dust, dog fur, toys and plenty of love, grace and music. She revels in the opportunity to bring the love of cooking to the world as a way to love others well!