I got addicted to edamame two years ago after having it at a sushi restaurant. Usually, I buy the bags of it still in the shell, steam it in the microwave, throw some sea salt on it and chow down. Which, if you ask me, is one of the best ways to eat it. However, I've been wondering what else I could do with these magical little beans and found this recipe for Soy Succotash. It is a super easy and healthy side dish. You could also use it as a main dish. I divided this recipe by four and made it for my lunch this week. It left me full and ready to tackle the last half of my day. April is National Soy Foods Month, the perfect occasion to try this Soy Succotash recipe.
Did you know Arkansas farmers grow soybeans on more acres than any other crop? However, the majority of Arkansas-grown soybeans are grain soybeans. In February, American Vegetable and Soybean and Edamame Inc. announced their plans to open an edamame processing facility in Mulberry, Ark.
 Ingredients
2 cups hulled edamame, cooked, drained
2 cups cherry tomatoes, cut in half
1 cup corn, frozen, thawed, drained
¼ cup onion, diced
2 teaspoons garlic, minced
1 teaspoon thyme
1 teaspoon black pepper
½ teaspoon salt
2 teaspoons olive oil
Instructions
Measure out corn and set aside to thaw. Steam hulled edamame in microwave according to package. Drain and set aside. Cut cherry tomatoes in half. Dice ¼  onion. Mince 2 teaspoons garlic. Place a large skillet on medium heat.
Drain corn and combine all ingredients in a medium bowl. Stir to combine
Add edamame mixture to warmed skillet and cook, stirring constantly for 2 to 3 minutes or until warm. Serve warm from the skillet.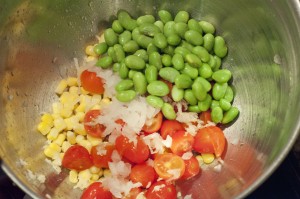 Prepare all of your ingredients. I used a cheese grater to mince my garlic by running it across the smallest holes. I used the larger holes on the cheese grater to dice the onion.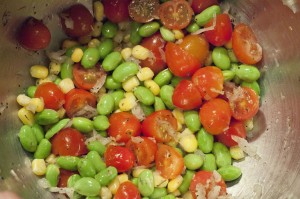 Combine all the ingredients and stir.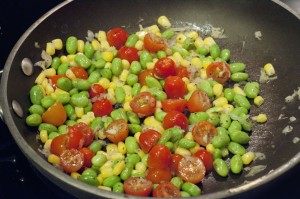 Heat in your skillet until everything is warmed through.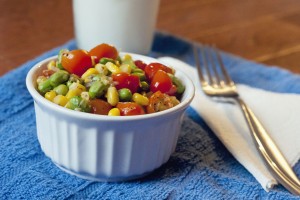 It's that simple. Didn't this turn out to be a great lunch?