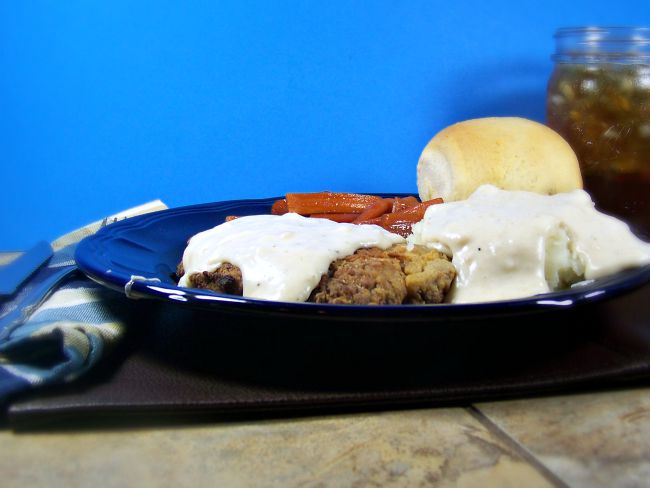 By Arkansas Women Bloggers member Mary Wood of Run of the Mill Mary
One of my favorite things about growing up on a farm in central Arkansas was raising cattle. I loved checking the cows with my dad, driving slowly through the pasture in our old, beat-up truck, looking for cows that were about to calf. We would take our time, putting out feed and hay, counting heads, looking carefully at the health of the herd.
Naturally, raising cattle gave me a deep appreciation for a good piece of beef. One of my favorite meals to this day is Southern Fried Steak and Gravy. There's just something deeply satisfying about a good cube steak, tenderized and breaded just right, covered with a big ol' spoonful of gravy. I like to add a side of creamy mashed potatoes. But if you want some potatoes with a little something extra, try sour cream and cheddar mashed potatoes or add a side of collard greens. Whip up some homemade biscuits and you've got yourself one fine Arkansas-style supper.
SOUTHERN FRIED STEAK AND GRAVY
Prep Time: 1 hour
Servings: 4
Ingredients:
4 beef cube steaks
2 cups flour
1 teaspoon seasoning salt
¼ teaspoon pepper
1 teaspoon onion powder
½ teaspoon paprika
3 cups milk, divided
½ to ¾ cup oil (rice bran, vegetable, or canola are good choices)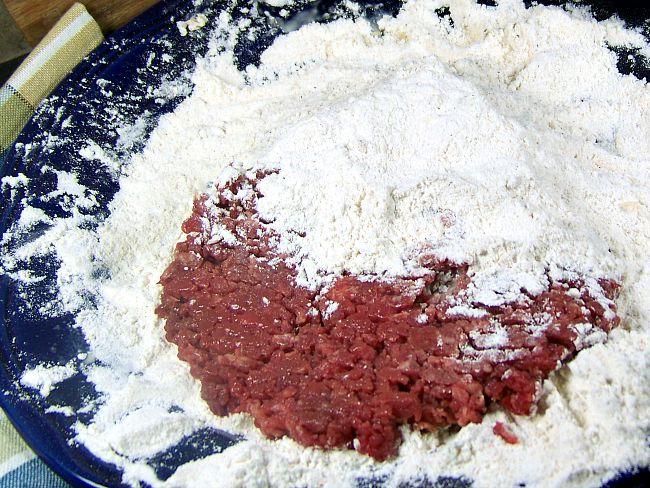 Instructions:
1. On a large plate, mix flour, seasoning salt, pepper, onion powder, and paprika.
2. In a medium bowl, pour 1 cup of milk.
3. In a large skillet, heat oil over medium heat.
4. Dredge each cube steak in the flour mixture, then the milk, then again in the flour mixture. Repeat with all steaks.
5. Carefully place floured steaks in skillet of hot oil.
6. While steaks are cooking, add dredging milk to a 2 cup measuring cup.
7. Add ¾ cup of seasoned flour to dredging milk and whisk until smooth.
8. Add enough milk to make 2 cups and stir again until smooth. Set aside.
9. Cook steaks until they are fully done and browned on both sides.
10. Remove steaks and drain on a paper towel covered plate.
11. Pour excess grease from pan, leaving browned bits and drippings in the pan.
12. Add enough water to barely cover the bottom of the pan, about ½ to ¾ cup.
13. Heat water and loosen drippings from the bottom of pan. (*Note: This is not the traditional method of making gravy. I use this method to significantly reduce our family's fat intake.)
14. Add milk and seasoned flour mixture to water and drippings in skillet.
15. Heat over medium heat, whisking slowly until thick and creamy.
16. Serve gravy over steaks.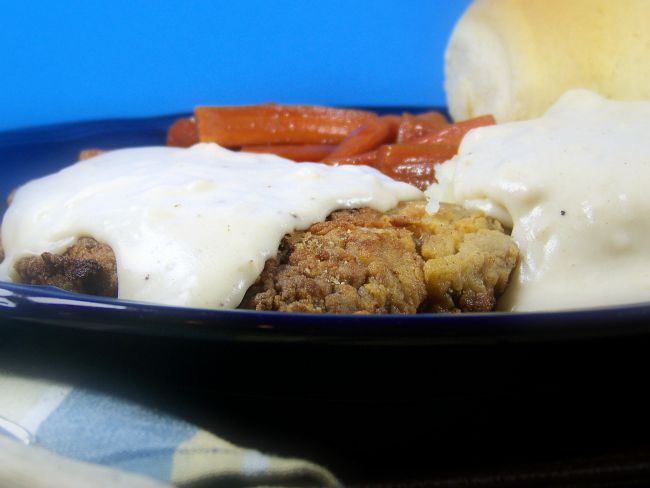 Nutritional Information:
Calories: 581
Calories from Fat: 305
Sodium: 656 milligrams
Carbohydrates: 56.7 grams
Protein: 12.5 grams