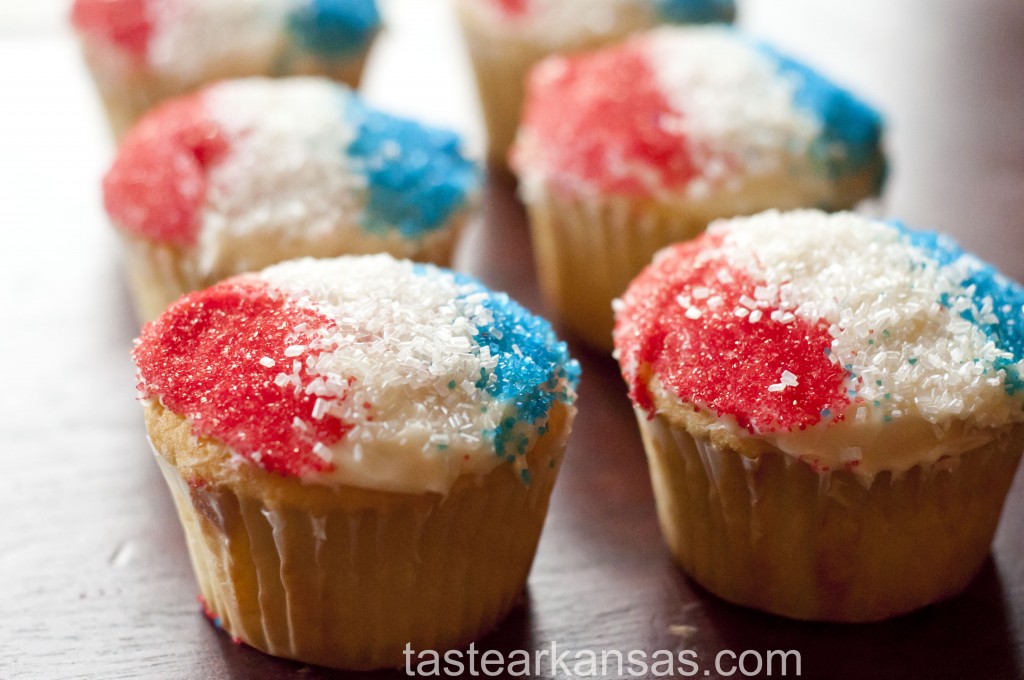 I love cute cupcakes, and these Snow Cone Vanilla Cupcakes are perfect for the Fourth of July! Not only are they appropriate for summer, but they're also festive with red, white and blue sprinkles. I think a good Vanilla Cupcake recipe is a must in anyone's recipe collection. I'm tired of cupcakes filled with fruit or cream, I just want a classic Vanilla Cupcake.  I like to use cream cheese frosting to top my cupcakes, but you could use chocolate or plain vanilla!
Did you know about seven percent of the U.S. milk supply is used for butter?
Ingredients
13/4 cup cake flour
11/4 cup all purpose flour
13/4 cup sugar
21/2 tsp. baking powder
1 tsp kosher salt
1 cup butter, room temperature, cut into 1/2 inch cubes
4 eggs
1 cup milk
2 tsp. vanilla
Directions
Preheat oven to 350°
Line cupcake pan with cupcake liners.
In bowl or stand mixer, add the first five ingredients and stir together using paddle attachment for about a minute. Enough to get them nicely combined.
With mixer on low, drop in butter, a few cubes at a time continuing until all butter is in and mixture resembles coarse sand.
Add eggs one at a time on low speed.
With mixer still on low slowly pour in milk and vanilla. Turn mixer to medium and beat for two minutes until batter is smooth, scraping sides of bowl as needed.
Fill liners 2/3 full (about 1/4 cup batter) and bake for 15-20 minutes until centers are set and toothpick comes out clean.
Allow to cool completely before frosting.