Spring is an active and bountiful season in Arkansas, and it's best to get outside and enjoy as much as possible. My husband and I enjoy trout fishing on the White and Little Red rivers. I developed this recipe after a productive fishing trip using several trout smoked in our electric smoker. It's a family favorite.

We use Arkansas-grown rice and locally sourced spring asparagus, peas and feta cheese when available. Throughout the summer, I vary the vegetables based on what's in my garden or local farmers market. Edamame makes a nice addition, too. Omit the fish or substitute it with smoked salmon or chicken.
Smoked Trout, Rice, Asparagus and Pea Salad
Serves 6
Total time: 2 hours plus chilling time
6 cups water
1/2 pound asparagus, trimmed and cut into 2-inch pieces
1 cup early spring peas, optional
3 cups cooked Riceland Rice
1 smoked (or grilled) trout filet (about 1/2-3/4 pound)
1/2 cup diced red onion
1/2 cup diced red bell pepper
1/2 cup diced green or yellow bell pepper
1/4 cup chiffonade of basil
1 cup cherry tomatoes, halved (or more)
1/3 – 1/2 cup crumbled feta cheese
Salt to taste
Freshly ground black pepper
(The vegetable amounts are flexible. Add them to your liking.)
In a large saucepan bring 6 cups water to a boil.
Add asparagus; cook 2 minutes or until crisp-tender. Remove asparagus from water with tongs or a slotted spoon. Plunge asparagus into ice water; drain and set aside.
Repeat the blanching process with the spring peas, if desired.
Break smoked trout into chunks.
Combine fish, rice, diced vegetables, feta and basil in a large bowl.
Stir in the asparagus, peas, cherry tomatoes and feta cheese.
Toss gently with the Lemon-Dill Vinaigrette to coat.
Chill until ready to serve.
Lemon-Dill Vinaigrette
1 tablespoon chopped fresh dill
3 tablespoons fresh lemon juice
2 teaspoons extra-virgin olive oil
1/4 teaspoon salt (or to taste)
1/4 teaspoon freshly ground black pepper
Whisk all together and toss with the salad.
This salad keeps well in the refrigerator for 3-4 days.
Don't know how to smoke trout? Jump over here and find out how.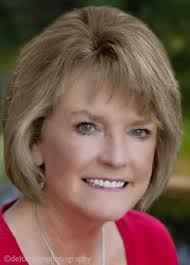 Arkansas Women Bloggers  member and co-administrator Debbie Arnold pontificates and eats at Dining With Debbie. She and her Hubby split their time between Central and Northwest Arkansas. She loves to cook, develop recipes and have play dates with her two perfect grands. Mostly, she has play dates with the Perfect Ones.