I wanted to make something different with the Petit Jean Meats Smoked Sausage that I got in anticipation of our anniversary give away. I found this recipe for Smoked Sausage and Penne Casserole and had to give it a whirl. It calls for French-fried onions and with Thanksgiving on the horizon, I couldn't help but be drawn to them. My mom doesn't always make green bean casserole, but it's definitely one of my favorites, and I love the crunchy onions on the top. This casserole has some similarities to that one, but it's much heartier. I used whole grain penne and skim milk to lighten the recipe up a bit. It's really good. The texture is great, creamy and cheesy without being too gooey. The sausage added the perfect punch of flavor. It's definitely worth trying. Don't forget to enter the giveaway here until Tuesday. A winner will be announced on the November 1.
Did you know that Agriculture is Arkansas' largest industry, adding around $16 billion to the state's economy every year?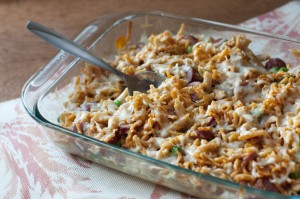 Ingredients
2 cups uncooked penne
1 pound smoked sausage, cut into ¼ inch slices
1-1/2 cups milk
1 (10-3/4 ounce) can cream of celery soup
1-1/2 cups cheddar French-fried onions, divided
1 cup shredded part-skim mozzarella cheese, divided
1 cup frozen peas
Instructions
Cook pasta according to package directions. Meanwhile in a large skillet, brown sausage over medium heat for 5 minutes; drain.
In a large bowl, combine milk and soup. Stir in ½ cup onions, ½ cup cheese, peas and sausage. Drain pasta, stir into sausage mixture and then place into a greased 13 x 9-inch baking dish.
Cover and bake at 375 degrees for 25 to 30 minutes or until bubbly. Sprinkle with remaining onions and cheese. Bake, uncovered, 3-5 minutes longer or until cheese is melted.