Tomato soup and grilled cheese was a favorite meal during my childhood. I still love it, but now I kick it up a notch with this homemade tomato soup in the slow cooker. The recipe is pretty simple, and the prep is a breeze. The hardest part for me was making a roux, which I had never been successful at prior to this recipe. The directions in this recipe were great, and my roux turned out perfect. Before spring is in full swing, try this recipe and savor the last few chilly days of winter.
Did you know tomatoes are considered a horticultural crop? More than 20,000 acres in Arkansas are devoted to producing horticultural crops each year.
 Ingredients
2 (14 oz) cans diced tomatoes, with juice
1 cup finely diced celery
1 cup finely diced carrots
1 cup finely diced onions
1 teaspoon dried oregano or 1 tablespoon fresh oregano
1 tablespoon dried basil or 1/4 cup fresh basil
4 cups chicken broth
½ bay leaf
½ cup flour
1 cup Parmesan cheese
½ cup butter
2 cups half-and-half, warmed
1 teaspoon salt
¼ teaspoon black pepper
 Instructions
Add tomatoes, celery, carrots, chicken broth, onions, oregano, basil, and bay leaf to a large slow cooker. Cover and cook on low for 5-7 hours, until vegetables are soft.
Thirty minutes before serving prepare a roux. Melt butter over low heat in a skillet and add flour. Stir constantly with a whisk for 5-7 minutes. Slowly stir in 1 cup hot soup. Add another 3 cups and stir until smooth. Add all back into the slow cooker. Stir and add the Parmesan cheese, warmed half-and-half, salt and pepper.  Add additional basil and oregano if needed.
Cover and cook on LOW for another 30 minutes or so until ready to serve.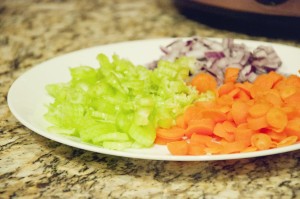 These chopped vegetables really make this soup outstanding.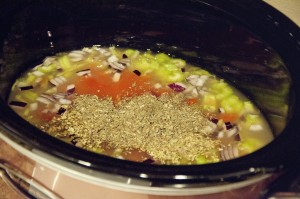 Put all those veggies and herbs together and cook.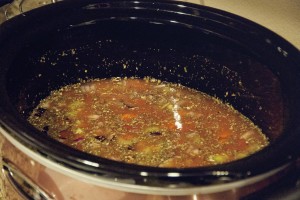 A few hours later the veggies are soft and the soup is ready to finish.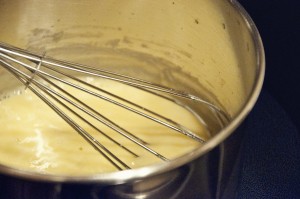 This is my roux! I was so proud of how it turned out.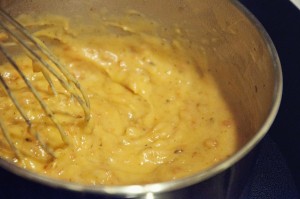 This is the roux while I was adding the cups of soup to it. When you start adding the soup it will thicken and look like it isn't going to be smooth, keep stirring and you will get there.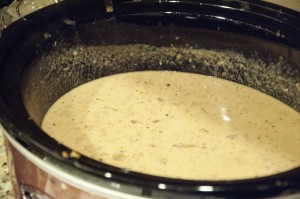 Back into the crock pot with half and half added. If you don't like a chunky soup you could use an immersion blender at this point to get a smoother consistency.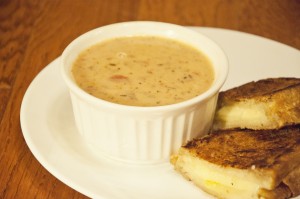 Doesn't this look delicious? I had a loaf of artisan garlic bread in my pantry, so I used it, sharp white cheddar and provolone to make my grilled cheese. It was a hit!