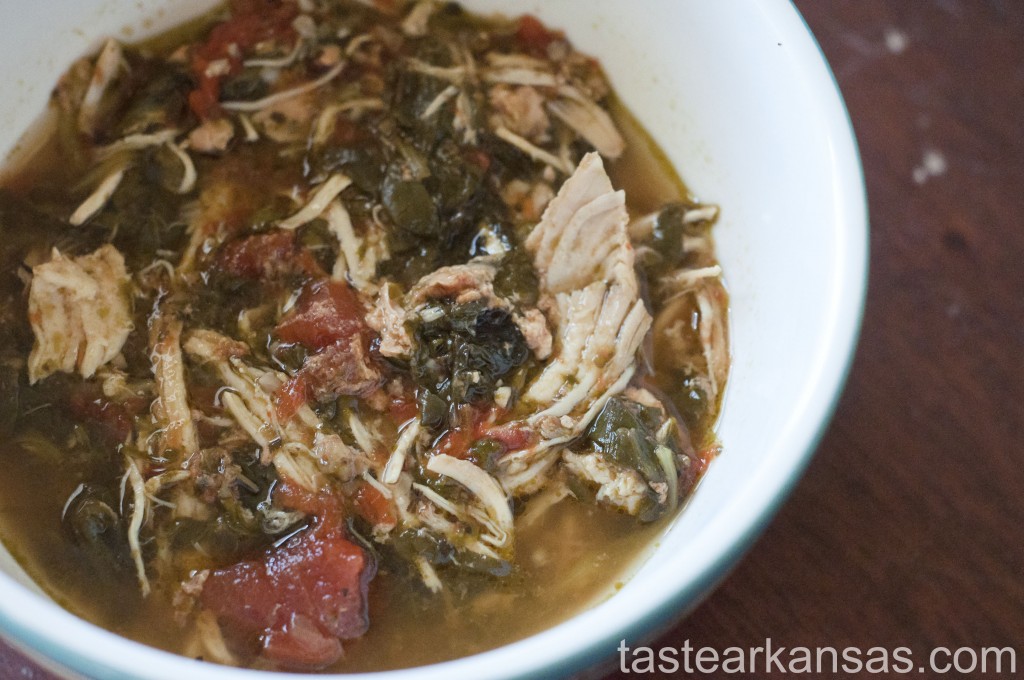 This week I did some spring cleaning and started with my refrigerator. I'm really bad about forgetting leftovers or fresh produce in the fridge and not using it. I found a bag of spinach and some frozen chicken that needed to be used. Sometimes, the best recipes are born out of necessity! After scouring the pantry, I decided to make Slow-cooker Spinach Chicken, my own recipe consisting of random ingredients from my kitchen. After 8 hours of slow cooking, my house smelled fantastic. Robust garlic and Italian flavors give this soup-like dish a great balance. The chicken practically fell apart and was very tender. I served this dish over rice, but you could also use quinoa or even pasta. Sometime before the weather gets too warm, try this slow-cooker dish, or make up your own with ingredients left over in your fridge. Just make sure nothing is out of date or unsafe to eat.
Did you know that Arkansas is home to Tyson Foods? It is the largest poultry processor in the United States.
Ingredients
3 pounds boneless, skinless chicken breast, frozen or fresh
1 (14.5-ounce) can Italian stewed tomatoes
1 (16-ounce) bag fresh spinach
½ can water
1 chicken bouillon cube
1 tablespoon garlic, minced
1 tablespoon olive oil
1 teaspoon Italian seasoning
Directions
Layer ingredients in slow cooker as follows: chicken, tomatoes, garlic, olive oil, water, seasoning, bouillon cube and spinach. Cover and cook on low heat setting for 6-8 hours or until chicken is easily shredded. Shred chicken and serve alone or over rice, quinoa or pasta.