When winter settles in with those long, gray days, I turn to heartier menus. Soups, stews and chilies form the basis of many of our weekly meals. They're economical, filling and warming and can usually be made in quantities sufficient for 2-3 meals. This Slow Cooker Spicy Smoked Chicken Chili is one I rely upon not only for family meals but to share with neighbors and friends. Plus, it makes good use of smoked chicken or turkey leftover from the holidays, as well as the stash of frozen peppers and corn from the garden.
It's spicy just as the name implies. In fact, some may think of it as hot. The heat may easily be adjusted to your tastes by reducing or increasing the peppers. This version satisfies my taste for spicy but allows others who don't have quite the tolerance for heat to still enjoy it. Since this is such a filling chili, little else is needed to complete the meal.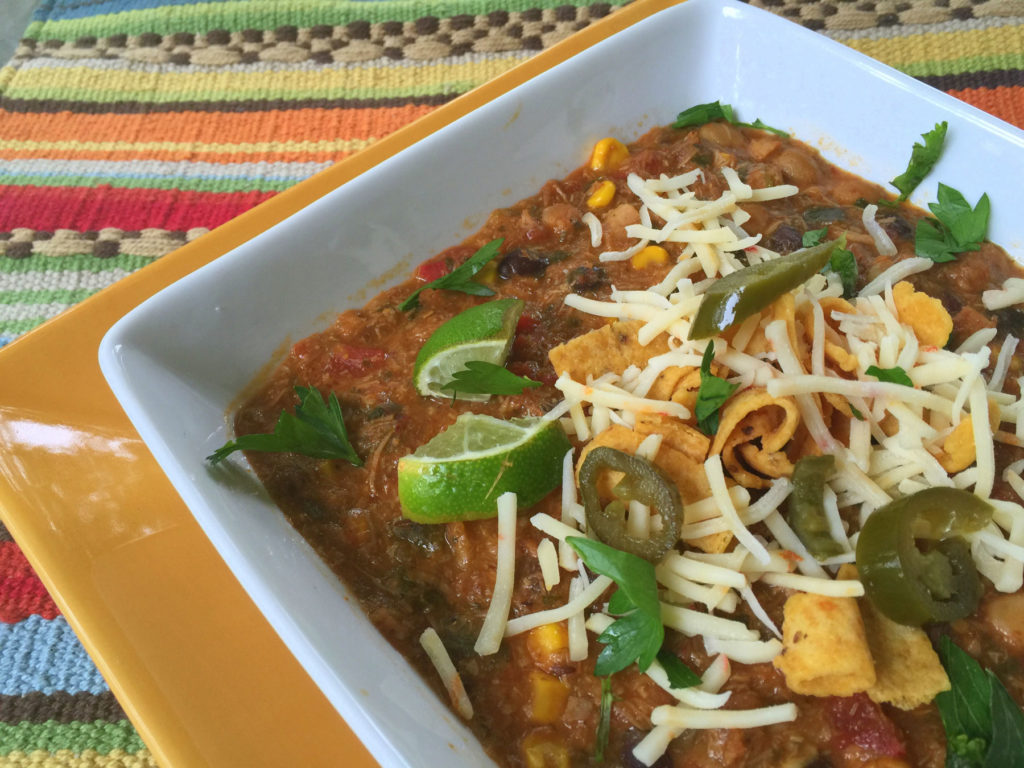 SLOW COOKER SPICY SMOKED CHICKEN CHILI
Yields: 6 quarts
Total Time: 6-8 hours not including preparation
Ingredients
6 cups smoked chicken or turkey (breasts, thighs or a combination), chopped or shredded
2 tablespoons canola or Riceland Rice Bran oil
2 teaspoons cumin seed
1 large yellow onion, diced
2 cups chopped poblano peppers
3 cloves garlic, minced
2-3 teaspoons cumin
2 teaspoons ground ancho pepper
1½ teaspoons kosher salt
1 teaspoon freshly cracked black pepper
32 ounces low-sodium chicken broth
2 cans Rotel (a combination of Mexican and regular), blended
1 – ½ jalapeno, minced
2 chipotle chilies in adobo, minced
1½ cups finely crushed tortilla chips
One 13.5-ounce can cannellini beans, drained and rinsed
One 13.5-ounce can black beans, drained and rinsed
One 13.5-ounce can garbanzo beans, drained and rinsed
1-1½ cups frozen whole kernel corn
½ cup chopped cilantro plus additional for garnish
1 can additional Rotel, optional (or diced tomatoes)
For serving: lime wedges, grated cheese, pickled jalapenos, chopped cilantro, sour cream, corn chips
Directions
Chop or shred smoked chicken; set aside.
In a large skillet, heat oil over medium heat. Add cumin seed and toast until just fragrant; add chopped poblanos, onions and garlic. Sauté until tender.
Add cumin, ancho pepper, salt and black pepper to poblano-onion mixture and stir to coat. Sauté 2-3 minutes.
Add chicken to slow cooker insert along with poblano-onion mixture. Add two cans of Rotel. Pour chicken broth over it all.
Add in minced jalapeno and chipotles. Stir in crushed tortilla chips.
Cover and cook on LOW 6-8 hours, stirring once or twice.
Approximately ½ hour before serving, stir in beans, corn and chopped cilantro.
Stir in additional can of Rotel or diced tomatoes, if desired.
Spoon chili into serving bowls and garnish as desired.
Notes:
Flavor improves if prepared a day ahead.
Chili may be refrigerated 4-5 days or frozen 2-3 months.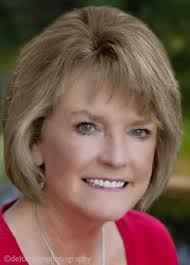 Arkansas Women Blogger member and co-administrator Debbie Arnold pontificates and eats at Dining With Debbie. She and her Hubby split their time between Central and Northwest Arkansas. She loves to cook, develop recipes and have play dates with her two perfect grands. Mostly, she has play dates with the Perfect Ones.