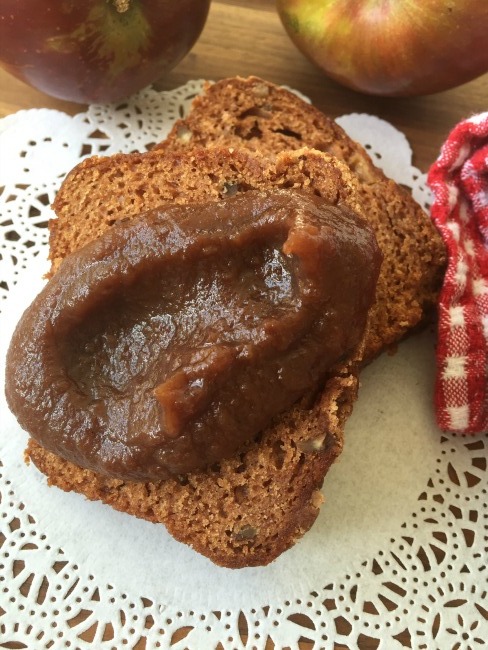 by Arkansas Women Bloggers member Debbie Arnold of Dining with Debbie
Apple picking time is full of traditions and memories for me. From the time I was just old enough to be lifted onto an apple tree branch by my grandfather, I've loved picking and eating apples. While I am more likely now to seek out a farm stand rather than an apple tree, I still love getting and processing fresh Arkansas apples.
One of my all-time favorites for freezing and canning is the Arkansas Black, first developed in Benton County in the Northwest corner. They are not readily available to me in central Arkansas, but I can easily find them during their short season in Lincoln, home of the Arkansas Apple Festival each fall.
The ArkansasBlack is a deep red apple which turns darker as it ages, hence the name. Its firm texture and slightly tart taste which turns sweeter after aging, makes it an ideal cooking apple. I prefer using it and Granny Smiths to make apple pies and cobblers since they both hold their shape quite well during cooking.
This particular apple butter actually contains butter, unlike most other versions. The seasonings are subject to your taste preference, which I do quite often when making this. We particularly like the flavors of the vanilla and browned butter to come through.
Use this as a filling for pies or hand pies, blended into overnight steel-cut oats or eaten as is. I often use it as a replacement for some of the oil in cakes and cupcakes. It stores well for 4-5 months. Refrigerate after opening. It may also be frozen.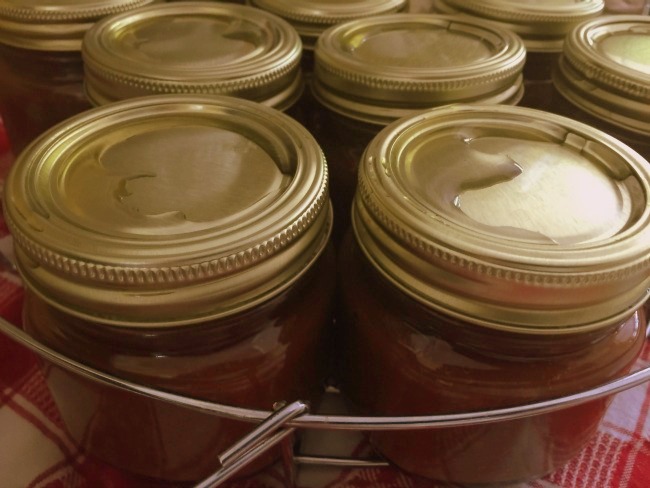 SLOW COOKER SPICED ARKANSAS BLACK APPLE BUTTER
Yields: approximately 6 – 7 8-ounce jars
Cooking Time: approximately 10-11 hours in the slow cooker (does not include preparation time)
Ingredients
6½ pounds Arkansas Black apples, unpeeled, cored and roughly cut in eighths
2 cups apple cider
1 cup granulated sugar
1 cup dark brown sugar
½ teaspoon freshly ground nutmeg
1 Tablespoon ground cinnamon
¼ teaspoon ground cloves
½ teaspoon ground allspice
½ teaspoon ground cardamom
½ teaspoon kosher salt
2 – 3 Tablespoons pure vanilla extract (or to taste)
8 Tablespoons unsalted butter, browned
Directions
Place apples in slow cooker. (I use a 6 or 7 quart model)
Stir in cider, sugars, nutmeg, cinnamon, cloves, allspice, cardamom and salt.
Cover and cook on LOW for 6 hours.
In a small stainless steel pan, add the butter and cook over medium heat until it turns golden and gives off a nutty smell. Add to the apple mixture in the slow cooker.
Using an immersion blender, puree the apple mixture (leaving small chunks if you desire) and add vanilla. Alternately, puree in small batches in a food processor or regular blender.
Cover and continue to cook on LOW with the lid slightly propped open for an additional 2-3 hours until desired thickness, Note: I use the handle of a wooden spatula to keep mine propped open.
Prepare jars and lids for canning, keeping the jars hot in a 250 degree oven and lids and rings in very hot water.
Fill a water bath canner with water and heat to boiling.
Ladle the apple butter into the hot jars, leaving ¼-inch headspace. Remove any air bubbles, wipe rims with a clean, damp cloth and seal.
Process half-pint jars for 10 minutes in a boiling water bath. Remove and allow to cool completely before labeling and storing.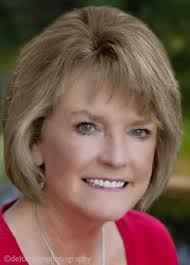 Arkansas Women Blogger member and co-administrator Debbie Arnold pontificates and eats at Dining With Debbie. She and her Hubby split their time between Central and Northwest Arkansas. She loves to cook, develop recipes and have play dates with her two perfect grands. Mostly, she has play dates with the Perfect Ones.