Each October, Arkansas celebrates beans during the annual Bean Festival at Mountain View. But we celebrate beans in our household year-round. My husband thinks pinto beans and cornbread make a fine meal. I don't disagree.
I do, on occasion, like to vary the beans-cornbread menu by using those pintos and their kin in other ways. This Pasta Fagioli Soup may have its origins in Italy, but it has a real home here at our house in central Arkansas. You probably have most of these ingredients already in your pantry or freezer.
Combining favorite bean and pasta varieties in a soup makes for a comforting, filling and inexpensive meal. Don't skip the addition of the parmesan or smoked meat. They add an additional depth of flavor you won't want to miss.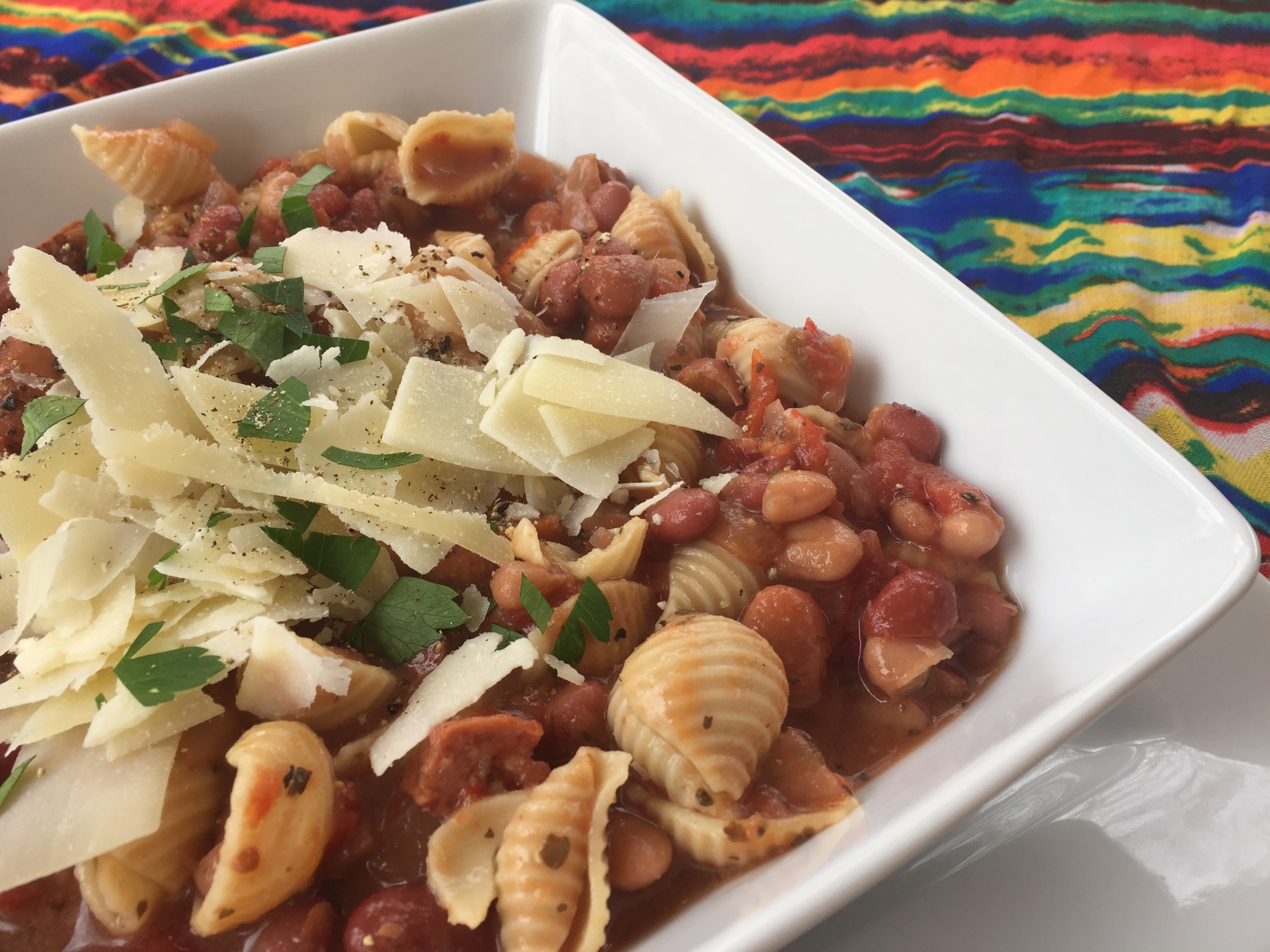 SLOW COOKER PASTA FAGIOLI SOUP with SMOKED SAUSAGE OR HAM
Total Cooking Time 6-8 hours
Serves: 8-10
Ingredients:
¾ cup dried navy beans
¾ cup dried kidney beans
¾ cup dried pinto beans
1 package frozen Pictsweet Seasoning Blend (substitute 1½ cups diced onion, 1 cup diced celery, 1 cup diced red bell pepper)
3 tablespoons dried parsley flakes
1 teaspoon dried basil
1 teaspoon dried oregano
1 teaspoon dried, chopped rosemary
2 cloves minced fresh garlic
1 bay leaf
½ teaspoon crushed red pepper flakes
One 32-ounce container vegetable broth
Water
Leftover rind of parmesan or 1/3 cup chunks of parmesan
One 28-ounce can diced tomatoes
3 carrots thinly sliced
2 cups chopped smoked sausage or hickory-smoked ham (I prefer Petit Jean Meats.)
1½ cups uncooked pasta shells
Salt and pepper to taste
Directions:
Rinse beans under running water discarding any that aren't useable. Place beans in the 5 to 6 quart crock of a slow cooker. There is no need to presoak.
Add in seasoning blend, parsley flakes, dried basil, dried oregano, dried rosemary, garlic, bay leaf, red pepper flakes, vegetable broth and enough water to cover beans by at least 2 inches.
Add in parmesan rind or a few cubes or parmesan for added flavor.
Check liquid level occasionally adding water as needed to keep beans covered by 1 to 2 inches.
Cook bean mixture on high for 5 to 6 hours or until beans are tender but not overly soft.
Add in tomatoes with juice, carrots and smoked sausage or ham. Cook an additional 45 minutes to 1 hour.
Meanwhile cook pasta shells (penne or farfalle may be substituted) to al dente in salted water Drain and set aside.
About 10 minutes before serving, stir pasta into soup and remove bay leaf. Season to taste.
Serve with crusty garlic bread or cornbread.