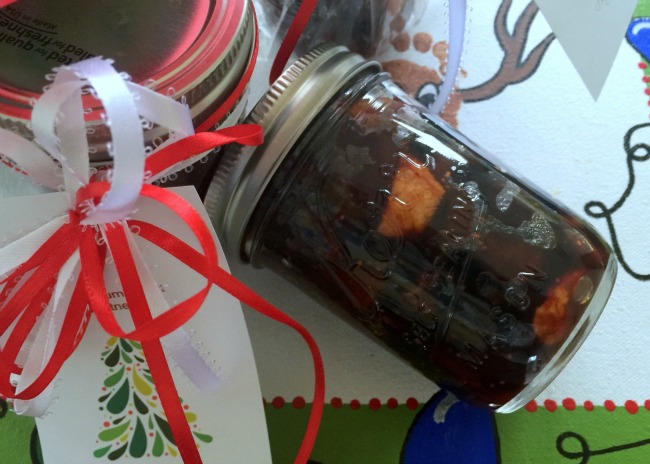 My grandmother, Nonnie, dried her apples, apricots, figs and peaches on the roof of her house on screens handmade by my Pa. It was my job to climb up on the roof and turn the fruits each day until they were thoroughly dried and ready for storage. I could have used a ladder, but I opted to climb a pear tree with its perfectly placed toe holds. It made my chore a little more adventuresome.
I don't own a dehydrator, although my sister swears by hers, so I rely upon local farm stands for my supply of dried apples, figs and apricots to use in this chutney, a Nonnie-inspired recipe. Many types of chutney contain onion and mustard seed, which you could certainly add if you prefer.
This autumnal version is thick, rich and slightly sticky. Sweet with just a hint of heat, it makes an excellent accompaniment to leftover Thanksgiving turkey or Christmas ham. Because of its intense flavor, a little bit really does go a long way. Try adding it to your party cheese plates.
Jars of Slow Cooker Dried Autumn Fruit Chutney make really nice and personal gifts for sharing with friends and family. A little bow and a festive tag, and you're all set. Nothing beats something homemade, and this chutney just couldn't be any easier.
SLOW COOKER DRIED AUTUMN FRUIT CHUTNEY
Yields: approximately 5 half-pints
Total Time: 4 hours (not including preserving)
Ingredients
• 6 ounces dried apricots, chopped
• 7 ounces dried figs, chopped
• 6 ounces dried apples, chopped
• 4 ounces dried pitted dates, chopped
• 1 cup golden raisins
• 1½ cups dried cranberries
• 3/4 cup cranberry or orange juice (or a combination)
• 1/3 cup glace orange citrus
• 1/3 cup glace lime citrus
• 1/3 cup glace lemon citrus
• 1¼ cups apple cider vinegar
• 1 cup granulated sugar
• 1 teaspoon apple pie spice
• 1 teaspoon ground coriander
• 1 teaspoon ground cayenne pepper
• 1 teaspoon kosher salt
• 1 lemon, finely zested
Directions
1. Prepare jars and lids for canning.
2. In a 6-quart slow cooker, combine the apricots, figs, apples, dates, raisins and cranberries.
3. Pour the cranberry juice over the dried fruits; stir and cover with the lid.
4. Cook 1 hour on LOW or until the fruit has absorbed most of the juice.
5. Stir in the glace citrus fruits.
6. In a small saucepan, bring the vinegar and sugar just to boiling. Stir in apple pie spice, coriander, cayenne and kosher salt; mix well to dissolve. Pour over the fruits in the slow cooker.
7. Cover and cook on HIGH for an additional 2 hours or until the fruit is very soft and the chutney is thick. It will continue to thicken as it cools.
8. Stir in the finely zested lemon peel.
9. Spoon the chutney into warmed and sterilized canning jars and seal. Process in a boiling water bath canner for 10 minutes. Cool completely before labeling and storing.
10. The chutney should be used within 10 months and stored in the refrigerator once it is opened.
Notes: Apple cider may be used in place of the cranberry juice.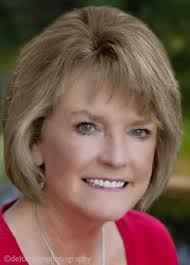 Arkansas Women Blogger member and co-administrator Debbie Arnold pontificates and eats at Dining With Debbie. She and her Hubby split their time between Central and Northwest Arkansas. She loves to cook, develop recipes and have play dates with her two perfect grands. Mostly, she has play dates with the Perfect Ones.