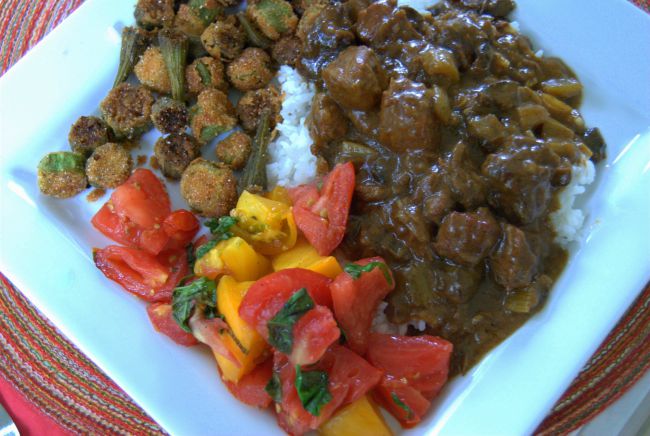 by Arkansas Women Bloggers member Debbie Arnold of Dining With Debbie.
Beef production contributes more than $533 million to Arkansas' economy each year, as well as providing employment opportunities in countless rural farming communities. The Arkansas beef industry existed long before the state became an American territory.
Arkansas is primarily a cow-calf state, which means ranchers mainly raise calves for sale to buyers who then grow them until they're ready to enter a feedlot for finishing and later slaughter. There are approximately 30,000 beef cattle ranches in the state with 97 percent of them being family owned and operated.*  Many of those ranches, like Top of the Mount Farm  of Winslow and Big D Ranch of Center Ridge, are members of the Arkansas Grown program.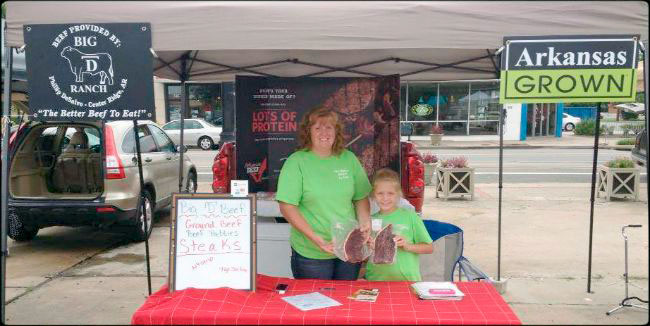 This simple Slow Cooker Beef and Gravy dish is downhome comfort food. Serve it with Arkansas long-grain rice for a dinner-time meal the whole family is sure to enjoy.
SLOW COOKER BEEF AND GRAVY WITH RICE
Serves 6
Total cooking time including preparation 7-8 hours
Ingredients:
Canola oil
1 cup all-purpose flour
1 tablespoon garlic powder
1½ teaspoons ground black pepper
2 pounds sirloin tip or chuck roast or stew meat, trimmed of fat and cut into ½-inch cubes (or larger as desired)
1 large yellow onion, sliced into ¼ inch rings
1½ cups sliced celery
8 ounces sliced baby portabella mushrooms
Two 10-ounce cans reduced-sodium beef broth (not all will be used)
1 tablespoon unsalted butter
3 tablespoons all-purpose flour or Wondra
½ cup milk or heavy cream
1 bay leaf (optional)
1 tub Knorr's concentrated beef flavoring (optional)
1 envelope Lipton Beefy Onion Soup Mix (optional)
1 cup long-grain rice prepared according to package directions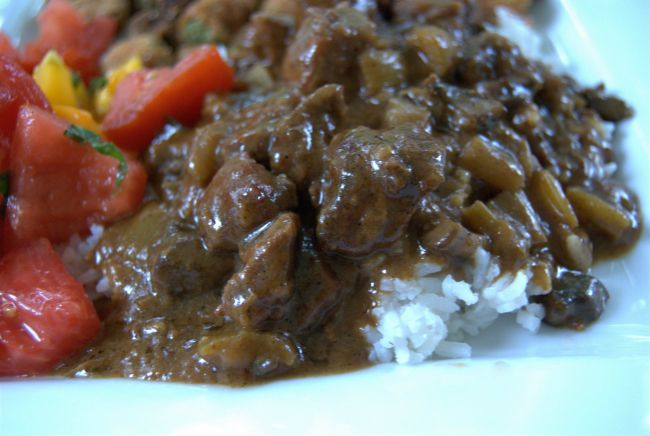 Directions:
Prepare beef, onion, celery and mushrooms; set aside
In a large cast-ironskillet set over medium-high, heat 3 tablespoons canola oil.
In a gallon zipper plastic bag or medium mixing bowl, combine 1 cup all-purpose flour, garlic powder and black pepper.
Shake the beef into the flour mixture to coat; in small batches, brown on all sides in the heated cast-iron skillet. Do not cook through. Remove from the skillet with a slotted spoon and place in the crock of a 5-6 quart slow cooker set to LOW. Continue until all of the beef is browned.
Wipe the skillet clean with a paper towel; add additional 2 tablespoons canola oil. Sauté the onions and celery until softened, about 5-8 minutes; add to the slow cooker crock with the beef.
In the same skillet, sauté the mushrooms for approximately 1-2 minutes then add them to the slow cooker as well.
Pour one 10-ounce can of beef broth on all of it.
Add in the Knorr beef concentrate and beefy onion soup mix, if using; stir to combine.
In a small saucepan, add the butter and allow to melt; whisk together with the flour or Wondra, ½ cup beef broth and ½ cup milk or cream. Cook over low heat until it begins to thicken slightly. Add the cream mixture to the slow cooker and stir well.
Add bay leaf; cover and cook on LOW for 6-8 hours (cooking time will vary depending upon the size of your beef cubes).
Adjust seasonings and serve over cooked rice. (I do not add extra salt if I use the packaged soup mix.)
Note: The option to use the packaged soup mix is to intensify the beef flavor. I've made this with and without using it, and it tastes fine either way. My husband just prefers the additional flavor.
Check out these additional Taste Arkansas beef recipes:
Steak and Eggs
Slow Cooker Corned Beef
Grilled Beef Tenderloin with Chimichurri Vinaigrette Salad
Easy Beef Enchiladas
*Encyclopedia of Arkansas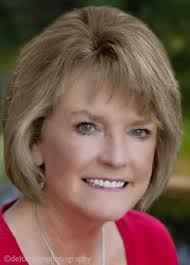 Arkansas Women Blogger member and co-administrator Debbie Arnold pontificates and eats at Dining With Debbie. She and her Hubby split their time between Central and Northwest Arkansas. She loves to cook, develop recipes and have play dates with her two perfect grands. Mostly, she has play dates with the Perfect Ones.