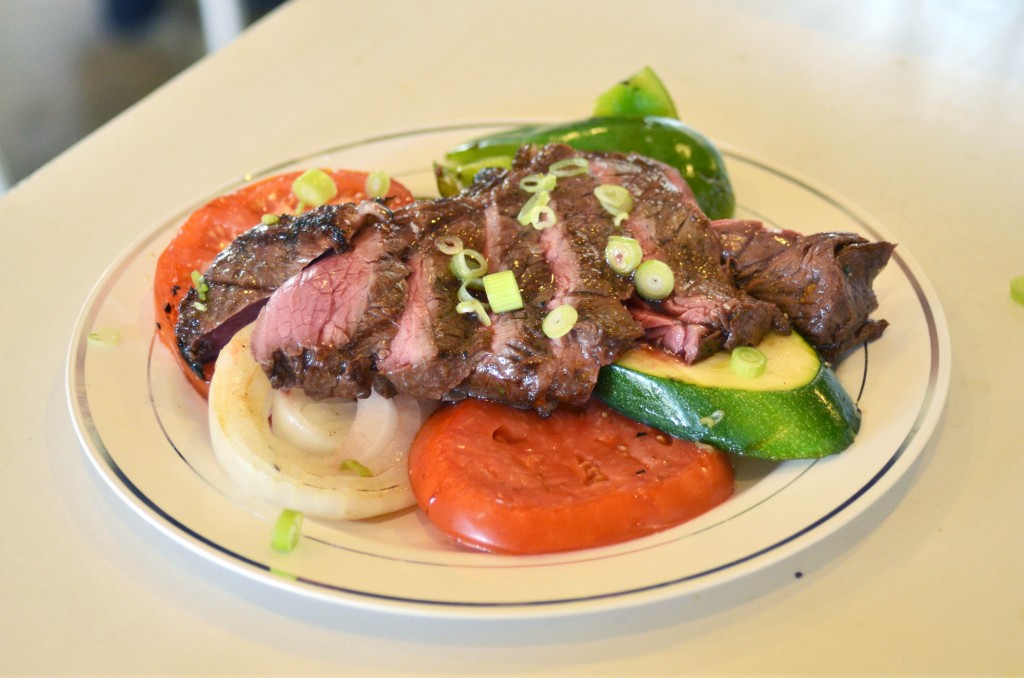 Here's another great steak recipe from the "Sizzlin' Summer Grilling" cooking lessons Chef Brandon Douglas showed us when my son and I attended his cooking class at Winrock Institute on Petit Jean Mt. last month.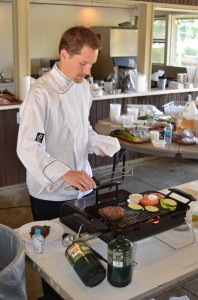 We paired Sushi Meshi Grilled Vegetables with this steak, tapping into the fabulous array of Asian flavors with both recipes. Winrock Institute offers regular cooking classes. Go to its website and check out upcoming classes.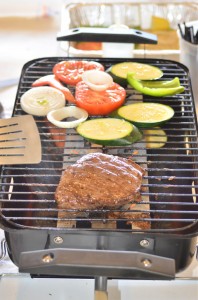 Sirloin Steak with Garlic, Ginger and Soy Marinade
Marinade Ingredients:
1-1/3 cups soy sauce
3 tablespoons vegetable oil
3 tablespoons toasted sesame oil
3 medium garlic cloves, minced
1 tablespoon fresh ginger, minced
2 tablespoons dark brown sugar
2 tablespoons orange zest, grated
1/2 teaspoon red pepper flakes
1 medium scallion, thinly sliced
Steak
2 lbs. sirloin steak, trimmed of excess fat
Directions:
To make marinade, combine soy sauce, oils, garlic ginger, sugar, zest, red pepper and scallion in a small bowl and stir. To prepare steak, combine marinade and meat in a gallon-size, self-sealing plastic bag. Press out as much air as possible when sealing the bag. Refrigerate for at least one hour, flipping the bag after 30 minutes to ensure the meat marinates evenly. In advance of grilling the steaks, turn burners on high, close grill lid and heat grill until hot, about 15 minutes.
Remove steaks from marinade and pat dry with paper towels. Grill covered , until well seared and dark brown on first side, about 4 minutes. Using tongs, flip steak and grill until second side is well seared and thickest part of meat is slightly less done than desired: 4-5 minutes for medium rare (about 130 F on an instant-read thermometer) and 6-8 minutes for medium (about 135 F). If exterior of meat is browned but steak isn't cooked through yet, move steak to cooler side of grill and continue to desired doneness.
Transfer steaks to cutting board, and tent loosely with foil, allowing them to "rest" for 5 minutes. Then slice very thin. Serve immediately with Sushi Meshi Grilled Vegetables.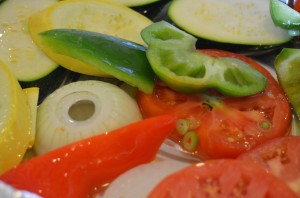 Sushi Meshi Grilled Vegetables
Ingredients:
1 zucchini
1 yellow squash
1 tomato
1 yellow onion
1 red bell pepper
1 green bell pepper
Vegetable bath:

2 cups water
2 tablespoons rice vinegar
2 tablespoons sugar
1 tablespoon kosher salt
Directions:
Slice vegetables into large planks, 1/2 inch thick. Place vegetables in a large mixing bowl or baking dish. Combine water, rice vinegar, sugar and salt in a small bowl and heat to a boil. Pour hot water bath over the vegetables, and fold them thoroughly to combine and coat each vegetable with the mixture. Allow to cool to room temperature before grilling. Grill vegetables on high heat for approximately 5 minutes. Present as base for sliced steak with sliced scallion as garnish.