If you didn't already know, May is National Beef Month. I love any excuse to eat beef. Steak, burgers, roast, anything beef is good in my book. Recently, a friend told me a tip to really tenderize steak before grilling. It will work on any cut of steak that you normally grill. So here is what you do:
Get a good-sized steak that is between one and one-and-a-half inches thick.
Sprinkle 1/2 to 1 teaspoon of kosher salt or sea salt on each side of the steak. Let it sit at room temperature for about an hour.
If the steak is less than 1 inch, let it sit for 30-45 minutes. If your steak is 1 inch thick, let it sit for one hour. If your steak is greater than 1 inch increase your time accordingly. Similarly, if you need to speed up the process add more salt and let it sit for less time. It's all relative.
After your salted steak has "rested" for awhile water accumulates on the surface. When the overall time for resting is done, rinse the meat with cool water. Pat both sides very dry with paper towels. You can add some black pepper at this point, but don't add anymore salt. I'll explain why.
Grill to your liking.
The resulting steak is unusually tender and delicious. Promise. Basically, when you let the steak rest in salt, the meat draws in some of that salt, breaking down its proteins. If you add more salt before grilling, it will taste too salty. I can honestly say these steaks were some of the best I've ever grilled. You wouldn't believe the compliments I got.
Did you know the average Arkansas herd has 37 head of beef cattle?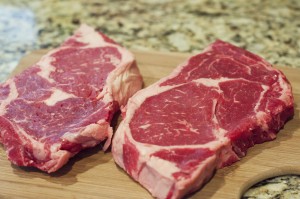 Aren't these steaks pretty?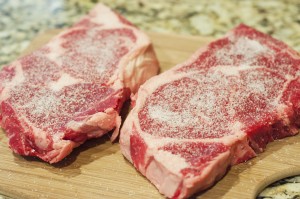 This photo is a good visual for how much salt to put on your steaks. Again, if you increase the amount of salt, decrease the amount of time you let the steaks sit.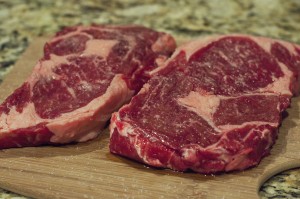 This photo was taken after about an hour. See all the water? That is exactly what you want.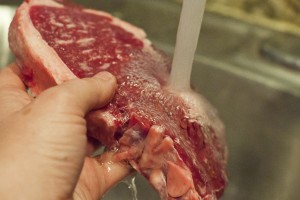 Now, rinse your steaks to remove remaining salt and salty water.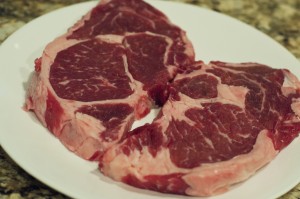 Pat the steaks completely dry with a paper towel.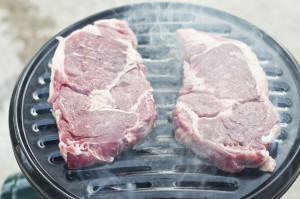 Add pepper but no more salt, and grill the steaks to desired doneness.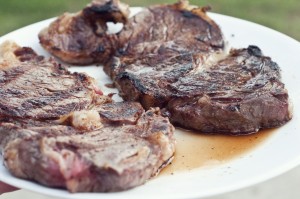 Enjoy!