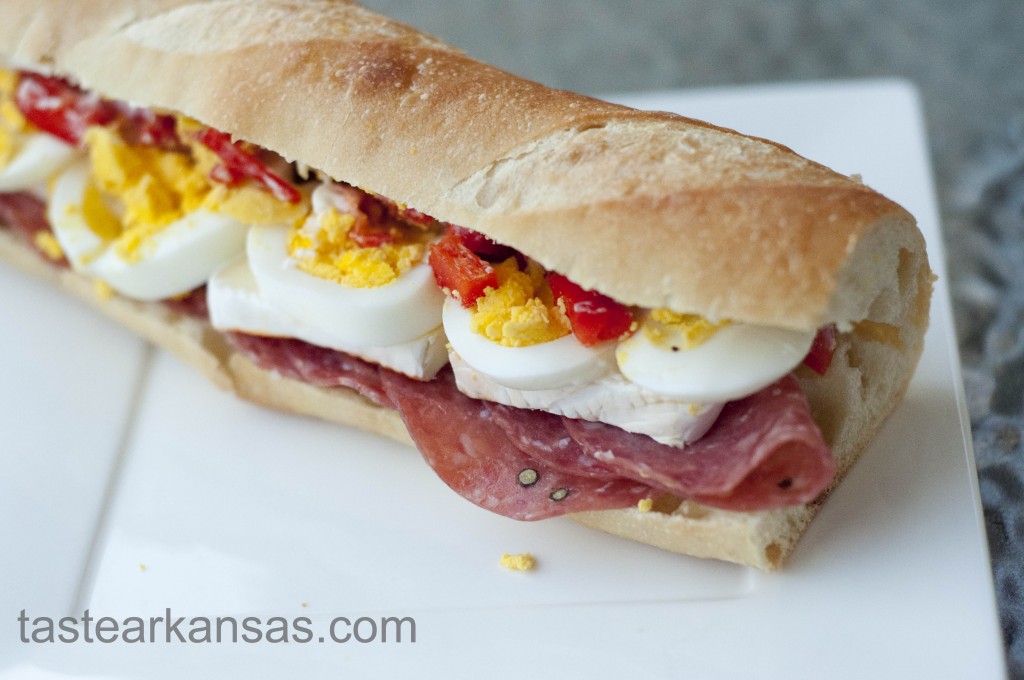 I spent some time in Belgium this summer, and they eat a lot of sandwiches there. I asked the local sandwich shop if I could make a sandwich that wasn't on the menu, and this Salami Brie Sandwich is what I came up with. It's flavorful, full of texture and really hits the spot. I hadn't tried a hard-boiled egg on a sandwich before I went to Belgium, but it's common there. It was fantastic. It's my new favorite addition to a sandwich. They also use a lot of Brie there, which happens to be one of my favorite cheeses. Again, I'd never had it on a sandwich, but now I love it. Try my Salami Brie Sandwich, and add your favorite toppings to make it your own!
Did you know the total value of Arkansas' pork production exceeds $80 million per year?
Ingredients
8 ounces salami
6-8 ounces Brie, sliced
1 red bell pepper, minced
4 sandwich size baguette loaves or 2 full size baguettes
2 tablespoons mayonnaise
4 eggs, hardboiled, peeled and sliced
Instructions
Slice open baguette loaves without separating the top from the bottom completely. Leave a hinge of bread down one side. Spread a half tablespoon of mayonnaise on one side of the baguette.
On the opposite side, layer salami, Brie and egg. Top with minced bell pepper. Serve immediately.