All it takes is a Google or Pinterest search, and you'll quickly glean that most roasted root vegetable salads are heavy on the hearty. Loaded with the earthiest from the root family, these salads seem more like a side dish than a salad.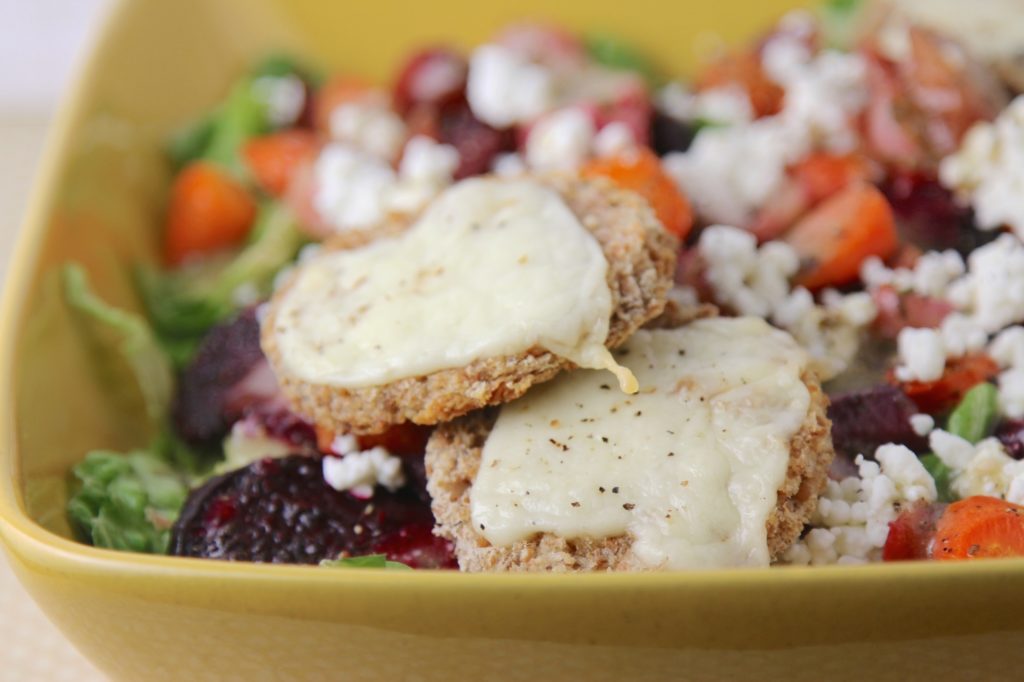 That's where this salad comes in.
Recently, my husband was sick, and that had me tip-toeing around quietly while he slept. I didn't want to make a mess in the kitchen or bang pots and pans. What I did want was something healthy and satisfying. A quick scan of my crisper revealed a jumble of root vegetables, various cheeses and greens. Perfect.
This salad isn't complicated and is easy to assemble. By all means, make extra roasted vegetables while you're at it. Who knows? You may want to make this for tomorrow's meal, too.
ROASTED ROOT VEGETABLE SALAD
Serves 4-6 as a side dish or 2 as a main dish
Ingredients
3 small beets, washed and peeled
7 skinny young carrots, washed and peeled
¼ teaspoon pepper
½ teaspoon sea salt
¼ cup herb and garlic vinaigrette salad dressing, plus a drizzle for garnish
2 heads of romaine lettuce
¼ cup feta cheese
Instructions
Boil two pots of water on the stovetop. One pot is for carrots and radishes, and the other pot is for beets. Boiling side-by-side allows the root vegetables to be ready at the same time.
Once water is boiling, place beets in pot and cover. Boil beets for 40 minutes or until a knife easily slips in. Place carrots in second pot and cover. Boil carrots for 20 minutes.
Once carrots are done, remove with tongs or skimmer and set aside. Bring water back to a boil and add radishes and cover. Boil radishes for 10 minutes. Remove with tongs or skimmer and set aside.
During the last few minutes of the beets boiling, slice carrots on a diagonal and slice radishes.
Preheat oven to 350 degrees.
When beets are done, drain and allow to cool slightly before slicing.
Line sheet pan with parchment paper and layer with carrots and radishes on single layer.
Slice beets and add to the sheet pan with carrots and radishes.
Sprinkle with pepper, sea salt and drizzle with salad dressing.
Roast in oven for 40 minutes until slightly brown. Let cool for 20 minutes.
While root vegetables are roasting, wash and coarsely shred romaine lettuce. Layer in a shallow bowl and top with roasted root vegetables. Sprinkle with feta cheese and drizzle with desired amount of salad dressing. I like to add a little melted cheese toast for added texture and flavor.
Eat well, my friends. Lyndi
Arkansas Women Blogger member Lyndi Fultz writes about living and eating well from her life in beautiful northwest Arkansas at nwafoodie. Much of her blogging inspiration comes from this gem of a place, which she refers to as the proverbial land of milk-and-honey. Read more related to cooking, entertaining, gadget suggestions, ingredient explorations, local finds, local restaurant treasures, kitchen tour spotlights, and always with a healthy and simplistic approach.