Are you a Brussels sprouts lover or hater?  Often maligned as bitter, mushy or tasteless, this tiny member of the crucifer family (think mustard greens, cabbage, broccoli) probably owes its ill-gotten reputation to poor preparation more than anything else. Sure, it's bitter and limp when overcooked. However, prepared properly, Brussels sprouts have a sweet, nutty and full flavor. This vegetable needs a new marketing publicist.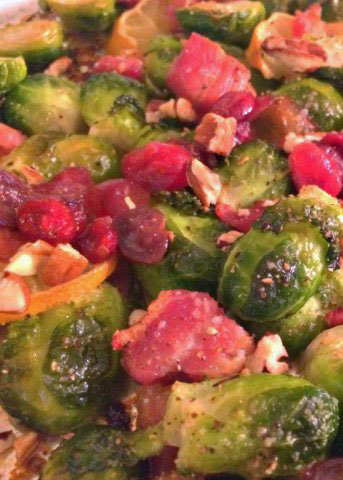 Warning: don't boil them to mush. That's the surest way to kill a sprout. Steaming, while usually one of the best ways to prepare vegetables, just doesn't work with Brussels. The result, typically, is overly bitter, not nutty sprouts. Braising them in cream results in a delicious dish but contains a calorie splurge.
Instead, try oven roasting them. Nothing could be simpler than popping these little jewels in the oven with a little olive oil, garlic and salt for 15-20 minutes. Served plain from the oven, they are delicious but add on a sprinkle of shaved Parmesan, and the flavor reaches a higher plane. Can you tell that I'm a fan?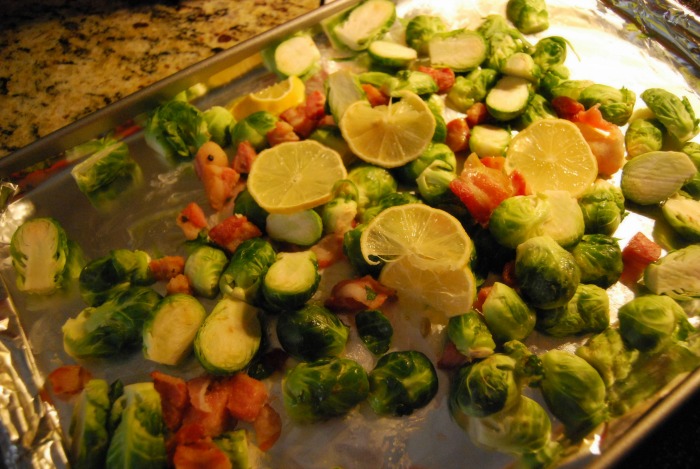 So, if you consider yourself as a Brussels sprouts hater, try one of these preferred ways to prepare them. When the sprouts are combined with the richness of the pancetta, the tartness of dried cranberries and the nuttiness of toasted pecans, you're sure to change your mind.
Brussels Sprouts with Pancetta, Cranberries and Pecans
Ingredients
1½ pounds Brussels sprouts, trimmed and halved
¼ pound pancetta, cut into small cubes
2 slices hickory smoked Petit Jean bacon, crumbled as garnish
¼ cup dried cranberries soaked in orange juice to cover
1 lemon, thinly sliced
½ cup toasted pecans (walnuts, pine nuts)
1 tablespoon water
1-2 tablespoons olive oil, if needed
kosher salt
Freshly cracked black pepper
Aleppo pepper flakes, optional
Directions
Preheat the oven to 375-400 degrees.
Line a baking sheet with aluminum foil.
Prepare the sprouts and place in a large bowl.
Cook the pancetta in a skillet until slightly crisp, but don't overcook as it will continue cooking in the oven; drain reserving the rendered fat.
Add the bacon slices to the skillet and cook until crisp. Drain, reserving the bacon grease. Set the bacon aside as a garnish.
Pour the pancetta, bacon grease and lemon slices over the Brussels and toss until well-covered. Add in 1 teaspoon of the Aleppo pepper flakes, if using. A tablespoon or two of olive oil may be added to ensure complete coverage.
Place the Brussels in a single layer cut side down on the foil-lined baking sheet.
Sprinkle the sprouts with the water, 1 tablespoon of kosher salt and a generous amount of freshly cracked black pepper and cover the sheet tightly with aluminum foil.
Roast for 10 minutes before removing the foil to continue cooking until the sprouts are well browned and tender, 10-15 minutes.
Scatter the drained cranberries over the sprouts during the last 5 minutes of roasting.
Adjust seasonings to taste; transfer to a serving dish and garnish with the crumbled bacon and toasted pecans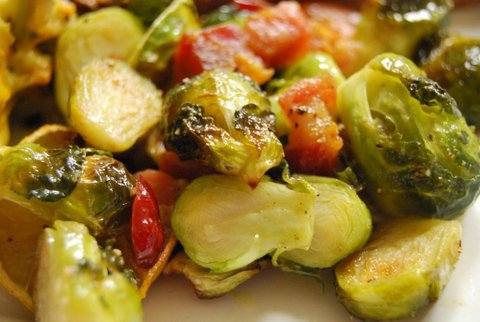 Suggested variations:
Roasted Brussels Sprouts with Walnuts and Lemon: Toss the sprouts with 4 tablespoons melted unsalted butter, 1½ tablespoons freshly squeezed lemon juice, and ½ cup toasted walnuts. Season with kosher salt and freshly cracked black pepper. Roast as directed.
Roasted Brussels Sprouts with Garlic, Red Pepper and Parmesan: Coat the Brussels with 4 tablespoons olive oil (or garlic olive oil), toss with 1 tablespoon minced garlic, and ½ – 1 teaspoon red pepper or Aleppo pepper flakes. Roast as directed. Transfer to a serving platter and garnish with a generous sprinkling of shaved Parmesan.
Roasted Brussels Sprouts with Balsamic Vinegar: Toss 1½ pounds of prepared sprouts with 1½ tablespoons of good quality balsamic vinegar and 3 tablespoons olive oil. Sprinkle with sea salt and freshly cracked black pepper. Roast as directed.
Maple and Bacon Glazed Roasted Brussels Sprouts with Roasted Garlicfrom my blog, DiningWithDebbie.net.
Shredded Brussels with Chorizo: This top-of-the-stove variation from my friend and fellow blogger, Alison Chino, is spicy, delicious and filling. It dresses up Brussels in a whole different manner.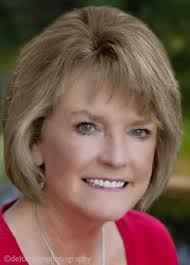 Arkansas Women Blogger member and co-administrator Debbie Arnold pontificates and eats at Dining With Debbie.  She and her Hubby split their time between Central and Northwest Arkansas.  She loves to cook, develop recipes and have play dates with her two perfect grands.  Mostly, she has play dates with the Perfect Ones