I love making recipes that are healthy and delicious. This Roasted Asparagus recipe is one of my favorites. It is easy, quick and just tastes good. My favorite part is that I feel good about eating it and feeding it to other people. The asparagus is lightly seasoned with garlic, olive oil, lemon juice, salt and pepper.  Then, it is roasted to tender perfection in the oven. Next time you're craving French fries, give this recipe a try instead.
Did you know nearly 287,000 Arkansas workers, or 20% of the state's jobs, are employed as a result of agricultural production and processing.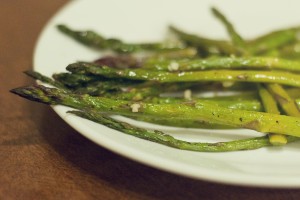 Ingredients:
1 lb asparagus spears (thick spears are best for roasting)
1-2 tablespoons olive oil
2 cloves garlic, minced
kosher salt
freshly grated black pepper
lemon juice
Directions:
1 Preheat oven to 400°F. Rinse clean the asparagus. Break the tough ends off of the asparagus and discard.
2 Lay the asparagus spears out in a single layer in a baking dish or a foil-covered roasting pan. Drizzle olive oil over the spears, roll the asparagus back and forth until they are all covered with a thin layer of olive oil. (Alternatively you can put the asparagus and oil in a plastic bag, and rub the bag so that the oil gets evenly distributed.) Sprinkle with minced garlic, salt, and pepper. Rub over the asparagus so that they are evenly distributed.
3 Place pan in oven and cook for approximately 8-10 minutes, depending on how thick your asparagus spears are, until lightly browned and tender when pierced with a fork. Drizzle with a little fresh lemon juice before serving.