Red Lick Mountain Peach Cobbler

by Gregg Patterson
I'm pretty sure I'll never be able to make this exact same peach cobbler ever again. You won't either. However, you can follow the exact recipe I found in Jan Moon's outstanding Southern Living publication "The Southern Pie Book." She calls it "Mama's Peach Cobbler." My hybrid version is called "Red Lick Mountain Peach Cobbler." Why? Because all the peaches I used were different varieties developed at the University of Arkansas Fruit Research Station located on Red Lick Mountain in Johnson County.

I attended a peach workshop at the station in mid-July, and we had the opportunity to take samples home. I took one of each of the peach varieties grown there. That unexpected windfall and Moon's great recipe is how Red Lick Mountain Peach Cobbler came into being. Use this fabulous recipe made with your favorite peaches.

Ingredients
 ½ cup butter
1 cup all-purpose flour
1 tablespoon baking powder
1/8 teaspoon table salt
2 cups, sugar, divided
1 cup whipping cream
6 cups sliced fresh peaches
2 tablespoons fresh lemon juice
Vanilla ice cream (technically optional, but … really?)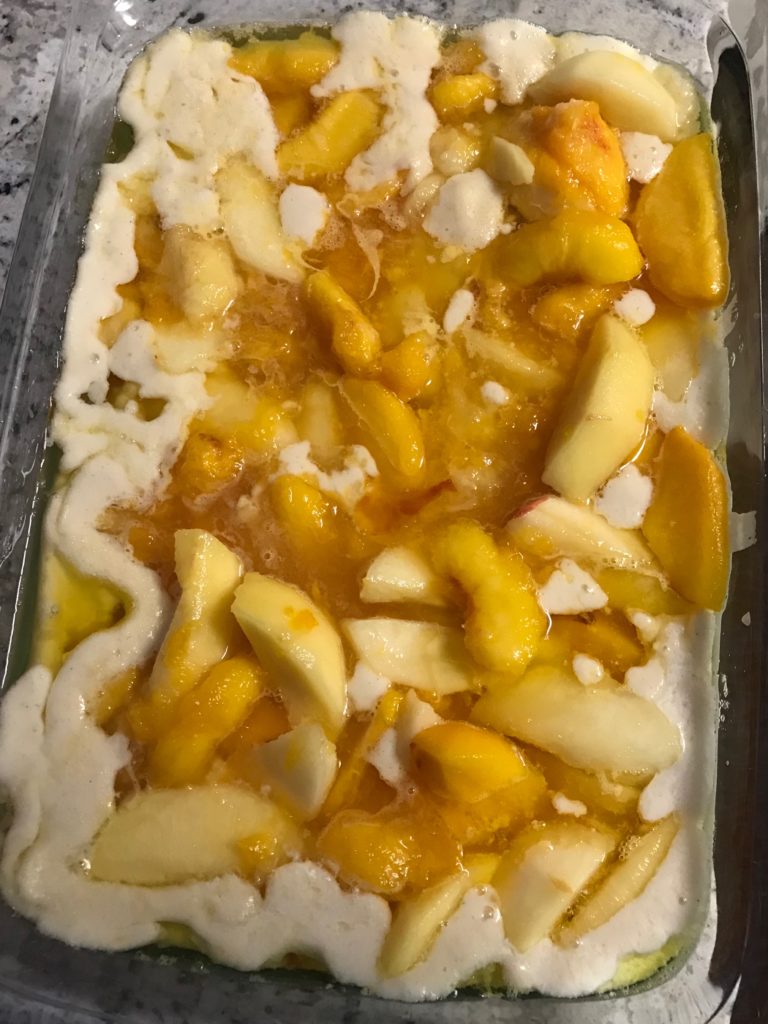 Directions
Heat oven to 375 F. Place butter in a 13" x 9" baking dish. Bake for 5 minutes or until butter melts. Remove dish from oven.
Stir together flour, baking powder, salt and 1 cup sugar in a large bowl. Add whipping cream, stirring just until dry ingredients are moistened. Pour batter over butter in dish. (Do not stir.)
Bring peaches, lemon juice and remaining 1 cup sugar to a boil in a large saucepan over high heat, stirring constantly. Pour over batter. (Do not stir.)
Bake at 375 F for 40 to 45 minutes or until crust is golden brown. Serve warm with ice cream!
(Recipe adapted from Jan Moon's "the Southern Pie Book," Southern Living, 2013.)