Love is in the air and so is the scent of delicious scones. Get your Valentine's Day started on a sweet note with a batch of fluffy, heart-shaped scones. Rolled and cut or patted into shapes, scones can be made in a multitude of flavors. Pair them with jam and butter or a compound butter such as this Raspberry Butter, and you have a nice, inviting start to your day.
Serve a little Valentine's Day love for the sweethearts in your family with this Raspberry White Chocolate version.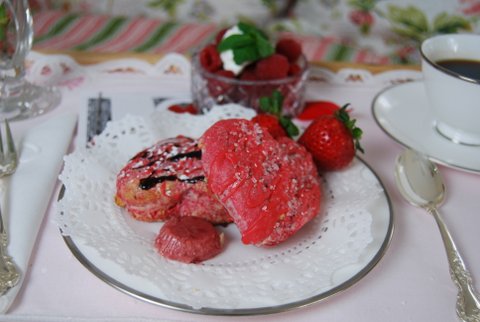 Raspberry White Chocolate Scones with Raspberry Butter
Scones
1 ½ hours
Serves 8- 12 depending upon size
Ingredients
2 cups all-purpose flour (low-protein such as Gold Medal)
1 tablespoon baking powder
½ teaspoon salt
5 tablespoons granulated sugar
5 tablespoons frozen unsalted butter, cut into small cubes
1/3 cup white chocolate chips
1 teaspoon vanilla extract
½ teaspoon raspberry extract
1 cup heavy cream
¾ cup fresh raspberries
red food coloring (optional)
sparkling sugar (optional)
Directions
Line 2 baking sheets with parchment paper.
In a food processor work bowl fitted with the metal blade, place the flour, baking powder, sugar and salt. Process in several short pulses to combine.
Remove the cover and spread the butter cubes evenly over the dry ingredients. Pulse in 10-12 short bursts.
Add the white chocolate chips and pulse 5-6 short bursts. Pour dry ingredients into a large mixing bowl.
Add the vanilla and raspberry extracts to the heavy cream. Stir the cream with a fork or spatula just until the dough begins to form.
Work the raspberries into the dough by hand gently crushing as you go, leaving some of the berries mostly intact.
Transfer the dough to a floured surface and knead by hand just until a sticky ball forms.
Gently press the dough to ¾-inch thickness.
Cut into desired shapes and place on baking sheets; brush the tops with some heavy cream and sprinkle with granulated or sparkling sugar.
Chill the scones in the refrigerator for 30 minutes while preheating the oven to 425 degrees.
Bake until light brown, 12-15 minutes. Cool on a wire rack for 10-15 minutes before serving. Serve warm or at room temperature with raspberry butter.
Optional:  Garnish with a glaze made of melted white or dark chocolate chips mixed with cream. They may also be sprinkled with powdered sugar.
Scones are best eaten the day they are prepared. The dough may be prepared and formed the night before and covered with plastic wrap. Refrigerate until time to bake.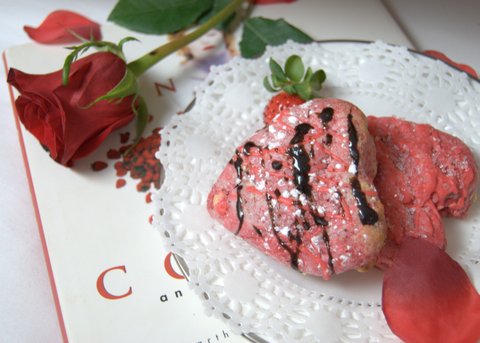 Raspberry Butter
Ingredients
½ cup unsalted butter, softened
½ cup raspberry jam
½ teaspoon salt
Directions
Cream all ingredients together and chill until ready to serve. Leftover butter may be stored in the refrigerator up to 1 week. It may also be frozen up to 3 months.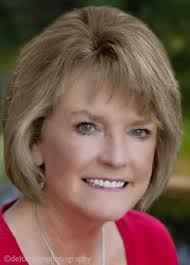 Arkansas Women Blogger member and co-administrator Debbie Arnold pontificates and eats at Dining With Debbie.  She and her Hubby split their time between Central and Northwest Arkansas.  She loves to cook, develop recipes and have play dates with her two perfect grands.  Mostly, she has play dates with the Perfect Ones