This recipe is beyond simple and if you're on my Christmas list this year, look away! I will definitely be including this Quick Chocolate Peanut Butter  Fudge with my annual gift of cookies. Five ingredients, about 30 minutes, and you have a deliciously easy fudge to share this holiday season. I like that this recipe includes peanut butter, because the flavor is subtle and rich. You can also change out the nuts to your preferences. I used pecans, but I think walnuts or almonds would be great, as well. What are your favorite holiday recipes?
Did you know Agriculture is Arkansas' largest industry?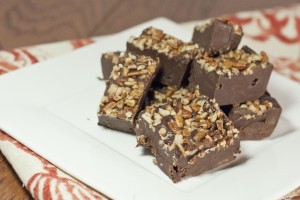 Ingredients
1-1/2 cups chocolate chips
1/2 cup sweetened condensed milk
1/4 cup peanut butter
1 tablespoon water
½ cup chopped pecans, walnuts or almonds
Instructions
Combine chocolate chips, sweetened condensed milk, peanut butter and water in a microwave-safe bowl. Heat on full power for 30 seconds, then remove and stir. Heat again for another 30 seconds and stir again.  Mixture should be smooth by this point, but you may need to microwave it 1-2 more times in 30 second increments. When mixture is smooth, pour batter into a baking dish and refrigerate for 30 minutes or more. When ready to serve, cut into squares.  Store extra fudge in refrigerator or freezer.