Potato salad is a summer staple. I always get it at my favorite BBQ restaurant where it is crisp and cool. The cool temperature, crisp texture and vibrant flavor play off the sweet spicy BBQ I love best. Coincidentally, I usually cook BBQ on the 4th. I searched high and low for a new potato salad recipe to try this year. I didn't find anything that matched the potato salad I envisioned. So, I made up a new recipe, a concoction dreamed up after experimenting with different recipes for a couple years. It's cool, inviting and will play a fabulous supporting role at your 4th of July celebration.
 Did you know that there are more than 49,000 farms in Arkansas?
Ingredients:
3 russet potatoes, peeled
½ cup sour cream
¼ cup mayonnaise
1 teaspoon mustard
1 teaspoon fresh dill
1 dill pickle spear, sliced
2 green onions, sliced
Salt and pepper to taste
Directions:
1.     Cut russet potatoes into ½ inch cubes. Boil until fork tender in medium sized pot. Drain.
2.     Allow potatoes to cool slightly. Add sour cream, mayonnaise, mustard, dill, pickle and green onions. Thoroughly mix the ingredients together some of the potato chunks just start to cream. Add salt and pepper to taste. Refrigerate until ready to serve.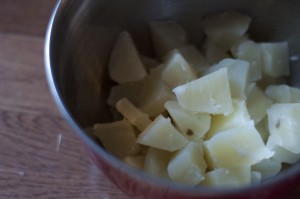 These potatoes are peeled and boiled until soft.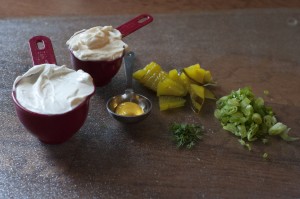 Here's the main cast of characters in this potato salad.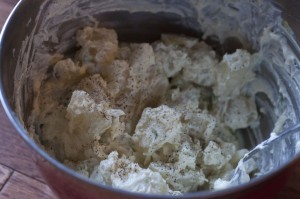 Mix until the chunks start to break up and cream. Add salt and pepper to taste.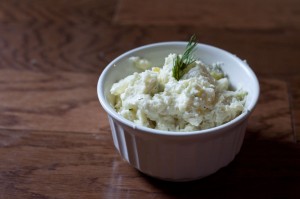 Voila! A perfect side to barbecue, steak, chicken and a variety of other dishes. What's your favorite dish to serve on the Fourth of July?