Back in our early married days, my husband and I built a home on my parent's farm. Our piece of land is part of the original homestead my farming ancestors settled on in the mid-1800s. Generations of McNeals have farmed in this part of Arkansas.
We raised a hog and had it butchered this past fall. We raised it in an area we're trying to reclaim. Our hog did a great job of clearing out the roots from overgrowth. Fresh farm meat and excavator all in one.
To use some of the abundance of our fresh bacon and sausage that now fills our freezer, I decided to bake a southern-style deep-dish pizza. And, of course, being from the south, you must use iron skillets.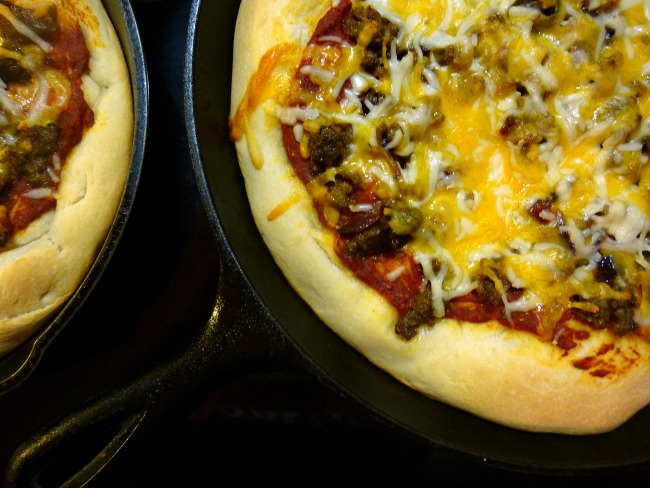 PORK LOVER'S IRON SKILLET PIZZA
Prep Time: 2 hours if you make your own crust, 45 minutes if not.
Servings: 14 pieces of pizza
Ingredients:
• Pizza crust for 2 iron skillets (I used a 10 inch and a 12 inch)
(I used this recipe for the pizza crust: Mary's Homemade Bread. This will make two crusts.) link to article on Taste Ark
• 2 to 3 tablespoons olive oil
• 1 pound pork sausage, crumbled, browned and drained
• 1 pound pork bacon, cooked and crumbled
Sauce:
• 8 ounces of tomato sauce
• 6 ounces of tomato paste
• ½ teaspoon salt
• ½ teaspoon onion powder
• 1 teaspoon minced garlic
• 1 teaspoon oregano
• 1 tablespoon Italian seasoning
Plus, 2 cups of shredded mozzarella cheese or pizza cheese blend. Optional add-ons: chopped peppers, onions, olives, mushrooms or whatever your pizza-loving heart desires.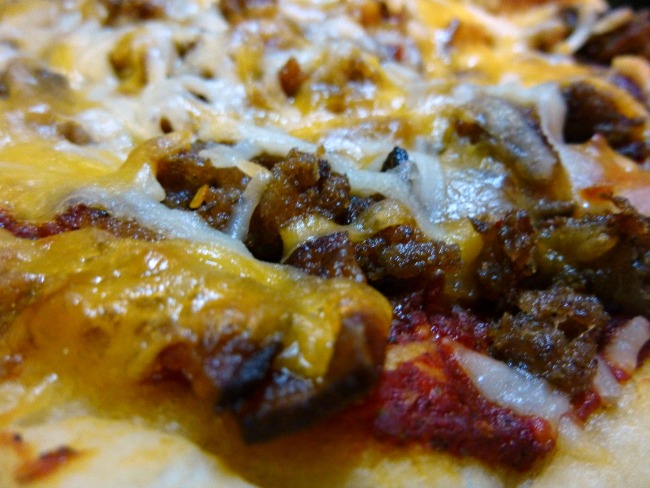 Instructions:
1. Prepare pizza dough according to instructions.
*If using the recipe above, I use the 'Dough' setting on my bread machine, which takes about 45 minutes. I then take the dough, divide it and spread into iron skillets liberally oiled with olive oil. Allow the dough to rise for about 15 minutes. Then pre-bake the pizza crusts in a 400 degree F oven for about 10 minutes (so the crust will be fluffy and not soggy).
2. In a medium mixing bowl, combine tomato sauce, tomato paste, salt, onion powder, minced garlic, oregano and Italian seasonings to make sauce.
3. Spread sauce over crusts.
4. Top sauce with sausage, bacon and any other toppings you wish to add.
5. Cover with cheese.
6. Bake in a 400 degree F oven for 20-30 minutes or until crust is brown and cheese is melted into the toppings.
Post by Mary Wood.